In Remembrance
TODAY show hosts Hoda Kotb and Al Roker are remembering their beloved staffer who passed away from leukemia. Both anchors have had their own cancer experiences and are paying tribute to their dear colleague.
Kotb is a survivor of stage I breast cancer. She treated her breast cancer with a mastectomy after her diagnosis in 2007.
Roker announced he was diagnosed with prostate cancer in March 2020. Since undergoing treatment, he's been given consistent 'all-clears,' but he'll be doing lifelong testing to make sure the cancer does not return.
SurivorNet's resources on navigating leukemia can help you make decisions about treatment
Cancer survivors and anchors of the
TODAY
show, Hoda Kotb and Al Roker, are remembering their colleague, Mark Traub, who recently passed away from leukemia at the age of 64. The whole
TODAY
show crew paid tribute to the senior stage manager known for his "infectious laughter."
"Traub, who was diagnosed with cancer 18 months ago, was an integral presence on TODAY for 35 years. He received an emotional send-off and a champagne toast live on the show when he retired in 2019 after a 40-year career with NBC that began as a page," reports the TODAY show.
Read More
"He took care of us," Kotb, 58 said on
TODAY
. "You felt cared for and looked after."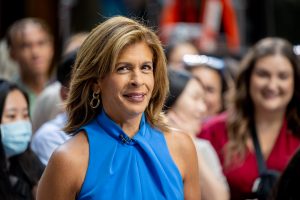 Traub, according to
TODAY
, "loved travel, books, movies and cheering for the New York Yankees and the New York Giants."
Remembering Traub
Roker, 68, the beloved weatherman, has still not returned to the show amid recent health issues. But wrote a
touching
Instagram post for Traub with whom he was close to throughout their working together.
"The laugh you always heard in the background for years on @todayshow was our stage manager, @mtraub2295and when he retired, some of our spark diminished," said Roker in the caption. "Sadly, that light is gone after a long battle. Take care , Mark. You are so missed."
Roker was first hospitalized for blood clots in his legs and lungs, but was recently readmitted to the hospital after being released on Thanksgiving. In a separate Instagram post, he shares that he hopes to be home soon.
"Hopefully coming home soon but when your spirit sags a bit, you get to see that and recharge," Roker said in the post. "God Bless you all for all the prayers and well wishes for me and my family."
After almost delaying a doctor's appointment because of the COVID-19 pandemic, Roker was diagnosed with an aggressive type of prostate cancer. He shared the news of his diagnosis on the TODAY show in March 2020 and explained that he would be having surgery.
"My first reaction was, 'I just want this out. I don't want to do radiation,'" Roker previously told SurvivorNet of the prostate cancer that was growing inside his body. "At the end of the day, I thought, 'surgery first,' then I thought, 'no, maybe radiation,' then I went back and (said), 'no, surgery.' That was that. Once I make a decision, I don't really second guess it."
A Leukemia Diagnosis
Leukemia is a broad term used for cancers of the blood cell, according to the National Cancer Institute. While Tray's leukemia diagnosis was not shared, there are two main types of leukemia worth noting.
One type is acute myeloid leukemia (AML), which is a cancer that affects bone marrow, the spongy tissue inside of your bones. It's a rare cancer overall, but it is the most common type of leukemia in adults. Rarely, children also get AML.
What is Acute Myeloid Leukemia (AML)?
"To understand acute myeloid leukemia [AML], you have to understand how the bone marrow works," says Dr. Mikkael Sekeres, chief of the division of hematology at the University of Miami Sylvester Comprehensive Cancer and formerly of the Cleveland Clinic. "The bone marrow is the factory that makes all of the cells that wind up in our blood stream."
This so-called factory makes red blood cells that bring oxygen to our tissues; white blood cells that make up the immune system; and platelets, which help stop bleeding, Dr. Sekeres says. All of these cells perform essential functions in the body, and a spike or decline in any of them can lead to some serious health issues.
The other type is chronic lymphocytic leukemia (CLL), which also starts in bone marrow. CLL affects the immature blood cells that give rise to white blood cells called lymphocytes, which help your body fight infections.
"Unlike acute myeloid leukemia, CML takes longer to develop. Most people can live with CML for many years," according to Penn Medicine. "Rarely CML can also turn into acute leukemia, which needs immediate medical attention."
Scientists don't know exactly what causes CLL. A genetic change in white blood cells causes them to become abnormal and to divide faster than usual. These abnormal cells crowd out healthy cells. Eventually, so many of the cancer cells are produced that they start to spread to other organs.
Dr. Nicole Lamanna, a leukemia specialist at Columbia University Medical School tells SurvivorNet CLL can be a hard cancer to understand because it doesn't follow a traditional path like with most other cancers that require immediate treatment.
Which is why she says she spends a considerable amount of time answering questions and helping patients feel emotionally and physically safe. "I think a lot of patients will call this watch and worry. We call it watch and wait", she previously told SurvivorNet.
After the Initial CLL Diagnosis: The First Conversation
Coping with Loss
Grief is an inevitable – and essential – part of the healing process after experiencing loss. And there's definitely no one way to cope, but Doug Wendt shared his thoughts on grief in a previous interview with SurvivorNet after losing his wife Alice to ovarian cancer.
"I Don't Want to Move On; I Do Want To Move Forward": Doug Wendt On Being A Caregiver and Tragically Losing His Wife to Ovarian Cancer
"We're never gonna move on, I don't even think I want to move on, but I do want to move forward," Wendt said. "That's an important distinction, and I encourage anybody who goes through this journey as a caregiver and then has to face loss, to think very carefully about how to move forward."
Everyone's journey of grief looks different, but therapy and support groups can also be wonderful options to explore. It's also important to keep in mind that time does not heal everything, but it certainly helps.
In an earlier interview with SurvivorNet, Camila Legaspi shared her own advice on grief after her mother died of breast cancer. For her, therapy made all the difference.
"Therapy Saved My Life": After Losing A Loved One, Don't Be Afraid To Ask For Help
"Therapy saved my life," Legaspi said. "I was dealing with some really intense anxiety and depression at that point. It just changed my life, because I was so drained by all the negativity that was going on. Going to a therapist helped me realize that there was still so much out there for me, that I still had my family, that I still had my siblings."
Legaspi also wanted to remind people that even though it can be an incredibly difficult experience to process, things will get better.
"When you lose someone, it's really, really, really hard," Legaspi said. "I'm so happy that I talked to my therapist. Keep your chin up, and it's going to be OK. No matter what happens, it's going to be OK."
Contributor: SurvivorNet Staff
Learn more about SurvivorNet's rigorous medical review process.
---