Speaking Up About Skin Cancer Saves Lives
Actress Melanie Griffith, 64, has suffered from skin cancer on her face in the past, and was actually an early advocate of skin cancer prevention.
The Working Girl star, mother of actress Dakota Johnson, had basal carcinoma on her nose in 2018, and back in 2009, she shared her diagnosis via her rep, when she was out pictured with a black eye, a result from skin cancer treatment.
Griffith often urges others to make sure you're getting the right protection from the sun. Experts recommend using sunscreen every two hours and wearing protective clothing, such as a hat and sunglasses. Staying out of the sun during peak hours also helps.
The month of May is Skin Cancer Awareness month, and we are highlighting actress Melanie Griffith, now 64, who was an early advocate for the disease.
Back in 2009, the Working Girl star—who was married to Antonio Banderas at the time—was photographed with a black eye, which left fans concerned as the tabloids ran amuck with speculation of how it got there.
Read More
Choosing to control the narrative before further rumors could be dispelled, Griffith came forward with the admission that it was in fact due to skin cancer treatment. Her rep, Robin Baum, said "the
cancer-removing procedure
had been performed early enough to prevent further complications," according to
Daily Mail.
The New York City-born star, who now resides in the hills of West Hollywood, Calif., unfortunately suffered more issues with skin cancer in 2018.
Related: Ex-Husbands & Sweet Surprises Helped Skin Cancer Survivor Melanie Griffith Ring In Her 63rd Birthday
"Bandaged again after having dermabrasion, the final step to fix the now removed basil cell skin cancer," she wrote alongside an Instagram post of herself with a bandaged nose. "If any of you have it, get it fixed. If you lay in the sun, are exposed to lots of sun, be CAREFUL."
"Use sun screen. Get checked out by your Dermatologist," the advocate continued. "If you don't have one, get one, or go to your nearest clinic and ask to be tested for it."
 

View this post on Instagram

 
"It's a scary thing when you're an actress and you depend on your face for work," Griffith, who built her career playing strong and sexy roles, told InStyle in 2018. "But I realize I have to put a Band-Aid on it, and it's fine. I just look like a dork."
Griffith, a former addict, has also been very vocal about her struggles with drugs and alcohol, along with her plastic surgery woes.
The mother of 50 Shades of Grey star Dakota Johnson, 32, married '80s heartthrob Don Johnson, 72, twice. The initial union with the Miami Vice star lasted six months in 1976, and the divorcés married again in 1989, then had Dakota.
 

View this post on Instagram

 
Their second go-around lasted until 1996. The same year, the blonde bombshell met Banderas, 61, while filming Two Much and they married later that year. This pair lasted 18 years until Griffith filed for divorce in 2014. They have one daughter Stella, age 25.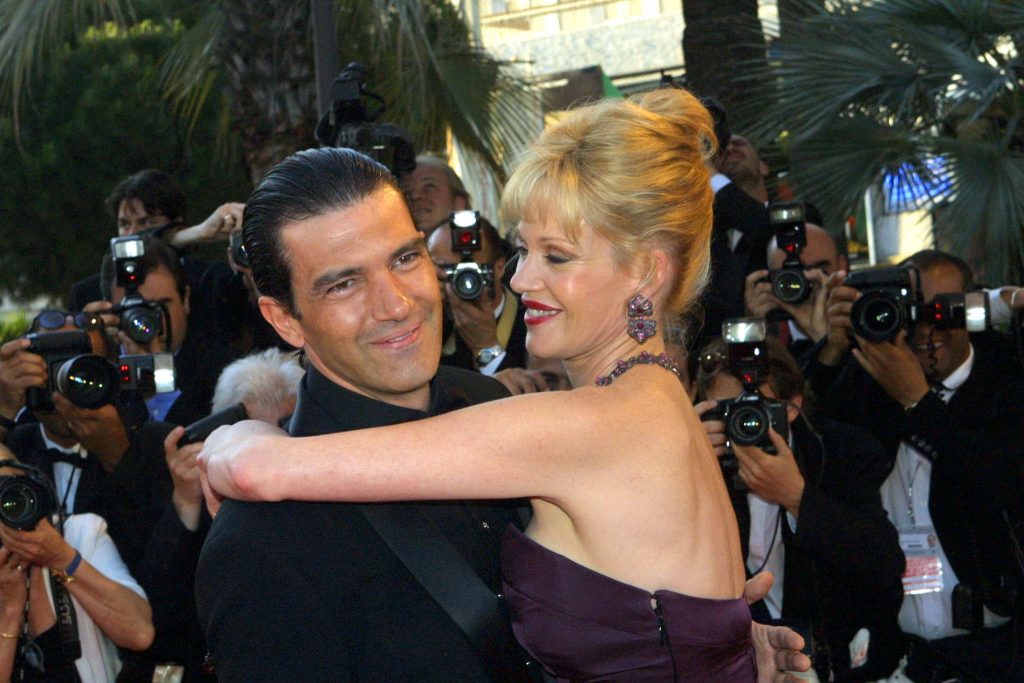 In between her marriages to Johnson, Griffith was married to Scarface star Stephen Bauer, 65, and they had one son together, Alexander, now 36.
Raising Awareness About Skin Cancer Prevention
The specific type of cancer Griffith had is basal cell carcinoma, the most common form of the disease that accounts for roughly 80% of cases. Typically, melanoma is the most aggressive, and basal cell is usually easier to treat, especially when caught early.
Additionally, just like with traditional chemotherapy, patients have a wide range of side effects and reactions—some mild, some more severe.
Choose the Right Sunscreen and Use it Often
Dr. Cecilia Larocca, a dermatologist at Dana-Farber Cancer Institute, recommends to SurvivorNet that you use no less than SPF 30 and reapply it every two hours. "Your sunscreen should also be broad spectrum," says Dr. Larocca, meaning it covers both UVB and UVA rays.
One thing that many people do not know is that you only get about 50% of the SPF on the label. "So, if you're using SPF 60, you're really getting closer 30 SPF of protection," Dr. Larocca says.
Related: Many Sunscreen Products Are Only Half as Effective as They Claim to Be, According to New Research
To make sure you're getting the right protection, she also recommends using sunscreen every two hours and wearing protective clothing, such as a hat and sunglasses.
Top 5 Ways to Protect Your Skin From Skin Cancer
For most people, there are simple ways to significantly reduce your risk of developing skin cancer. We asked dermatologist Dr. Dendy Engelman to provide the top five ways to protect your skin from skin cancer. Turns out, most of her recommendations are really simple to implement, and could save your life.
Avoid sun during peak hours – This means from 10 a.m. to 2 p.m. It doesn't mean you should never go outside during the middle of the day, but make sure you're protected when you do venture outdoors.
Cover your skin and eyes – A wide brim hat and sun glasses will protect your face, the top of your head, your ears, and the delicate skin around your eyes.
Wear an SPF of 30 or higher – This is easy enough. Plenty of facial moisturizers have SPF built into them. Dr. Engelman also recommends reapplying every few hours, or after excessive sweating or swimming.
Get an annual skin check – You can check your own skin for anything that looks out of the ordinary, but you should still get a yearly check to make sure you didn't miss anything. If you do happen to notice anything out of the ordinary in between checks, schedule an appointment to talk to your doctor about it ASAP — it is always worth it to make sure.
Avoid tanning beds – This one is obvious … but just a reminder, tanning beds can significantly increase your risk of developing melanoma. If you feel like you're just too pale, Dr. Engelman recommends a sunless tanner. "There's absolutely no benefit to going to a tanning bed," Dr. Engelman said.
Learn more about SurvivorNet's rigorous medical review process.