Three-time Olympic gold medalist Gail Devers, 54, is retired from track and field, but she's rooting the athletes on.
"I always tell people I'm team USA," says the five-time Olympian.  "I pray for their safety; that they stay healthy; that we have a great Olympic games and are able to get back to a little bit of what we remember seeing."
Read More
The pandemic-induced Olympic delay brought back some difficult memories for Devers,  who won her first Olympic 100 title by 0.06 seconds in 1992 at the Olympic Games in Barcelona. Four years later at the Atlanta  Games, Devers defended her 100 title and earned her third gold in the  4x100m.
"The last 18 months have been trying for everyone, not just as athletes but as the nation, as the world: the uncertainty. That uncertainty resonates with me wondering what was going to happen with my Graves' disease and my career, " explains Devers, who just 18 months before the 1992 Olympic race that declared her the fastest woman on earth was very close to having her feet amputated.
"I was fighting for my life," says Devers about her 2 ½ year struggle to root out the cause of a multitude of worsening health issues including migraines, temporary vision loss and breathing difficulties. "I was at 79 pounds when I should have been 120. My hair was falling out, my nails were brittle, they were breaking."
The doctor who finally correctly diagnosed her with Graves' disease —  an autoimmune disorder that causes your thyroid to become hyperactive  — told her that her life-threatening condition was "two weeks away from being cancerous." (Graves' disease patients have a higher risk of thyroid and breast cancer.)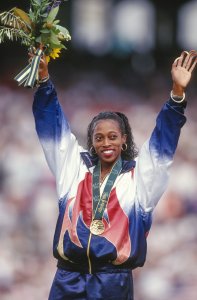 It was an arduous climb back from that dark period with the radiation treatment causing excessive bleeding, skin sensitivity and the foot blisters that almost led to that amputation. The aim of radioactive iodine therapy is to treat hyperthyroidism by destroying sufficient thyroid tissue to lower the level of thyroid hormones.
Those signature naturally-long nails she became famous for were inspired by her journey back to the track. To her their growth were a sign she was getting better, letting them grow for three years at a time, about the same length as her initial recovery.
All wasn't perfect, however, as she continued to suffer from eye pain, bulging eyes and light sensitivity. It took her 30 more years to discover her eye symptoms were a separate, but related disease called Thyroid Eye Disease.
And like those athletes who had to get creative to continue their training during Covid-19 lockdowns, Devers did what she could mentally and physically to "prepare" to get back to the sport she loved.
Devers' personal strategy to accomplishing goals: write it down. "I tell people that the worst part of Graves' disease is being in that limbo spot of not knowing. I was there for 2 ½ years. Once I got the diagnosis, I said 'You know what? I'm unstoppable. I don't care what I have to deal with. I want to accomplish these goals and dreams that I have written down.' I write it down, I sign it.  If I put my name on it, my word is my bond, and I have to pursue it."
She also encourages everyone to be their own health advocate; to look at your own health history and your family's health history and figure out: 'What is it that I can control?'
"When you know better, you do better," says Devers, who recently partnered with Thorne, the supplements and testing brand of Thorne HealthTech, in their just launched Better Health Campaign that also includes professional athletes Ajee' Wilson and Katie Rainsberger.
"I plan on living to 100," insists Devers. "My grandmother passed away at 98 ½. So how do I do that? I've got to prepare my body to live a long time. It's never too early, it's never too late. I don't just want to age, I want to age healthily. There's a big difference."
As for her diet, she follows the "everything in moderation" regimen and pays attention to how her body reacts to what she puts into it.
Then there's the physical component. "Anybody moving in any direction is a body moving in the right direction," believes Devers.  "I'm not training for the Olympics. It's not like I'm going to get out there and run every day but I can. I mentor and coach some young athletes. I'm still at 54,  going over hurdles, and I'll do the long jump with them. I want to play in the sand. I'm able to do the things that I want to do. I feel young. I may walk or walk/jog; I ride my bike; I skate; I  dance with my kids; I lift light weights ."
After a determined effort not to pressure two teenage daughters into any athletic pursuits, her older daughter Karsen, 16, has started sprinting.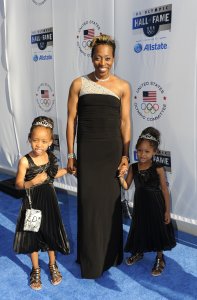 "When Karsen started ninth grade, she came home and said 'Sign this paper. I'm going to play football.' I'm like, 'Girl, go sit down.' She ends up playing flag football and she loves it, so then they found out she was fast.  This was a child who only cared about her grades but now she goes from student to student athlete: she plays flag football, lacrosse and track. This girl went from nothing to 100. It's awesome. I didn't start 'til I was 15. Carson started when she was 14. I started as a distance runner, but I graduated down to sprints; she started sprinting, and she says she wants to learn how to hurdle and how to jump. We'll see what she does. It looks like she's got some feet. To be honest, she's got more talent than I had."
Younger daughter Legacy, 13, has declared she's not starting sports until high school. That's ok with mom.
It can still be a difficult road for female athletes. The same week the Olympics began the Norwegian women's beach handball team was fined for refusing to play in bikini bottoms during a game in the sport's Euro 2021 tournament.
While Devers appreciates the "rules" here she worries about the mental health component of these actions. "Think about what that means," says Devers about the players who say they feel 'embarrassed' wearing the skimpy outfits, with some women actually coming out and saying it's even stopped them from trying out for the team.
"If you don't feel comfortable in what you have on or in your skin that can affect you on the mental health side. In order to be complete: it's mind, body and soul. You can have all the physical talent in the world, but mentally if you're not there it's going to take away from you. You've got to be in that head space to accomplish the things you want to accomplish."
For Devers this is her new ambition: To make sure she, her family and as many people as she can achieve their best self. "My goal this year was to make a difference, to help everybody achieve their goals," says Devers determinedly. And when she writes it down, however lofty, she knows it's doable.
Learn more about SurvivorNet's rigorous medical review process.
---