With all of the challenges that a cancer diagnosis presents, it can also come with a lot of really important life lessons. For Amy Robach, an ABC journalist who was actually diagnosed with breast cancer after getting a mammogram on live TV, the disease gave her a new outlook on life.
During an interview with SurvivorNet, Amy said that at first, she was afraid to plan for her future — thinking she may not have one — but eventually she was able to turn that anxiety into something great. "I was afraid to plan ahead at first, like it was a jinx," Amy said. "Now I'm like, absolutely not. I am going to live the way we were all intended to live, which is to enjoy every second of this life."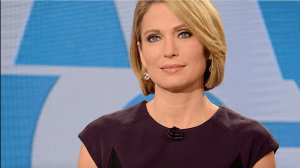 Read More
Amy was discussing the different moments throughout her cancer journey when she felt particularly emotional. One of those moments was when she got her
Oncotype DX score
. The score determines if a woman is at low, intermediate, or high risk of breast cancer recurrence and based on that result, whether a woman may benefit from the addition of chemotherapy before receiving hormonal therapy. In general, women who have a low score do not need chemotherapy. Women who have a high score may decrease the risk of the cancer coming back with the addition of chemotherapy.
"My oncologist had said, we hope it's going to be single digits [and] come back with a low chance of recurrence … mine came back a 23," Amy said. "I remember where I was, in the dressing room at Good Morning America, when my oncologist called me to tell me that, and I actually fell to my knees, just sobbing."
Amy had a few other really scary moments — and she said she still gets scared when she goes in for check-ups with her doctor. However, the experience with cancer has helped her to realize what a gift life really is. "What a gift it is to have wrinkles. What a gift it is to age. What a gift it is to have another birthday," Amy said.
Learn more about SurvivorNet's rigorous medical review process.