Common Fears With Prostate Cancer
Sports broadcaster and former tennis pro John Lloyd, 67, was so fearful of having side effects from prostate cancer surgery that he once told his surgeon he'd "rather die than not have sex."
Fortunately, Lloyd's 2017 surgery was a success. He detailed the experience in his new book, Dear John, an autobiography on his fascinating life of being a star athlete and tabloid darling.
Of course, it's up to the individual whether they want to risk side effects from prostate cancer surgery, which also depends on how advanced the cancer is. Since prostate cancer is slow-growing, sometimes your care team will agree to "wait and watch" the area, which is also referred to as "active surveillance."
Sports broadcaster and former tennis pro John Lloyd, 67, was so fearful of having side effects from prostate cancer surgery that he once told his surgeon he'd "rather die than not have sex."
When the athlete was diagnosed in 2016, he was warned that surgery could leave him with nerve damage, and as a result, he could potentially become impotent. An understandable worry for many men with prostate cancer.
Read More
"I said, 'look, my life has been amazing, if the nerves are entangled and you can't get to the tumour, just sew me up, let me have a good two or three years and I'll ride off into the sunset a bloody happy man,'" Lloyd
recently recalled
to
The Mail.
"He thought I was joking. I said, 'I'm deadly serious.'"
Fortunately, his doctor reassured him, and his 2017 surgery was a success. He detailed the experience in his new book, Dear John, an autobiography on his fascinating life.
"I've crammed things into my 67 years that I never dreamed of," Lloyd shared from where he now resides in Palm Beach, Florida. "If it stopped tomorrow, I would look back and say, 'You've done all right, son, you've led an amazing life.' I consider myself extremely lucky."
The former "Mr. Evert," as the media jokingly referred to him as since his ex-wife Chris Evert was a World No. 1 tennis player at the time, was World No. 21 in 1978, and UK No. 1 in 1984 and 1985.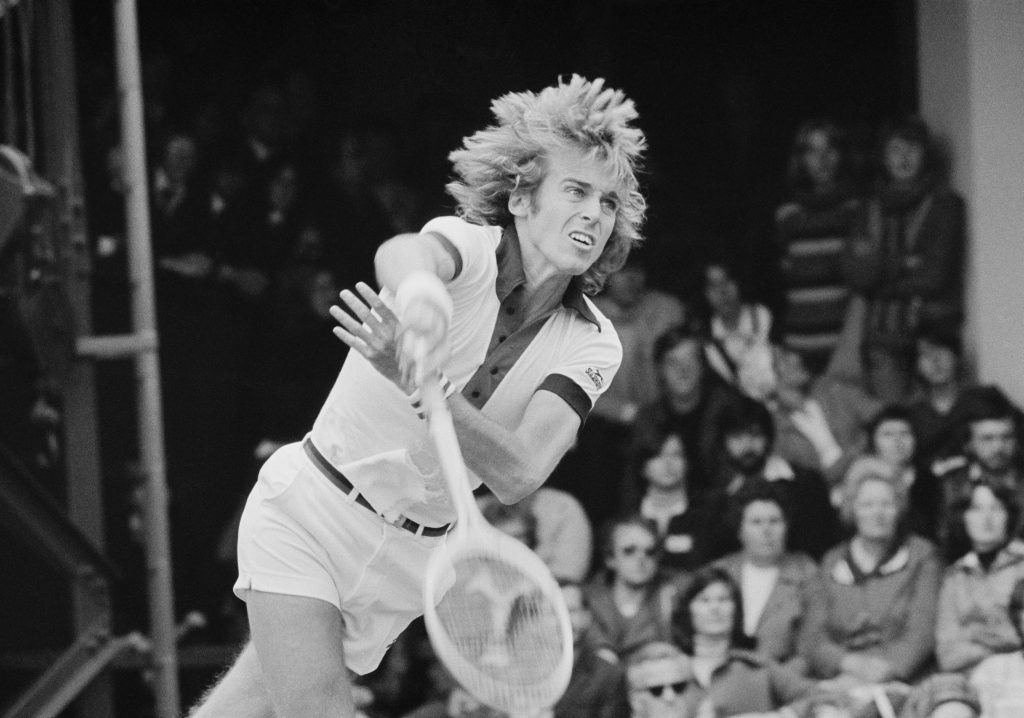 Lloyd, who is from Leigh-on-Sea outside of Essex, England, married Evert, now 67, in 1987. They had been known as the "golden couple" of tennis, and even once graced a People magazine cover. "We both probably did things that we regret," he admitted about the union. "Neither of us were exactly angels."
The pair are still friends, and Lloyd has even stood by her side during her own battle with ovarian cancer. Evert just had her last chemotherapy treatment. "She's a champion, she'll fight anything," Lloyd fondly said of his ex. 'Champions like her find a way, it's in their DNA."
Lloyd was also married to dance teacher Deborah Taylor-Bellman for 29 years, and split in 2016. Currently, Lloyd reportedly has a girlfriend in Florida, where he still pals around with former president, Donald Trump, after 40 years. Lloyd said that Trump offered him a discount at his Mar-a-lago resort to play tennis with high profile guests. "He loves a bloody deal," Lloyd said of his surprising longtime pal.
The sports legend will be back broadcasting at the Wimbledon tournament,  which brings back some bittersweet memories.
"My biggest regret is not doing myself justice at Wimbledon," he shared. "I never really worked hard. Even if I had done, I wasn't good enough to win a Grand Slam. I didn't have the weapons for that."
Learning About Prostate Cancer
Although Lloyd's comments to his doctor were a bit extreme, it certainly does explain how many other men feel in his situation. For most males, their "manhood" is essentially their penis, and it can be crushing, no pun intended, to have that area of pride and pleasure threatened in any way.
Thankfully, Lloyd was lucky, which he says is a key them in his book.
However, no surgery is without side effects. Since the prostate is in a delicate area under the bladder and alongside nerves that make erections possible, it's a delicate balance to perform the surgery and keep both urinary and sexual functions intact. While most will have temporary leakage or erectile dysfunction, in time the vast majority will regain almost normal function in both areas.
You should also know that in some men, surgery for prostate cancer can actually shrink the penis.
Will Prostate Cancer Surgery Side Effects Be Long-Term?
"So as we remove the prostate, our goal is not to damage those nerves, but they get pulled, they get tugged," Dr. Stephen Freedland from Cedars-Sinai Medical Center tells SurvivorNet. "They don't work right, perfectly, right after surgery, but again, with time, that does tend to get better."
Of course, it's up to the individual whether they want to take these risks, which also depends on how advanced the cancer is. Since prostate cancer is slow-growing, sometimes your care team will agree to "wait and watch" the area, which is also referred to as "active surveillance," and suggest surgery once it spreads or causes symptoms.
When Is Active Surveillance Not Enough?
Overall, the best way to avoid any of the above, is to get regular screenings from your doctor, and in general, a good rule of thumb to avoid a cancer diagnosis is to live an active, healthy lifestyle. Healthy people can get cancer too, but reducing the inflammation in your body is always a good idea to better avoid health problems.
Learn more about SurvivorNet's rigorous medical review process.