Being the Parent of a Child with Cancer
Famed illusionist Criss Angel and his wife, Shaunyl Benson, have been supporting their son, Johnny, during his acute lymphoblastic leukemia journey for most of the 7-year-old's life.
Thankfully, Johnny has less than two weeks of cancer treatments left.
Being a parent and a cancer caregiver at the same time is a huge responsibility. It's important to take care of yourself and find the time to celebrate life's happy moments along the way.
Watching your child wage a war against a disease is heartbreaking. But seeing them near the end of their cancer journey is the exact opposite. Just ask famed illusionist Criss Angel and his wife, Shaunyl Benson.
Angel and Benson have three children together. Their oldest is 7-year-old Johnny Christopher. When Johnny was just 20 months old in October 2015, he was first diagnosed with acute lymphoblastic leukemia, or ALL. After three years of treatment, his cancer went into remission.
Read More
RELATED: A 6-year-old Viral Dancing Sensation Is Surprised with a Virtual Visit from Singer Ciara and a Trip to Disney after Beating Cancer; Understanding Childhood Cancer
Then, in December 2019, Angel announced that his then 5-year-old son had relapsed and would begin chemotherapy treatments again. Now, with the end of his treatments drawing near, Johnny and his family are relishing in the excitement that comes with finishing up cancer treatment.
What Is Acute Lymphoblastic Leukemia (ALL)?
In an Instagram post, Benson shared three adorable photos of Johnny lounging in bed along with an update on his cancer journey.
View this post on Instagram
"14 more days 🙌🏽🔔 my only wish and my loudest prayer ♥️✨," she wrote in her caption. "After 6 years, 1 relapse, 2 ports, 8 surgeries, 10 different chemotherapy drugs, over 100 days in hospital, hundreds of needles, thousands of pills."
The proud mother didn't hold back on giving credit to her brave son, but she also wanted to thank all of her followers for their well wishes throughout Johnny's health battles.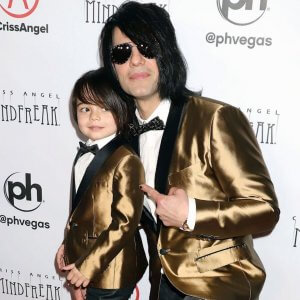 "2268 days ago our superhero started his long cancer battle," she wrote. "We didn't know the road we had ahead of us and now we're down to the last 14 days before he rings a bell. This journey has given a whole new meaning to the phrase 'one day at a time.' There has been so much love and support from all of you, following our journey from day one! We are forever grateful for all of your prayers 🙏🏼 Let the countdown begin 🤞🏼 #childhoodcancerwarriors #relapsewarrior #leukemiawarrior #superman"
Understanding Childhood Cancer
Treatment advances in recent decades have lead to 84 percent of children with cancer now surviving five years or more, according to the American Cancer Society. This is up from 58 percent from the mid-1970s.
RELATED: Chemotherapy's Long Term Effect on Children: 8-Year-Old Girl Scout Phenom Lilly Bumpus Beat Cancer as an Infant But Still Deals With Brutal Treatment Side Effects
But according to the National Pediatric Cancer Foundation, more than 95 percent of childhood cancer survivors have significant health-related issues because of the current treatment options, and only 4 percent of the billions of dollars spent each year on cancer research and treatments are directed towards treating childhood cancer in the United States. Since 1980, fewer than 10 drugs have been developed for use in children with cancer while hundreds of drugs have been created exclusively for adults.
Dr. Elizabeth Raetz, director of pediatric hematology and oncology at NYU Langone's Perlmutter Cancer Center, reminded us in a previous interview that there is still reason for hope.
"There are also targeted treatments and different immunotherapies that have been studied in adults and have now moved into clinical trials for children and there has been a great deal of excitement in the community about that," Dr. Elizabeth Raetz told SurvivorNet.
Caring for a Child with Cancer
Still, navigating a child's cancer diagnosis can be tricky, and Angel and Benson have a lot on their plates right now. Especially given the fact that the family recently welcomed a third baby on November 5, 2021, and they are still supporting Johnny through the last of his cancer treatments.
Similar to Angel and Benson, Jayne Wexler knows all about filling the simultaneous roles of parent and cancer caregiver. Her son, Justice, was also diagnosed with ALL, but he has since recovered. In a previous interview with SurvivorNet, Wexler explained how she managed to be a mother and a caregiver all at once.
"I Try To Stay Strong, But Sometimes You Need To Cry": Playing The Role of Cancer Caregiver and Mom
"Being a caregiver is a huge job," Wexler said. "Fortunately, my husband and family were very supportive … it's really hard to see your child go through this. If it could be me, I would take it in a second. You just go on auto-pilot and you just do what you have to do."
But that doesn't mean it was always easy. Wexler admitted that as a parent caring for a child with the disease, you don't have a lot of time to sit down and deal with your own emotions.
"You don't have that much time for yourself," Wexler said. "I try to stay strong, but then sometimes you just want to go and cry, and you need to cry… it's good to cry."
RELATED: The Impact of a Childhood Cancer Diagnosis on the Whole Family Jayne Wexler Shares Her Story
The survival rate for children with cancer has improved over the past few decades, but pediatric cancer is still an incredibly hard thing for a family to go through. In her own caregiving experience, Wexler found therapy to be a great way to process everything happening to her family. Regardless of whether it's therapy or participating in your favorite activities or something entirely different, it's important to find ways to also take care of yourself as you're taking care of your child.
Learn more about SurvivorNet's rigorous medical review process.