'Life Is Better Than All the Other Options'
Bruce Dickinson, 63, has been an iconic metal singer for more than 40 years. Now, he's hitting the road for a very different kind of performance–a one-man-show.
The Iron Maiden frontman shares stories about his life in the band and his life beyond, including his battle with tongue cancer.
Tongue cancer, which is often categorized as a "head and neck cancer," is associated with HPV, the human papillomavirus. Fortunately, people can get the HPV vaccine that prevents against HPV-related cancers starting as young as nine years old.
Bruce Dickinson, 63, has been a legend of heavy metal since the early '80s. Now, the Iron Maiden front-man is ready to share more of his story. In his one man show,
"An Evening with Bruce Dickinson,"
the iconic vocalist talks about playing metal, drinking alcohol and battling tongue cancer.
Dickinson has built his show over the past three years, and he is currently on the road with the act. When the Los Angeles Daily News asked him about the overarching theme of his performance, he boiled it down to the title of his autobiography, What Does This Button Do, and his favorite quote about beating cancer: "Life is better than all the other options."
Read More
"That's the show," he said. "It's a sideways look, an amusing look, at how the kid from the middle of nowhere ends up wearing the world's most ridiculous trousers and singing for a well-known rock combo and along the way becomes an airline pilot, having cancer, doing fencing, meeting Johnny Cash and all kinds of things."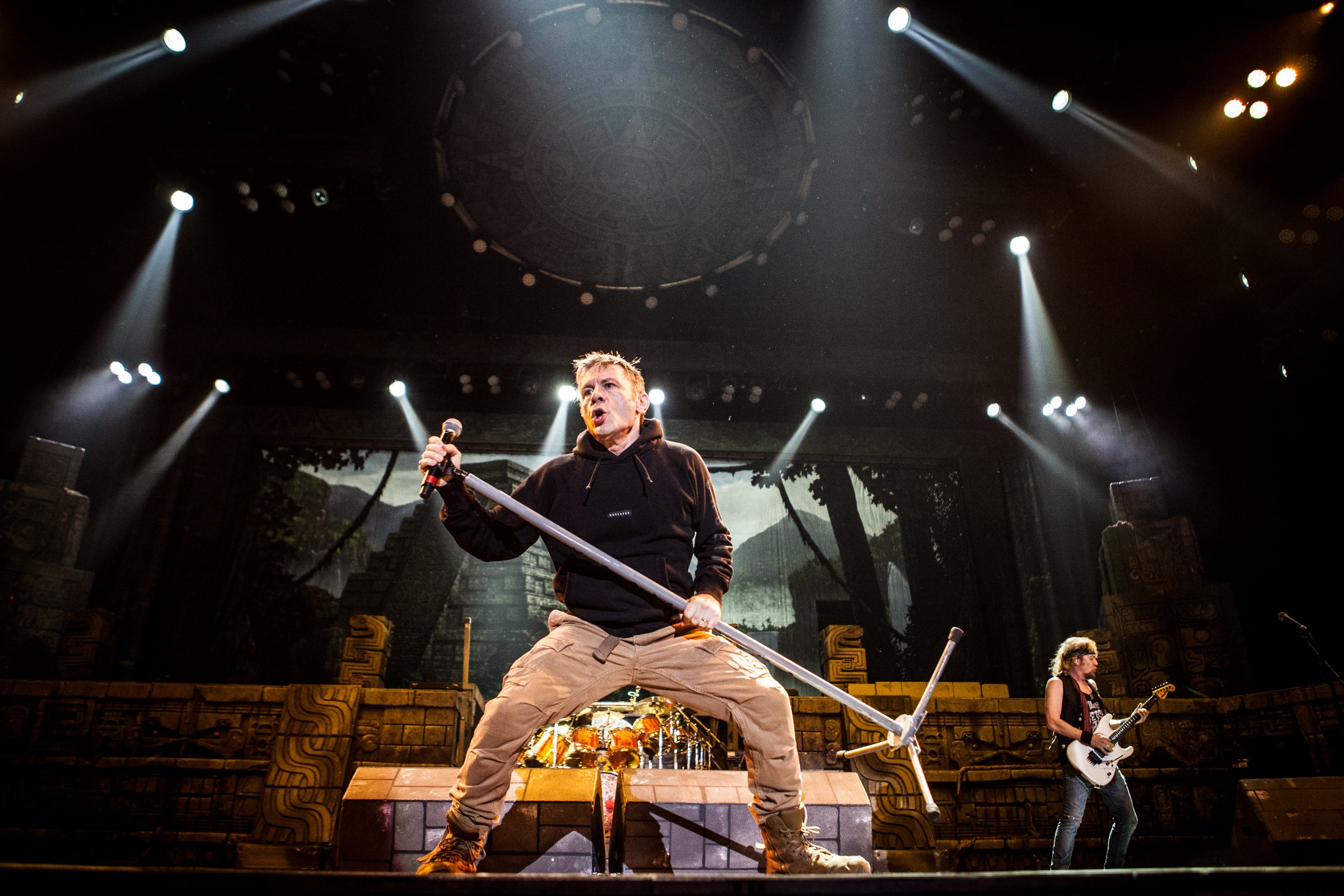 When it comes to taking the stage and having all eyes on him, Dickinson is a veteran. In addition to his performance history with Iron Maiden, he gives motivational speeches in corporate contexts. But the 63-year-old wanted this show to be something special. He looked to other spoken-word performers for help.
"I looked at some stand-up comics that I really admired, and I looked at the way they presented things," he said. "I don't tell jokes, but I do ad-libs and the occasional side gags, but the stories are the thrust of the show."
Dickinson never wants to rest on his laurels. "In the first hour and a half, you won't hear the words 'Iron Maiden' mentioned once," he said. The show is three hours long. He is not interested in giving you a blow by blow of his singing career. "You can go read books about that stuff," he said. "What you want is the backstory, the color, the fun things, the crazy stories and I link that together with going into war zones and playing big shows, being a professional airline pilot for 12 years, and just when you thought it was over, here's some stories about cancer."
"Throw it all out there": TV news legend Joan Lunden on the power of talking openly about your health.
Dickinson is proud to be able to take control of his narrative. This performance allows him to take something tragic and frightening like a cancer diagnosis and turn it into something that will make people smile. He is used to hearing gasps from the audience when he introduces the topic of his tongue cancer battle. "Shortly after though, the audience is rolling around in the aisles laughing about cancer, and I can do that because I own it and it's my cancer," he said.
"It's a simple show, really. It's just me. It's me, I have chair on which I never sit and a carpet and that's it. Well, it's me and a can of beer."
From Iron Maiden To Tongue Cancer and Back Again
Strangely enough, Dickinson is convinced his voice is even better since his tongue cancer battle, though he "obviously would have preferred" to skip getting diagnosed with the disease.
"I had a three-and-a-half-centimeter [tumor] — basically a golf ball — living down at the base of my tongue, right at the base," he explained. "So, that was sitting there for I really don't know how long by the time it got big enough to notice. But I did a whole album [2015's The Book of Souls] with that sort of sitting there. And when it went away, I guess there's a lot more space for the sound to come out! Not to put too fine a point on it, but there's no more obstruction in the way, you know? So yeah, with the high notes I was like, 'Wow! Whoosh!' There's a lot more horsepower in some of the high notes, which is interesting."
In early May 2015, he admitted that he sounded terrible during his initial recovery, but luckily, after a few months of rest, his voice came back. After belting out a tune, he went, "'Oh, ooh, yep, yep, yep, yep, yep. Oh my God.' And then I just relaxed, because I'm not in a hurry now; I know it's all there. It's come back."
Tongue Cancer Prevention
Tongue cancer, which is often categorized as a "head and neck cancer," is associated with HPV, the human papillomavirus. Fortunately, people can get the HPV vaccine that prevents against HPV-related cancers starting as young as nine years old.
"We recommend strongly that children are vaccinated against HPV to prevent cervical cancer, but also to prevent head and neck cancer," Dr. Jessica Geiger, a medical oncologist at Cleveland Clinic Cancer Center, previously told SurvivorNet. "Now the key with the vaccine is that you received the vaccine before you ever reach sexual debut or have sexual encounters. So that's why these vaccines are approved for young children ages 9, 10, 11 years old, up to 26."
Understanding HPV
HPV is spread through sexual contact, and the virus is more prevalent than you might think.
"HPV is a virus that's actually very well spread throughout Western society," Dr. Gieger says. "Fortunately, for the majority of us, over 90%, we clear the virus without ever knowing that we were exposed."
Why the HPV Vaccine is so Important in Preventing Cancer
But in 6% or 7% of the population, the virus stays "dormant in our body."
"And over time, meaning decades after we were first exposed, the virus gets into our DNA, and likes to settle in the tissues of the cervix or the back of the throat, and can ultimately cause changes that form cancer."
Contributing: Abigail Seaberg and Marisa Sullivan
Learn more about SurvivorNet's rigorous medical review process.
---