Kathy Griffin's Lung Cancer Journey
Comedian Kathy Griffin, 61, enjoys life post-lung cancer treatment – a journey she underwent in 2021 as a non-smoker.
The public figure and survivor struggled to restore her voice after surgery. Fans continue to share support after Griffin finally had a recent procedure that worked for her; she shares updates on her health and symptoms openly with her fanbase.
Treatment options for lung cancer can include surgery, chemotherapy, radiation therapy, targeted therapy, or a combination of these treatments.
SurvivorNet continues to be inspired by comedian Kathy Griffin, 61, and the example she sets for cancer survivors everywhere with her positive attitude. We now know that her dogs mimic this same happy behavior of hers!
Every time my friend comes to the house I have to grab all four dogs, take a picture of them together and then issue a warning to said guest that they will be seriously mauled (with LOVE) for approximately 90 seconds, and barking so loud we will not be able to talk yet. pic.twitter.com/3vpZYnJFpV

— Kathy Griffin (@kathygriffin) July 1, 2022
Read More
Griffin shares a photo of her beloved "fur babies," as she likes to call them, on Twitter with a caption explaining just how they behave when guests arrive. She says she has to "issue a warning" before friends come over because said friend is about to be "seriously mauled (with LOVE)" upon arrival.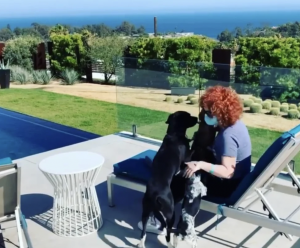 Not only is she joined everyday by her furry friends – she's also accompanied by the Pacific ocean in her fabulous Malibu dream home, a place that Griffin says helps her tremendously through cancer recovery.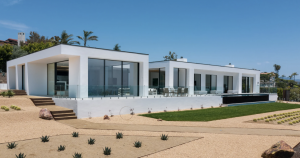 Closer Weekly reports that Griffin paid $8.8 million in December 2020 for the palatial pad. That same month, she reportedly sold her Bel-Air mansion for $14 million. Griffin's home is a 8,200 square foot property, and she lives there with husband Randy Bick, along with their four dogs. The home also has massive glass walls, allowing for stunning views of the Pacific ocean at any time of day, no matter the weather.
And back in 2018, she openly talked about not being "a baby/kid person."
"I made the choice to not have kids…a decision I've never regretted," she wrote in a tweet back in 2018.
Overall, the performer has never hid much from the public. Even when it came to her lung cancer journey.
Kathy's Survival Journey
Lung cancer survivor Kathy Griffin was diagnosed with lung cancer in 2021 and has been public about her diagnosis and cancer battle. She's a non-smoker and was diagnosed with stage 1 lung cancer. A  stage 1 lung cancer diagnosis indicates that the cancer hasn't spread to the lymph nodes or other organs in the body.
Symptoms of lung cancer typically include:
Sudden and unexplained weight loss
Constant coughing that becomes painful over time
Shortness of breath
Changes in voice or difficulty speaking without getting winded
Pain in the torso, mid- and upper-back, and shoulders
Discoloration or a sudden change in color of mucus and saliva
Griffin had surgery to treat her disease. Lung cancer surgery impacts the body in various ways. It may cause fatigue, leaving the patient feeling weak and tired. There's also the risk of infection after surgery. Signs of infection after lung cancer surgery can include: shivering, feeling nauseous, swelling or redness around the surgical wound, and fluctuating temperature. Speak with your doctor if you experience any of these things.
Breathlessness is also normal after lung cancer surgery. Long-term pain can present as well. A study published by the European Journal of Cardio-Thoracic Surgery examined the risk factors of vocal cord dysfunction (VCD) following lung cancer surgery in patients. The study found that 86–100% of patients reported hoarseness after surgery following RLN paralysis (a nerve injury that has the potential to occur after surgery for lung cancer). And in 45% of the patients studied, hoarseness was the only symptom of VCD after lung surgery.
What Happens When You've Been Newly Diagnosed With Lung Cancer
Lung Cancer: Explained
There are two main types of lung cancer. And the type of lung cancer a person is diagnosed with will inform their treatment path, as well as the predicted progression of the cancer. The two types of lung cancer are:
Non-small cell lung cancer (NSCLC) is the most common type and makes up about 85% of cases
Small cell lung cancer (SCLC) is less common, but it tends to grow faster than NSCLC and is treated very differently
Lung cancer is a serious cancer, but fewer people annually are getting diagnosed with this disease because of a decline in smoking rates. Additionally, advancements in treatment options exist, too, which means better prognoses for some patients.
Treatment options for lung cancer can include surgery, chemotherapy, radiation therapy, targeted therapy, or a combination of these treatments. New treatments, such as immunotherapy and targeted agents, are dramatically improving the prognosis and quality of life for people diagnosed with this disease.
Preparing for Lung Cancer Surgery
Learn more about SurvivorNet's rigorous medical review process.