Supporting a Friend with Cancer
Chris Evert and Martina Navratilova are former tennis rivals turned friends. And Evert's support for Navratilova was on full display after Navratilova recently announced that she's facing a battles with both breast and throat cancer. She's previously battled breast cancer.
Evert also received support from Navratilova when she faced ovarian cancer last year. She announced the end of her treatment in May.
Supporting a friend or loved one with cancer can be hard. SurvivorNet suggests offering concrete ways to show the cancer warrior you care, allowing them to talk through their negative emotions with you, cooking them a healthy meal that they'll enjoy, doing activities with them that will lift their spirits and working to better understand their diagnosis if you're taking on more of a full-time caregiver role.
Chris Evert and Martina Navratilova are tennis legends. But a big part of their legacy lies in their support for each other outside of the game.
Evert and Navratilova were contemporaries in the sport of tennis who often went head to head for titles. And both are former world No. 1 tennis players who won 18 major singles titles. Since their retirements, the two inspiring women have continued to stay active in the world of tennis – particularly with their commentary.
Read More
But both Evert and Navratilova have recently been faced with life-changing health battles in the form of cancer. Evert shared she was diagnosed with ovarian cancer – the same disease that took her sister's life in February 2020 at the age of 62 – last year. Her diagnosis came after she underwent what she thought would be a preventative hysterectomy to reduce her ovarian cancer risk. She had the surgery because further research revealed it was her sister's BRCA1 genetic mutation that caused her cancer, and Evert found out that she, too, had the genetic mutation.
Genetic Testing Can Offer Valuable Information about Ovarian Cancer Risk
"We thought we were being proactive," Evert said. "Since Jeanne (her sister) had ovarian cancer, that was the priority. A breast decision is down the road."
But a proactive measure turned out to be a necessary step in her own cancer journey after pathology following surgery revealed malignant cells and a tumor originating in her left fallopian tube.
"I heard all the terms for two years with Jeanne," Evert explained of her stage 1 diagnosis. "It was like déjà vu going back in time. Back to the space that was horrific."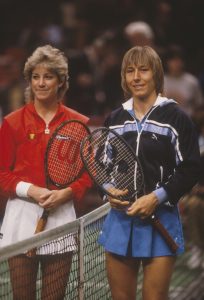 Beyond her surgery, Evert also needed chemotherapy. And in May 2022, she told the world about completing her sixth and final chemotherapy treatment for her disease.
Navratilova, who previously battled breast cancer in 2010, is about to undergo treatment for both throat and breast cancer this month. Her throat cancer was found after she discovered a lump in her neck, and further tests revealed her breast cancer. Thankfully, both of her cancers were detected at an early stage which should hopefully improve her prognosis.
Surgery or Chemo First? How is Breast Cancer Treatment Order Determined
"The double whammy is serious, but fixable, and I'm hoping for a favorable outcome." the Prague native said of her new diagnosis. "It's going to stink for a while, but I'll fight with all I have got."
Chris Evert and Martina Navratilova Support Each Other
Through it all, the tennis stars have showed that their friendship has always trumped their sports rivalry. After Chris Evert announced her cancer diagnosis, Martina Navratilova wasted no time making sure she showed her support.
We are all with you and behind you Chrissie, you are a true champion and I have no doubt you will conquer this nasty opponent with nary a sweat! Xoxox https://t.co/G91wnUCRyU

— Martina Navratilova (@Martina) January 15, 2022
"We are all with you and behind you Chrissie, you are a true champion and I have no doubt you will conquer this nasty opponent with nary a sweat! Xoxox," Navratilova wrote on Twitter.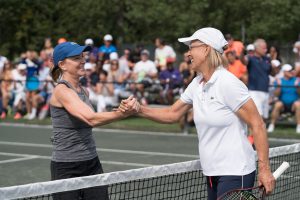 RELATED: Wimbledon Champion & Breast Cancer Survivor Martina Navratilova, 65, Tells Chris Evert: 'We Are All with You and Behind You' as Evert Battles Ovarian Cancer
Evert made a similar show of love and support just the other day.
Thinking of @Martina today and supporting her journey, like she did mine, with love and prayers. This is a woman who takes on challenges with strength and resilience…You got this, Martina!❤️

— Chris Evert (@ChrissieEvert) January 2, 2023
"Thinking of @Martina today and supporting her journey, like she did mine, with love and prayers," she wrote on Twitter. "This is a woman who takes on challenges with strength and resilience…You got this, Martina!"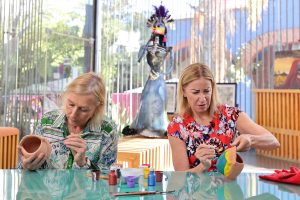 Needless to say, the two icons are as kind as they are tough. SurvivorNet is wishing both former athletes a healthy road ahead.
Five Ways You Can Support Someone with Cancer
No matter what role you play, it can be very tough to know what to do when someone you care about is diagnosed with cancer. To help get you started, below are some ways to offer support to your loved ones with cancer.
Avoid asking, try doing. Although it's understandable to not know how to best support your loved one during their cancer journey, it can be equally as hard for them to voice exactly what they need or want from you. Instead of always asking, "How can I help you?" maybe try saying something more concrete like, "Hey, can I come over at 8? I'll bring Monopoly." If you offer specific ways to support rather than ask for things they need, it's likely to come across as more genuine and feel easier for them to accept the support or help.
Stay in touch, but "don't say stupid things." You might never be able to truly understand the battle your loved one is facing, but being a person they feel comfortable talking through some of their negative emotions with can make a big difference. That being said, breast cancer survivor Catherine Gigante-Brown says there are some topics you might want to avoid. "Don't burden us with stories about your Great Aunt Harriet who had breast cancer," she previously told SurvivorNet. "And then you say, 'Oh how's she doing?' And then they'll say, 'Oh, she died.' We don't need to hear the horror stories."
How to Talk to a Friend With Cancer: Don't Say Stupid Stuff
Offer to cook them a meal. Consider inviting them over for dinner, dropping off a special dish, or, if that's not possible, sending a gift basket with some pick-me-up goodies. If you're able to cook for them, perhaps try to make a healthy meal that will bring them joy. Remember that there's no specialized diet that has been found to fight cancer, but it's always a good idea to maintain a moderate diet with lots of fruits and vegetables, as well as fats and proteins. No matter what, it's the simple gesture of providing a meal that will make them feel loved and supported.
Try helping them find joy. There's no one right way to do it, but try to think of activities you can do with your loved one that will lift them up. It could be something as simple as watching a funny tv series together, having a wine and paint night, taking a drive to a beautiful place or starting a book club with them. We've seen in previous studies that patients with better emotional health have a better quality of life when going through treatment and actually tend to live longer than those with worse emotional well-being. Dr. Dana Chase, a gynecologic oncologist at Arizona Oncology, says "better quality of life is associated with better survival, better outcomes… having a good social network can be very helpful."
Dr. Dana Chase explains how emotional health is key during a cancer journey
Be involved. If you've take on more of a full-time caregiving role, work to understand your loved one's diagnosis and help them follow the instructions from the cancer-care team. "I encourage caregivers to come in to visits with my patients, because in that way, the caregiver is also listening to the recommendations — what should be done in between these visits, any changes in treatment plans, any toxicities [side effects] that we need to look out for, changes in dietary habits, exercise, etc.," Dr. Jayanthi Lea, a gynecologic oncologist at UT Southwestern Medical Center, previously told SurvivorNet.
How to Be a Better Caregiver for Your Loved One
Learn more about SurvivorNet's rigorous medical review process.