Living with Stage Four Colon Cancer
Criscilla Anderson is currently fighting stage four colon cancer. But she's making time for fun memories with her kids through it all.
There are many factors to consider when deciding on the right course of treatment for stage four colon cancer. Oftentimes, treatment might include chemotherapy alone, but some cases will require chemotherapy and surgery. Additionally, your doctor should also explain any newer therapies or clinical trials in case those are the best fit. Make sure to ask your oncologist about all of your options.
A cancer battle, or any struggle for that matter, can lead to a whole host of complex emotions – and it's okay to allow yourself to feel the negative ones too. But trying to stay positive, focusing on the 'controllables' of your situation and having things to look forward to can help you live life to the fullest while fighting cancer.
Criscilla Anderson is a stage four colon cancer warrior. But she's making sure the disease doesn't keep her from creating precious memories with her family.
The dancer and reality TV star, 42, has been married to 45-year-old country music singer Coffey Anderson for 15 years. The couple has three children together – 11-year-old Ethan, 9-year-old Emmarie and 6-year-old Everleigh – but Criscilla is also the step-mother to Coffey's first born child, Savannah Jean, 20.
Read More
And despite her ongoing battle with cancer, she's determined to have fun with her family. Most recently, she posted a picture of her and Emmarie to share her excitement about a trip to California.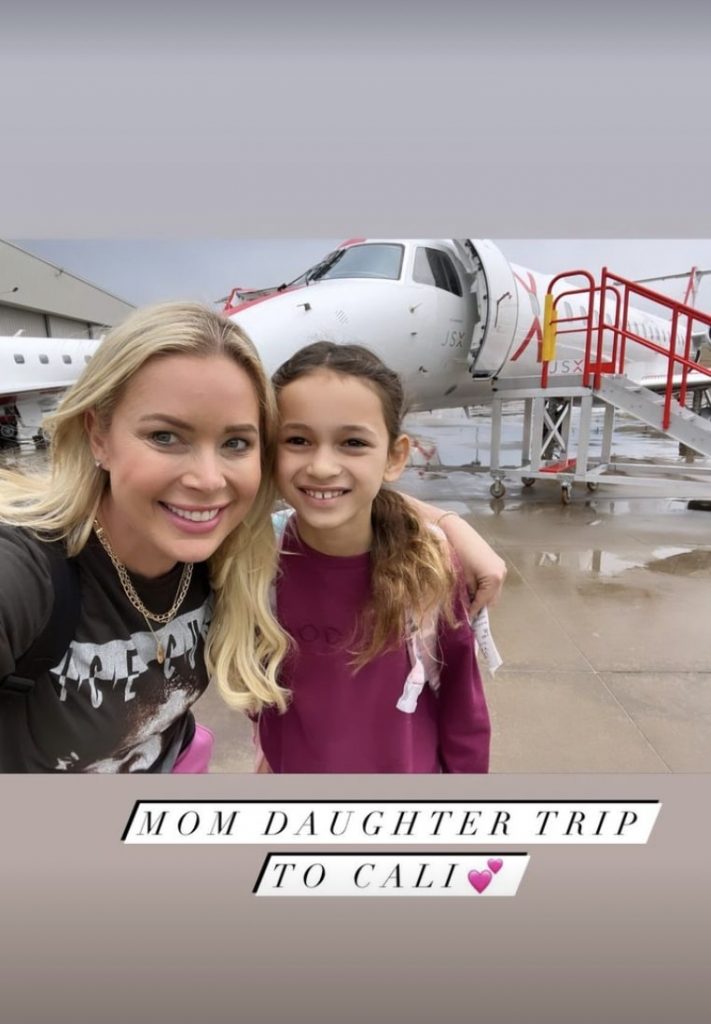 "Mom Daughter Tip To Cali," the loving mother wrote on her Instagram story. And this post certainly doesn't mark the first time Criscilla has shared special moments with her children. Just the other day, the posted a video of her dancing with Emmarie.
View this post on Instagram
"Dancin with my mini me," she captioned the post.
RELATED: Dance Machine! Reality Star Criscilla Anderson Leads Hot High-Energy Dance Class, Amazing After Stage 4 Colon Cancer
She frequently shares heartwarming content with her other children, too. About a week ago, she posted a video of her making a car wash "fun" with her son, Ethan.
View this post on Instagram
"My son and I went to wash my car and decided to make it fun!" she wrote in her caption. "Thankful to @chevroletdfw for my suburban. We love it. Real life happening in it for sure!"
Criscilla Anderson's Cancer Battle
Criscilla Anderson was originally diagnosed with stage four colon cancer in 2018. But summer of 2021 was a high point for the couple. Coffey Anderson exploded onto the charts with his anthem "Mr. Red White & Blue," and Criscilla received an incredible update on her cancer battle.
"I walked in and Criscilla was crying, and after four summers of going through this, you just never expect good news," Coffey told PEOPLE. "She told me that the doctor had said that she had reached NED [no evidence of disease]. It took me about 15 minutes to grasp.
"My phone dropped out of my hand and my shoulders dropped and I just felt my body starting to realize the gravity of it."
Her NED status that summer was a major milestone, but she knew she could not completely relax.
"The thing with cancer is that the chances of it returning are very, very high," she said. "That's why it's always been important for me to not only celebrate all the victories, but prepare my mind for a bad scan, which takes us right back to the drawing board.
"It's almost like I have to treat the cancer like a chronic disease."
Criscilla has since had to fight the disease again after her stage four colon cancer returned in early 2022. Still, her spirit is unshakable.
How to Cope When Recurrence Rattles Your Faith At The Age of 25 — Two-Time Colon Cancer Survivor Danielle Ripley-Burgess Shares Her Story
"I'm always going to be preparing my heart and my mind for results that I don't want and just praying for the best," she said. "Do I want this diagnosis? Of course not…Who would want this? There are times when I get mad and I get angry and I get sad and then, I get hopeful again. The fight is still on, but I have a lot of fight in me."
Treatment for Stage Four Colon Cancer
Receiving the diagnosis of stage four colon cancer, or metastatic colon cancer, means that the tumor has spread outside the colon. Treatment for this stage colon cancer often includes chemotherapy alone, but select cases require a combination of chemotherapy and surgery depending on the patient, tumor properties and where exactly the cancer has spread.
Treating Stage Four Colon Cancer
"The overall view of treating metastatic colon cancer is that most of those patients can not proceed to surgery, and so their cancer can never be removed entirely," Dr. Paul Oberstein, a medical oncologist with NYU Langone's Perlmutter Cancer Center, previously told SurvivorNet. "So they're going to live for the rest of their life with their cancer, and we're going to be their partners in giving therapy, or other experimental treatments that will control their cancer for as long as possible with the fewest side effects as possible."
The goal of treatment at this stage is to control the cancer, prevent it from growing or spreading and shrink it. Once the cancer is "under control," the phase of treatment called maintenance therapy generally begins. Over time, chemotherapy drugs might need to be switched if the cancer mutates or changes or the patient simply needs a break from the drugs.
"So then the next step is to maintain it so that the tumor doesn't grow, the person can continue living their life, and have reduced side effects compared to very aggressive chemotherapy.," Dr. Oberstein said.
Another treatment route to consider is with "novel therapies or experimental therapies or clinical trials."
Stage Four Colon Cancer: "Not All Patients are the Same"
"We emphasize to patients that that's something that we as oncologists are always considering," Dr. Oberstein explained. "So that if at a certain point, a novel therapy comes out, if someone makes an announcement, or we do a clinical trial, and we demonstrate that a new therapy is effective for colon cancer, that's something that potentially will help that person during their course of their disease."
RELATED: Check Out SurvivorNet's Clinical Trial Finder
No matter what, there are many factors to consider when deciding on the right course of treatment. Make sure you talk with your doctor about all your options if you or a loved one is faced with stage four colon cancer.
How to Stay Positive during a Cancer Journey
It's very normal to have negative feelings throughout your cancer journey – and it's okay to express them too! Anger, shame, fear and anxiety are all to be expected. But doctors will tell you that people who find a way to work through the emotions and stay positive – like we've seen Criscilla Anderson do – tend to have better outcomes.
"A positive attitude is really important," Dr. Zuri Murrell, a colorectal surgeon at Cedars-Sinai Medical Center in Los Angeles, previously told SurvivorNet. "I'm pretty good at telling what kind of patients are going to still have this attitude and probably going to live the longest, even with bad, bad disease. And those are patients who, they have gratitude in life."
In a previous interview with SurvivorNet, Dr. Mona Robbins, a licensed psychologist at UT Southwestern Medical Center, shared that mindset can play a huge role in helping you throughout your cancer journey. She says it's important to understand that there are some things you can control and some things you just can't.
"There's this connection with the mind and the body that if we adjust the way that we think, we can really help our bodies to heal," Dr. Robbins said. "For areas where you can control, how can you either advocate for yourself, ask more questions, clarify the needs? Or even, then, where areas where you can't, how can you take things one day at a time? Recognizing some of the good that may be present in the day, as opposed to all of the bad you may think is there."
And one way to stay positive and focus on the 'controllables' is to make plans for the future.
"Have something to look forward to – either in a couple months, if not at the end of the week – so that that brings up your spirit and your energy so that you feel a little bit more hopeful about what's happening," she said.
Learn more about SurvivorNet's rigorous medical review process.