Many people dealing with a cancer diagnosis suffer from disease-related anxiety and depression. Now, a new study is indicating that as little as one dose of "magic" mushrooms — fungi with hallucinogenic powers — may alleviate some of that stress over a period of years.
In 2016, a study  started looking at whether one dose of synthetic psilocybin — the psychedelic compound found in so-called "magic" mushrooms — could ease symptoms of anxiety and depression. Almost five years later, many patients in the controlled group are still feeling the positive effects of the psilocybin.
Read More
In 2016, 80% of 29 patients reported their symptoms faded, and the results lasted six months.
The new study,
published this week in the Journal of Psychopharmacology, followed up with 15 patients and found that 80% were still experiencing improvements in terms of  anxiety and depression.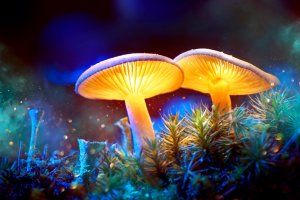 The History: Mushrooms and Depression
Over the past several years, evidence has been emerging that psilocybin can be helpful in aiding people that live with depression.
Last year, Kelan Thomas, a psychiatric pharmacist at St. Helena Hospital Center for Behavior Health, who has been providing research support to a clinical trial through the University of California San Francisco that is investigating psilocybin-assisted group psychotherapy for people with AIDS, spoke to SurvivorNet about the science behind using the drug.
"Functional connectivity neuroimaging studies are beginning to reveal that hyper-connectivity in the default mode neural network is increased for people with depression, and that greater hyper-connectivity is also associated with the duration of a depressive episode," Thomas said.
"Psilocybin is a serotonin-2a receptor agonist that is able to disrupt these dysfunctional neural network circuits found in depression. During a psilocybin-assisted therapy session people may describe a mystical-type experience with deep insights that they can subsequently integrate into their daily life."
RELATED: The Difference Between Integrative Medicine and "Alternative Medicine"
While the information researchers have about using magic mushrooms to treat depression is promising — it is still very limited. In Thomas' interview with SurvivorNet last year she noted that there is still much more research to be done before this treatment method can get federally approved.
"There have been published clinical trials from NYU and Johns Hopkins demonstrating substantial improvement of depression symptoms in people suffering with cancer, so when the medication becomes available for clinicians then this could be one potential treatment option," Thomas said. "The limited evidence is promising thus far, but it will take a few more years of clinical trials until psilocybin is FDA approved to treat depression."
Dealing With the Psychological Aspects of Cancer
People tend to be extremely emotional after getting a cancer diagnosis — they may be stressed, anxious, angry or all of the above. All of these feelings are completely normal, the unique thing will be figuring out how to deal with these emotions in a way that fits your lifestyle.
In a previous interview with SurvivorNet, Dr. William Breitbart, chief of the Psychiatry Service at Memorial Sloan Kettering Cancer Center, explained that a lot of the emotion comes from people feeling vulnerable — and not knowing how to deal with that vulnerability.
"Shame comes from this sense of vulnerability, right? There's something wrong with me because I'm human and I'm susceptible to illness, and now I have an illness," Dr. Breitbart said. "…What I will often point out to people is that we have the ability to choose how we respond to this vulnerability. We can be ashamed of it or we can use it to create a sense of empathy. I'm imperfect, and now I understand other people who are imperfect."
Learn more about SurvivorNet's rigorous medical review process.