Adorable Tik-Tok of Singer Michael Buble With Cancer Surviving Son Noah
Noah was diagnosed with liver cancer in 2016
Survived rounds of chemotherapy and radiation
Bublé cancelled tours during Noah's treatment
Noah has fully recovered
Singer Michael Bublé Shares Adorable TikTok With Son Noah Who Beat Cancer is bursting with pride.
Not over his successful career as a recording artist known for his soulful ballads, but as dad to his son Noah, 8, who beat liver cancer and appears to be following in Buble's musical footsteps.
Read More
Bublé posting an Instagram video reel of him on Tik-Tok, sitting with his son, as Noah played the piano, writing "Noah surprised me after I was away on tour. He worked so hard on this song. So proud of my guy. Heart emoji."
The caption reading, "more talent in his little fingers than I have in my whole body."
Noah was effortlessly playing one of Bublé's songs, "I'll never not love you," and apparently perfected his performance while Buble was away on tour.
The Canadian crooner, 46, marveled at his son's accomplishment as a full circle moment considering the long road Noah has had since his liver cancer diagnosis in 2016.
"I don't wish that kind of pain upon any human being, but I do feel that when you've truly suffered, when you've truly felt fear and loss, it allows you to live a deeper life," said Bublé in a 2021 interview with People magazine.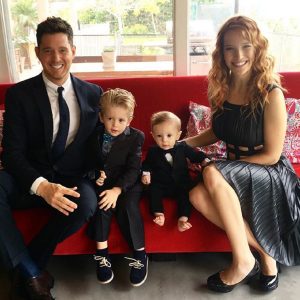 Bublé also shares son Elias, 6, and daughter Vida, 4, with wife Luisana Lopilato. In 2021, he gave an interview to a Canadian radio station, revealing he and his wife suffer "scanxiety" whenever Noah gets health checkups and scans of his liver.
"But I wouldn't have it another way," he said. "And it gives me the perspective I need to try to be a better man, to try to live a happier life, and to really take moments, and just to hold them. Because you know how lucky you are. Because you know what? Things are tough. We've got to be grateful."
The singer cancelling his tour and all music plans during Noah's chemotherapy and radiotherapy treatments. But Noah has since fully recovered.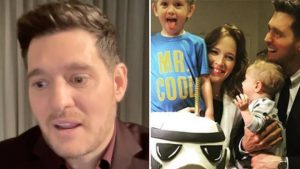 Liver Cancer in Children
According to the American Cancer Society, Liver cancer is rare in children. There are several different types of childhood liver cancer, with hepatoblastoma the most common type. It's described as a rare tumor or an abnormal tissue growth that originates in cells in the liver. It is the most common cancerous liver tumor in early childhood, and mostly develop in the right lobe of the liver.
Doctors at Stanford Children's Health have studied hepatoblastoma, and found it usually affects children less than 3 to 4 years of age. It usually doesn't spread or metastasize to other areas of the body. The cause is related to a change in a gene, but the reason is unknown.
The other less common types of childhood liver cancer are hepatocellular carcinoma, undifferentiated embryonal sarcoma of the liver, and infantile choriocarcinoma of the liver.
Buble says he and his family have chosen to focus on living life to the fullest and cherishing every moment. Themes he often expresses in his music.
"There's a lot of darkness out there, and a lot of cynical people, and it's the one time of year where we just sort of drop the veneer of toughness and we let a little bit of sentimentality. Because when we're scared, when we have fear, we lose our greatest attributes: kindness, goodness and the love of humanity."
Bublé's Followers React
Followers of Bublé on social media reacted with support and admiration for the doting father and his talented son. Among them, Claire Allan on Twitter who wrote, "if you want a little Friday heart-warming joy – this from @michaelBuble – and his son Noah has all the feels. Noach is the little boy over overcame cancer – their bond is so incredible and that father/son love is beautiful here."
Another follower named Tina Madlibs wrote, "I am not crying. I am not crying! This is the sweetest thing I have ever laid my eyes on. From one parent to the other this is the greatest feeling."
Also, John Edwards wrote, "I felt this. How special."
For Bublé, the highs and lows of Noah's cancer fight and recovery have put the singer's life and work into perspective.
"Once you've felt those things, you are able, in context, to truly feel joy, gratitude and happiness."
Learn more about SurvivorNet's rigorous medical review process.
---