A Young Man's Survival Through A Risky Surgery
33-year-old Andy Voge was an active young man when he noticed a weird lump on his abdomen. That lump turned out to be a rare cancer called seudomyxoma peritonei (PMP).
A surgery helped relieve the symptoms of PMP, in which abdominal tumors emit mucus that can strangle organs. But the cancer soon returned and Andy had to turn to drastic action.
He underwent a surgery in which many of his organs were replaced with transplants, including his intestines and stomach. It was the first time such a multi-organ transplant had been used to treat PMP in the United States.
A multi-organ transplant operation, the first of its kind ever performed in the United States, has saved the life of a man suffering a rare form of cancer.
Andy Voge, a 33-year-old man from Minnesota, was first diagnosed with seudomyxoma peritonei (PMP) in January, 2019. That's when Voge and his wife, Rachel, noticed a weird bulge on his abdomen.
Read More
"I didn't really think anything of it. … She called it my funny looking belly button," Andy Voge
told NBC News. 
A visit to his doctor resulted in an initial diagnosis of an umbilical hernia but blood work showed something was off in his liver enzymes.
"So we did an ultrasound the next day, and they found masses in my liver," Voge said.
A CT scan revealed cancer in Voge's appendix.
"A couple of days before I'd gone for a run, we were eating fine. Everything was normal," Voge said.
What Is PMP?
Like Voge's case, it often starts in the appendix as a growth known as a polyp. However, it can also start in other parts of the bowel, the bladder or the ovaries, according to Cancer Research UK. 
The polyp spreads from its starting point, sending cancerous tissue into the abdominal cavity lining. That tissue begins producing mucus, which collects in the abdomen. This symptom gives PMP a nickname far cuter than the disease itself: jelly belly. 
There is no control on the amount of mucus that secretes. … It layers and causes compression of the organs inside the abdomen," said Dr. Anil Vaidya, a surgeon at Cleveland Clinic and the Voges' doctor.
The mucus can then begin to harden, strangling the nearby organs, such as the intestines, as well as blood vessels and bile ducts, leaving patients unable to eat or drink.
PMP is often difficult to catch because it's so rare. Vaidya told NBC News that only two to four people out of every million develop the disease.
An Eye On The Ball One Young Woman's Inspiring Battle With Von Hippel-Lindau Disease, A Rare And Mysterious Condition
Hope After Surgery
While chemotherapy is often part of the treatment plan, Voge was told that it would not be totally effective for him. He underwent a surgery in which his doctor at the time removed three liters of mucus from his abdomen. Also removed were his gallbladder, spleen, appendix and omentum.
The surgery was deemed a success, though Voge still had cancerous tissue inside of him. Still, he was well enough to buy a trailer and travel Minnesota state parks with Rachel that summer.
"There was no indication of new tumor growth. … We felt really good leaving," Voge said.
Things were going so well, the couple sold their house in order to travel full-time. But that's when things went bad again.
In February, 2020, Voge was told the cancer was growing again.
"We knew that it was going to come back. We knew that we were going to have to deal with it again. It just happened so much faster than we assumed," Voge recalled.
Determined to live life to the full, Voge and Rachel hit the road, touring national and state parks across the country. But Voge began to grow sicker, due to the strangling effect the cancer was having on his organs.
"I was vomiting daily. I couldn't keep water down. I was pretty malnourished and dehydrated," he said.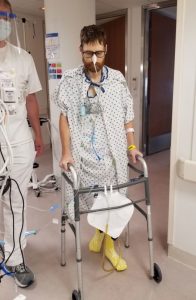 Hope In A Rare Surgery
This time, a repeat of the first surgery was not possible. The couple frantically researched other treatment options as his condition worsened. A hole in his bowel was discovered during one hospital visit.
"They wanted to go in and operate, but they just couldn't get to the bowel," he said. "That's when my doctor told me I had about a 50-50 shot of making it through that night."
He survived, but doctors believed he had just six months to live. That's when Vaidya entered the picture, having just moved from his native United Kingdom to operate at the famed Cleveland Clinic. Vaidya had pioneered a treatment in the UK for PMP involving transplanting multiple organs, but the operation had never been attempted in the United States.
"When I came to the Cleveland Clinic, I was trying to say … there is another option … if patients have failed conventional therapy. I have a solution," Vaidya said.
In the procedure, Voge's intestines, stomach, pancreas and liver would all be removed and replaced with organs from donors. While the procedure has been around for four decades, Vaidya was the first to use it to treat PMP cases where surgeries to remove the mucus buildup and chemotherapy were ineffective.
"It's a very major procedure. … The whole concept is pretty daunting," said Voge. "Pretty quickly, we said we don't have anything to lose."
The couple moved to Cleveland to prepare for the surgery but one obstacled remained: finding a suitable donor. As they waited, Voge's health continued to suffer setbacks.
"You could tell that things were declining. I got jaundice, my liver was shutting down," he said.
Finally, a donor was found and Vaidya got to work on a procedure that ultimately lasted 17 hours.
Survivor Mindy Miller on Showing Support When it Matters Most
Leaning On His "Rock"
After six weeks, Voge was finally able to leave the hospital. Calling Rachel "my rock," he has been on the mend. He knows the cancer can come back at any time, but is trying to keep living his active lifestyle. And he hopes his story will inspire others who find themselves in similarly difficult situations.
"Even in those darkest moments … there was always something to fight for," he said.
Learn more about SurvivorNet's rigorous medical review process.