Coping With Loss
Nick Cannon, 42, announced he and Alyssa Scott are expecting a baby, after the shocking loss of their first child together.
 Zen Cannon was diagnosed with brain cancer and hydrocephalus, a condition that causes a buildup of fluid on the brain, and died last year at just 5 months old.
Even though it's important for the child with cancer to have a support system, the parents dealing with the potential of losing their child need support, too.
Experts tell SurvivorNet that everyone processes grief differently, and some may cope with grief by returning to "normal" activities.
Actor Nick Cannon, 42, and model Alyssa Scott announce they are expecting a baby, after the tragic and heartbreaking loss of their first child together last year. This will be Cannon's 11th child and second with Scott.
"This is a MIRACLE & a BLESSING 🤍," Scott said in an Instagram post with Cannon in a bathtub, holding her baby bump.
Read More
Scott first announced her pregnancy in October in an Instagram post with her 4-year-old daughter Zeela, from a previous relationship, according to People Magazine. She at the time did not share who the father of the child was.
Cannon is "also dad to twins Zion and Zillion, 16 months, with Abby De La Rosa, who is currently expecting her third baby as well as 11-year-old twins Monroe and Moroccan with ex-wife Mariah Carey. He also shares son Legendary Love, 3 months, with model Bre Tiesi and recently welcomed daughter Onyx Ice Cole with former Price Is Right model LaNisha Cole," said People.
RELATED: TV Host Nick Cannon, 41, Defends His Decision to Return to Work Following the Death of His 5-Month-Old Son; How to Cope With Losing a Child to Cancer
In another post, the model thanked her followers and fans for "all of the LOVE."
A Tragic Loss
Cannon and Scott lost their five month old son Zen Cannon in December 2021 to brain cancer. He was diagnosed with a high-grade glioma, a rare and aggressive form of brain cancer, according to People.
Shortly after his birth, doctors also discovered fluid building up inside the baby boy's head, also known as hydrocephalus. Cannon announced his son's passing on his show, The Nick Cannon Show, during which he told the story of how he and Scott and Zen visited the beach to watch the sunrise, sharing a photo of the three of them together.
"This is a special one. This is my Pic of the Day today, a picture that I actually had the opportunity to take on Sunday," Cannon said at the time. "It's a beautiful photo of my beautiful son and his beautiful mother, Alyssa Scott, and it's a real moment."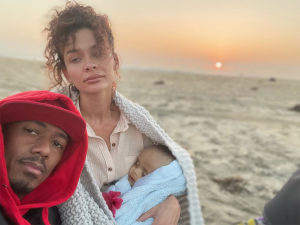 Scott also shared with viewers at the time Zen's battle with health issues.
"He had this (really) interesting breathing and by the time he was two months old I noticed … he had this nice sized head, I called it a Cannon head. We didn't think anything of it, he had a normal Cannon head. But I wanted to take him to the doctor to get the breathing and the sinus thing checked out," said Cannon.
He adds that he and Scott thought it would be a "routine process" bringing Zen to the doctors. But it was anything other than routine, as the doctors discovered the baby had a buildup of fluid in his head. He also had a malignant tumor that required surgery.
"We were faithful and hopeful for that time," Cannon added. "We carried on, he was still just playing with his brothers and sisters, I embraced every moment."
Scott shared an emotional post on the 'heavenly' birthday of Zen.
"At the root of all the emotions I have today there is insurmountable love. I always try my best to remain positive but right now I can't help but cry out "it's not suppose to be like this.""
The Grieving Process
The loss of any person, especially a child is difficult to process and understand. We at SurvivorNet have many resources to help you throughout the grieving process.
"Grief comes in waves," says Dr. Scott Irwin, a psychiatrist and Director of Supportive Care Services at Cedars-Sinai Medical Center.
Dealing With Grief Related to Health Problems
"They're grieving the change in their life, the future they had imagined is now different." Some days can be tougher than others, but Dr. Irwin says talk therapy is helpful so it's important to reach out to your doctor, to a therapist or to support groups in your community.
We have dedicated content specifically for your mental health and helping you find tools that work for you. Taking care of your mental health when you are going through a challenge, such as a cancer diagnosis or grieving the loss of a loved one, is a process.
People may turn to many different avenues to help them cope, such as traditional therapy, support groups, meditation, and sometimes medical intervention such as antidepressants. When faced with a new challenge, it's important to make sure that these coping mechanisms you have to care for your mental health continue to work throughout the process.
"I think flexibility is really a core of how to manage it," Dr. Samantha Boardman, a New York-based psychiatrist and author, tells SurvivorNet. "Are your coping strategies that you're using now, are they helpful in the way that they were in the past?"
Dr. Boardman encourages people who may be struggling with their mental wellbeing to take stock of their belief system and ask themselves the following questions: Could these beliefs be harming me (like feelings of self-doubt or negativity)? Is my mindset holding me back from positive steps forward?
With assistance from Sydney Schaefer 
Learn more about SurvivorNet's rigorous medical review process.
---