An Unbelievable True Crime Story
Former FBI agent John Connolly—an informant to James "Whitey" Bulger—who was convicted of second-degree murder will be released from a Florida prison on a conditional medical release due to advanced stage cancer, according to his attorney and reports from the Florida Commission on Offender Review.
Bulger, a crime boss and murderer, was on the run for 16+. years, and once graced the FBI's Top 10 Most Wanted Fugitives list just under Osama Bin Laden, (the mastermind behind the 9/11 terrorist attack in NYC). The Boston mobster that The Departed film was based off of, was eventually found in Santa Monica, Calif. and later was found murdered in a West Virginia prison in 2018.
Connolly will reportedly be released by next week and will get the care he needs for late stage cancer. The murder victim's family does not oppose Connolly's "compassionate" release.
Palliative care can be introduced at any point during a cancer patient's treatment and involves active steps to improve physical and mental symptoms and minimize suffering.
Former FBI agent John Connolly—an informant to James "Whitey" Bulger—will be released from a Florida prison on a conditional medical release due to advanced stage cancer, according to
Connolly's attorney
and reports from the Florida Commission on Offender Review. Connolly, 80, has been serving time for second-degree murder related to Bulger, who once graced the FBI's
Top 10 Most Wanted
Fugitives list along with Osama Bin Laden, (the mastermind behind the 9/11 terrorist attack in NYC who was killed by U.S. military).
Related: As the Coronavirus Spreads, SurvivorNet Shares the Facts to Help Cancer Survivors Understand the Risks
Read More
"We are pleased," Connolly's lawyer,
James E. McDonald
said to CNN. "John is 80 years old, he has cancer, and from my perspective, he's been wrongfully convicted. Which is why I've been representing him for free for 15 years." They are not sure when the release will officially happen but reportedly by next week. Bulger will be taken to Boca Raton Cancer Center to receive inpatient care.
The Story of Bulger and Connolly
Bulger disappeared in 1994 and Feds chased leads all around the world to find him … in 19 countries to be exact. In 2011, the Boston mob boss—who apparently got involved with gang activity as a teenager and climbed up the ranks to eventually lead a mostly-Irish mob, while racking up a long list of murders—was finally found in a cheap apartment in Santa Monica, Calif. and arrested. Police found 30 guns and $800,000 in cash hidden in the walls. (Fun fact, the 2006 Oscar-winning film The Departed with Jack Nicholson and Leonardo DiCaprio was based on Bulger and Connolly's story).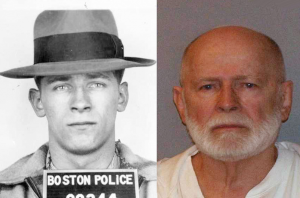 Prior to going on the run, Bulger—an FBI informant himself at one point—was tipped off by Connolly that he was about to be arrested and Bulger was able to flee because of Connolly's warning. Years earlier, Connolly tipped off Bulger that John Callahan, President of Miami-based company World Jai Alai, was about to implicate his gang in a murder. Callahan, who was found shot to death in the trunk of a car at Miami International Airport—reportedly had ties to criminal activity himself, and his 1982 murder was traced back to Bulger, hence Connolly's eventual charge for his alleged involvement in helping Bulger set up the hit. He was found guilty, but they lessened the charge to second degree from first. A second-degree murder is not premeditated. Connolly has also done prior time for other offenses and has already served nearly 20 years of a 40-year sentence.
Related: Seeking Human Decency– CNN Anchor Asks People to Wish Radio Host Rush Limbaugh Well As He Fights Lung Cancer
The late Callahan's son (shockingly) does not oppose Connolly's release, given his terminal condition. The late Callahan's widow, Mary Callahan, also said that she agrees with Connolly's compassionate release, as long as he is supervised. "He's not free. He's never going to be free," Mary said to Boston 25 News. "He's not free of his health, he's not free of his reputation. He's not free."
BREAKING: Former FBI Agent John Connollly is being released from Florida Prison after 20 years behind bars. Florida Commission found Connolly is terminally ill with cancer, and has a life expectancy of less than one year.
It was 2-1 vote. @boston25

— Bob Ward Boston 25 (@Bward3) February 17, 2021
(Oh, and Bulger was found murdered in prison in 2018 at 89 years old, sounds like a movie right?)
View this post on Instagram
The Florida Commission on Offender Review voted 2 to 1 for Connolly's release. He also requested to be released from prison last year during the onslaught of the pandemic, which was denied. There was no mention of cancer at that time, and it's unclear what type he has or when he was diagnosed.
Guilt in the Last Stage of Life
At the end of life, it is a normal feeling to feel regret. Whether or not Connolly feels any regret, we cannot speculate over his mental state. But it is a common transition for many people facing death to question the decisions they made throughout their life. Connolly is a father of three sons, with wife Elizabeth Moore. He has had quite a long time in prison to reflect, not to mention has had quite an extraordinary life. Does he brag about his colorful, yet checkered, past, or does he truly deeply regret the things he did, by turning on his family, and his country.
Interestingly, the history with the Bulger family goes way back, they were reportedly neighbors growing up, and lived in the same public housing project. Did he consider Bulger to be family? Did he feel a loyalty to him? Was he a crooked cop so to speak from the start? Maybe growing up around that life was the only thing he knew. He was loyal to the bone to a childhood friend, who was actually revered a hero of his own kind in the Boston neighborhood that he grew up in, much like The Departed film. Bulger allegedly fixed up the neighborhood and fed the poor, according to NBC News, like the late drug lord Pablo Escobar in Colombia. Perhaps Connolly saw the human side of Bulger and they were in fact, two of a kind.
Palliative Care
"People who get palliative care actually live longer than people who don't get palliative care when they have advanced cancer," Dr. Elizabeth Kvale, Director of UT Health Austin's Livestrong Cancer Institutes, tells SurvivorNet. "The survival advantage that people get with cancer is about three months if they get early palliative care." Palliative care is often mistaken for hospice, but it just means keeping a patient as comfortable as possible, in all aspects of their life. And helping people manage symptoms as best as possible.
A patient may meet with their palliative care team every week, every month or every couple of months. "The sooner patients with serious cancer get palliative care, the better," she says. Connolly will have time to spend with family if he chooses (and if they choose) and that can have a huge impact on his survival as well. Having something to live for may help him keep up the fight, now that he's not longer behind bars.
Palliative Cancer Care is Different for Everyone
Learn more about SurvivorNet's rigorous medical review process.