Ending the Stigma of Male Breast Cancer
Beyoncé's dad Mathew Knowles, 69—who was diagnosed with male breast cancer in 2019—wants to remove the shame associated with male breast cancer by calling it "male chest cancer."
Knowles proudly tells SurvivorNet that he has a clean bill of health after extensive check-ups a few weeks ago and credits his lifestyle choices.
Knowles reveals that he has some new Film and TV projects in the works (including Destiny's Child projects) and will have a new podcast dropping Feb. 21.
Father—and famed former manager—of singers
Beyoncé
and
Solange Knowles
,
Mathew Knowles
, 69, knows a thing or two about being proactive; And takes charge of his health just like he would a business. He says he stopped drinking and made some hefty lifestyle changes, including eating a clean diet. "It's like everything else in life. It's about knowledge," he tells
SurvivorNet
. "And knowledge is power." The 'male chest cancer survivor,' as he prefers to be called over a breast cancer survivor, carries the
BRCA2
gene mutation, which means that your offspring have a
50/50
of getting cancer, whether it's coming from your mother
or
father, according to the National Cancer Institute. When asked, Knowles notes that his daughters do get checked regularly (and they have actually
 tested negative
for the gene mutation).
Related: Beyonce's Father, Mathew Knowles, Survived Breast Cancer: 'I Want To Save Lives — Especially In The Black Community'
Read More
"The more information we have, the better we can educate men and women about early detection." The Houston native says, and insists that we can make screening for breast cancer more effective for men if we change the messaging from breast cancer to male chest cancer. "A man could really feel better about himself saying 'I have male chest cancer.' Think about it, would you like to stand up at a podium as a female and say 'I have prostate cancer.' How would you like to do that?"
Prior Career Gave Insight
Prior to Knowles' 27-year career in the music industry—managing girl group Destiny's Child—and launching Beyoncé's solo career, he says for 20 years prior, he worked in Corporate America, primarily in diagnostic imaging.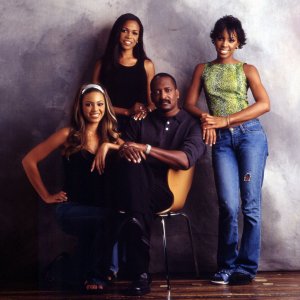 He used to sell breast cancer imaging equipment. "Oddly enough, I sold the leading modality for breast cancer detection from 1980-1988 at the medical division of Xerox, so I had some knowledge of breast cancer." He knew to get checked after finding little drops of blood on his white shirts and on his bedding in July of 2019. "I knew from years ago what that meant, and I immediately went to my physician who immediately referred me to get a mammogram that led to an ultrasound that led to a biopsy that led to surgery. Somewhere in all of this, there was a delay in getting back my pathology report. Had I got my pathology report back sooner, I would have had a double mastectomy, but I didn't. In all my years working (in medical sales) I had never heard the words BRCA 2 or that I was mutated genetically. I knew nothing about BRCA2 or genetic mutation."
"Men are dying because no one understands that it's the name that they are running away from."
His knowledge from the field and proactive attitude is what saved his life. "Had I not checked, what would that have looked like? It would have been progressive," he says. "It could have spread into my lymph nodes. I am now the face of this for men. I've been given this opportunity to save lives and I take it very seriously." Knowles, who married wife Gena Avery in 2013, also points out that he's been a college professor for 15 years (and refers to himself playfully as a "nerd"), "so research is part of it. I'm always wanting to research, that's the key to my success." The American Cancer Society estimates that for 2021, around 2,650 new cases of invasive breast cancer will be diagnosed in men and around 530 men will die from breast cancer. Significantly less than female breast cancer (281, 550 estimated new cases of invasive breast cancer for women and an estimated 43,600 deaths), but something men also need to take seriously.
View this post on Instagram
An Extensive Family History of Cancer 
Knowles already had a knowledge of cancer in his family, but after he get diagnosed, he took it upon himself to find out as much information as he could about his family history. "In my family, my mother's sister died of breast cancer and two of her three daughters died of breast cancer." When he searched back as far as he could into his family's history, he also found out that his grandmother's sister on his mother's side died of breast cancer. "Then on my father's side, my aunt who is in her 80s, she is recovering from breast cancer. With that family history, I should have gotten genetic testing at 30."
Women who carry the BRCA2 gene mutation are more likely to get diagnosed with breast and ovarian cancers, but Knowles goes on to explain that having BRCA2 as a man means that you have a higher risk to get male chest cancer, melanoma, prostate cancer, pancreatic cancer. "I knew my grandpa died of prostate cancer when I was a kid, but I didn't know that four of my dad's six brothers had died of prostate cancer. It might be one of those rare cases that BRCA2 is in both families."
Related: When Breast Cancer Took His Sister, Alex Trebek Was By Her Side: Could Their Cancers Be Linked?
Knowles would have wanted to know sooner that he had a higher risk of getting this sooner, and urges people to research their family history, get genetic testing done, and start making lifestyle changes now. "Let me tell you why it's important to know you have a higher risk. Because there are three things you can do to minimize that risk: Diet, exercise, reduction of alcohol consumption."
A Clean Bill of Health
Knowles is proud to say that he's completely done those three things and more to change his life around since beginning his cancer journey. "In a few minutes I'm going to run two miles nonstop. And I'm doing intermittent fasting. I eat at 12pm, and then I eat again around 7pm, and then I won't eat again until 12pm the next day. I only do vegetables, and I might eat chicken and fish three or four times a month. I don't drink alcohol anymore; I completely stopped when I found this out."
Related: New Evidence On The Important Role Your Diet Plays in The Risk of Getting Cancer
The father-in-law to Jay-Z also reveals that he just got extensive check-ups and his health is in better shape than before his cancer diagnosis. "I'm happy to say I just did a complete—six hours I was at the outpatient facility at Methodist hospital three weeks ago. I got an MRI of my pancreas, prostate. I got a mammogram. I got an ultrasound. I also got a cardiovascular test. I got a full blood count—there were some concerns that I was pre-diabetic. My doctor said my numbers for pre-diabetic are down to normal, so I'm not even pre-diabetic anymore. My cholesterol was normal. I'm making a lifestyle change. So If I can find this out early in life and make some of these lifestyle changes, that's what I think it's about. And early detection. Getting your mammograms early if you're in a high-risk category. Same for men. They need to get a mammogram if they're in a high risk category."
View this post on Instagram
Knowles didn't remember what type of cancer that he had but he knew that he was 1A. "I was very grateful to be diagnosed Stage 1A." And he has to take a pill every day for 5 years. "Tamoxifen." He notes that side effects are mild compared to the risk he would face not taking it and having the cancer potentially come back
Moving Full Steam Ahead 
Clearly, a cancer journey has not slowed this man down. "I have four film and TV projects. We are transitioning into film and TV," he says. "Some of those are Destiny's Child projects. Some exciting projects that we will be unveiling in the next two years." Did you hear that, BeyHive? (nickname for Beyoncé's ginormous fan base)
Professor Knowles, who has an MBA and PhD, is currently (virtually) teaching The Music Industry and the Digital Age at University of Houston and Sales and Management at Prairie View A&M University. "I've been a college professor for around 15 years, most people don't know that. I'm focused on those things. And academia is going to change like music. We used to have CDs … and we used to be in a classroom."
Registration for "The Music Industry in the Digital Age" Masterclass ends in 24 hours!

This 15 week course, open to all, is designed to provide the knowledge and skills necessary to be EXCEPTIONAL in the Music Business. Register today at https://t.co/5GFl6RvYJu pic.twitter.com/HChF6kxoJQ

— Mathew Knowles (@MathewKnowles) January 28, 2021
The multi-talented entrepreneur also fills us in on his podcast coming out Feb. 22, Matthew Knowles: Impact on iHeart Podcasts. "It's four basic areas: Structural Racism, Health and Wellness, Entrepreneurship, and Music Business. Those will be the primary areas. It's pre-recorded and edited. We've already started that process and we've had a few interviews so far, and we have callers calling in.
As far as the rest of his—ahem—family, are they safe and healthy? "The answer is yes. I'm a pro at this," he adds with a chuckle.
From Another Male Breast Cancer Survivor: 'You are not alone.'
Men do tend to ignore symptoms because of the stigma that male breast cancer brings to them emotionally, according to Marc Futterweit, a two-time male breast cancer survivor, who shared his experience with SurvivorNet. "My doctor said, 'I want you to have a mammogram.' I said, 'what do you mean a mammogram? I don't have breasts.' His wife asked what the doctor said. "I didn't tell her," he said. "The problem with men is that they wait, and they think things are going to go away. And then you have a real problem." His family had to look through his things to find out the truth of what he was dealing with. "Men are ashamed or embarrassed—'this is a woman's disease,' this, that, and the other. Just remember, it's nothing that you have done to cause you to get breast cancer. It's nothing to be embarrassed about." Futterweit urges men that it's not just a woman's disease, and that you are not alone.
There's Not Much Out There About Male Breast Cancer — Let's Change That
Lifestyle Changes to Consider
Dr. Ken Miller, Director of Outpatient Oncology at the University of Maryland, Greenebaum Cancer Center, told SurvivorNet in a previous interview what he thinks are the top lifestyle tips for a cancer survivor. "One is exercise, I want you to do be doing at least two hours a week of exercise, and walking counts. I personally recommend a low-fat diet. I recommend a colorful diet. And the fourth, is I recommend being close to an ideal body weight."
Related: The "Pandemic Lifestyle" of Little Exercise, High Carbs, & Lots of Drinking Puts Us At Extra Risk of Cancer; Here Are Ways To Check Yourself
Learn more about SurvivorNet's rigorous medical review process.