Actor Val Kilmer Finds Joy In Artwork After Throat Cancer
Top Gun: Maverick star and throat cancer survivor Val Kilmer, 62, says the loving responses to his artwork makes his heart "soar like a hawk."
Kilmer was diagnosed with throat cancer in 2014; he had a tracheotomy and also underwent chemotherapy to treat his disease. The actor lost his voice to the disease and turned to artwork as a way to express himself.
Throat cancer is a type of head and neck cancer where cancerous cells begin in the throat, voice box or tonsils. The main risk factors for the disease include smoking, drinking alcohol, a diet lacking in fruits or vegetables, acid reflux disease and the human papillomavirus (HPV). So, one way to decrease the chances of developing the disease is to get the HPV vaccine.
Actor Val Kilmer, 62, known to
Top Gun: Maverick
fans as 'Iceman' sends gratitude to fans of his artwork, a practice he took up after losing his voice to
throat cancer
. Many cancer patients have turned to art as a way to handle their grief and Kilmer is an example of turning a tragic situation into one of joy and inspiration.
Kilmer recently took to Instagram to share an old scrapbook page he had made, paired with a caption, thanking his fans for supporting his art: "I've said words of appreciation before, but it bears saying again –  It makes my heart soar like a hawk."
Read More
Earlier this year, Kilmer shared a bit about the healing power of art. He even created a Twitter account under the name 'Kamp Kilmer' for the sole purpose of his art and collaboration with artists, musicians, and friends.
"When one thing is taken, though, another is given. With little voice, my creative juices were boiling over and pouring out of me. I started creating again, painting, writing anything I could. I felt the art healing me," said Kilmer, on Twitter.
Thrilled for my art exhibit on 9/24 @niftygateway. Digital & Physical Signed Fine Art Work. Register to bid today 👇Special thanks to my collaborators @TomerPeretzart @RemoCamero @LaurenceFuller @KampKilmer @aalborzi @BLKPRLStudios @baekcreative https://t.co/xPh4xyEuLH pic.twitter.com/OxMixZUl6D

— Val Kilmer (@valkilmer) September 21, 2022
Kilmer rose to fame in the original Top Gun (1986) as Lieutenant Tom "Iceman" Kazansky, a pilot pinned as the rival to Tom Cruise's character Maverick in the original film. Kilmer reprises his role in the 2022 film as a commander.
The hit movie grossed more than $1.4 billion worldwide this summer— reportedly making more than $705.65 million at the domestic box office.
Val Kilmer's Throat Cancer Diagnosis
Kilmer was diagnosed with throat cancer in 2015 but didn't speak publicly about the disease until 2017. He wasn't considering conventional treatment at first, thinking his Christian Science faith would heal the tumors, but he eventually agreed to undergo chemotherapy for the sake of his children – Mercedes, 30, and Jack, 27, whom he had with his ex-wife, English actress Joanne Whalley, 61.
Entertainment Tonight reported: In Kilmer's faith, his diagnosis is rather described as the "suggestion of throat cancer," which is "the idea is rather than say I have it or possess it, there is a claim, there's a suggestion that this is a fact."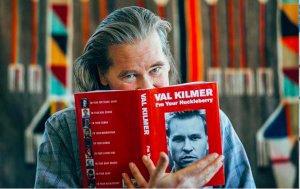 Kilmer also underwent a tracheotomy – a surgical procedure that connects the windpipe to a hole in the front of the neck – which greatly impacted his speaking voice. However, Kilmer continued acting as filmmakers were able to help give 'Iceman' a voice again thanks to artificial intelligence technology that used samples of him speaking to recreate his signature speech patterns.
The AI technology was created by British company Sonantic.
"Our first hurdle with creating the voice model for Val was that his team provided a relatively small amount of recorded material, which we knew would make it more difficult to produce the model,"said Sonantic in a blog post on working with Kilmer and his team. "We first cleaned the audio, carefully removing background noise without destroying the speech content. Next, we generated transcripts from the audio and paired the audio and text together in short chunks."
And though he originally kept his cancer battle out of the public eye, Kilmer eventually shared more about his journey through interviews, his autobiography, I'm Your Huckleberry, and his documentary, Val, which is currently streaming on Amazon Prime.
"I have been healed of cancer for over four years now, and there has never been any recurrence," he wrote in I'm Your Huckleberry. "I am so grateful."
Causes Of Throat Cancer
Although it is often difficult to pinpoint exactly how or why we get certain types of cancer, it is important to stay educated. Throat cancer can be caused by alcohol and tobacco use, and also by the human papilloma virus, or HPV, which is usually associated with women and can be a cause of cervical cancer. However, men can also be affected by this sexually transmitted infection, and it has been proven to cause throat cancer,
Dr. Jessica Geiger of the Cleveland Clinic Cancer Center told SurvivorNet in a previous interview that both men and women can get cancer from HPV.  "The strains of HPV that cause cervical cancer are the same strains of HPV that cause throat cancer. The average patient with HPV-related throat cancer tends to be males in their 40s or 50s, who were never a smoker, or just a very light tobacco user."
Get the Facts: HPV Can Cause Cancer in Men Too
"The vast majority of humans in the U.S., both men and women, will eventually get infected with human papillomavirus," says Dr. Allen Ho, a head and neck surgeon at Cedars-Sinai.
"The important thing to know about HPV is that there are many different strains, and only a couple of them tend to be more cancer-inducing. Probably less than 1% of the population who get infected happen to have the cancer-causing virus that somehow their immune system fails to clear, and over 15 to 20 years [it] develops from a viral infection into a tumor, and a cancer," he said.
HPV and Cancer Risk The Basics
Signs and Symptoms of Throat Cancer
There's no annual screening for throat cancer like there is for other more common cancers. Instead, doctors usually find throat cancers when a patient comes in with symptoms that may point to it. Some symptoms include:
A cough
Changes in your voice
Difficulty swallowing
Ear pain
A lump or sore that doesn't heal
A sore throat
Weight loss
Finding Refuge In Art
Alongside treatment – or after beating cancer – some people may turn to various artistic outlets (i.e. singing, dancing, painting, crafting) to help them cope with their cancer journey.
RELATED: Pierce Brosnan Reveals How Art Helped Him Cope During First Wife's Ovarian Cancer: "Now the pain sometimes comes through in color"
Some people also use art to handle feelings of grief after suffering a cancer-related loss. Whenever and however you turn to art, its healing benefits – in terms of mental health – are well-documented and substantiated. In fact, Very Well Mind reports that a 2016 study published in the Journal of the American Art Therapy Association says that less than an hour of creative activity can reduce stress and have a positive effect on your mental health. And that's true regardless of artistic experience or talent, the author notes.
Dealing With Grief After a Cancer Diagnosis
Contributing: SurvivorNet Staff
Learn more about SurvivorNet's rigorous medical review process.
---