Positivity during a Cancer Journey
New Found Glory guitarist Chad Gilbert, 40, recently underwent surgery to remove a rare, cancerous tumor. Now, he's happy to be alive and grateful for all the people that've helped him so far in his cancer journey.
Pheochromocytoma is a rare type of neuroendocrine tumor that is generally noncancerous (benign), but – as we've seen in Gilbert's case – can be cancerous.
A cancer battle, or any health struggle for that matter, can lead to a whole host of complex emotions – and it's okay to allow yourself to feel the negative ones too. Holding onto hope in the face of adversity can be a really powerful way to get through the toughest of times, and focusing on positive thinking is one way to try to do that.
Practicing positivity and gratitude, whenever possible, is key to a successful cancer journey. Just ask rock musician Chad Gilbert who recently underwent surgery for a rare, cancerous tumor.
New Found Glory guitarist Chad Gilbert, 40, is currently thanking his wife and his medical team for saving his life this past month. In a recent Instagram post, the rock star revealed his recent cancer diagnosis and shared a timeline of his "unexpected journey" that all began when his wife found him unresponsive in bed on Dec. 5.
Read More
RELATED: 'I Basically Walked Right Out of Cancer with Kidney Disease'; A Cancer Survivor Struggling with Chronic Kidney Disease Desperately Searches for a Kidney Transplant Match; Holding onto Hope in the Face of Adversity
View this post on Instagram
"I'd been waking up drenched in sweat the last few days and we thought I was sick," he wrote of his health leading up to Dec. 5. "Not being able to wake me, [my wife] called 911 and performed CPR and mouth to mouth. Apparently I was doing something called "agonal breathing" and was minutes from death."
Gilbert awoke with dangerously low blood sugar levels and seven paramedics surrounding his bed. He was immediately taken to the emergency room where doctors tried to solve the mystery of why his blood pressure kept skyrocketing despite blood pressure medication in his system.
"The next day, an amazing endocrinologist visited me and asked a bunch of questions about my health," he wrote. "It honestly felt like she was an angel from heaven. She told me based on all my symptoms that I have a very rare tumor called a Pheochromocytoma! It's a tumor that grows on your adrenal gland and messes up all of your hormones. It was eating all my glucose, changing my hormones, and raising my blood pressure. I couldn't survive without IVs until this tumor was removed."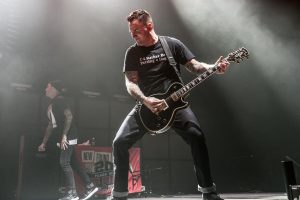 Now with a correct diagnosis, Gilbert's doctors had to figure out more information about his tumor, and a CT scan revealed that it was cancerous and had grown from his adrenal gland to his liver. After that, an MRI showed that the tumor was still one growth, and his surgery was scheduled for Dec. 13. While waiting for surgery.  Gilbert says he experienced "so much personal growth."
"Looking back on the timing of all of this, the incredible people put in my life to save me, the hospital staff whom I have the highest respect for, the way they took care of me while caring for an entire intensive care unit… I just can't believe the strength these nurses have," he wrote. "My wife Lisa and my mom were the driving forces of my positivity."
When it came time for surgery, Gilbert's doctor took half of the four hours he originally allotted for the procedure and let Gilbert know "he got it all out" the next morning.
"The joy and excitement from all the nurses and and doctors involved was super emotional," he wrote. "I didn't have a lot of family and friends around since it all happened so fast. But the hospital staff became that extra support and family, giving me cards and little gifts."
Now, he's waiting on a pathology report to hopefully reveal that the cancer had not spread to his lymph nodes and word from his doctors on how best to proceed with future treatments. Dec. 18 was the first day he got to enjoy the "fresh air" since Dec. 5, and he's beyond happy to finally be home.
"I'm home with my wife and baby and so thankful to be alive!!" he wrote.
What Is Pheochromocytoma?
Pheochromocytoma is a rare type of neuroendocrine tumor that is generally noncancerous (benign), but – as we've seen in Gilbert's case – can be cancerous. These tumors are generally found in people between ages 20 and 50 and normally develop in one of the two adrenal glands in the body which are located at the top of each kidney, though they can develop in both.
A pheochromocytoma releases hormones that can cause high blood pressure, headache, sweating and symptoms of a panic attack. Surgery to remove the tumor usually brings a person's blood pressure back to normal levels. But if the tumor goes untreated, severe or life-threatening damage to the body can occur.
High blood pressure is a primary sign of a pheochromocytoma, but it's important to note that most people who have high blood pressure don't have an adrenal tumor. However, you should talk with your doctor if any of the following:
Staying Positive during a Cancer Journey
It's very normal to have negative feelings throughout your cancer journey, and it's okay to express them too! Anger, shame, fear, anxiety – it's all to be expected. But doctors will tell you that people who find a way to work through the emotions and stay positive tend to have better outcomes.
"A positive attitude is really important," Dr. Zuri Murrell, a colorectal surgeon at Cedars-Sinai Medical Center in Los Angeles, previously told SurvivorNet. "I'm pretty good at telling what kind of patients are going to still have this attitude and probably going to live the longest, even with bad, bad disease. And those are patients who, they have gratitude in life."
At SurvivorNet, we get to share many stories of positivity and resilience because there's no shortage of brave cancer warriors holding onto hope in the face of adversity.
RELATED: 6 Cancer Survivors Tell Us How They Stay Hopeful During Difficult Times
Take Danielle Ripley-Burgess for example. She's a cancer survivor who was first diagnosed with colon cancer in high school and then proceeded to beat the disease not once, but twice. Understandably so, Ripley-Burgess has had to work through a lot of complex emotions that came with her cancer journey. Even still, she's always managed to look at life with a positive attitude.
How to Cope When Recurrence Rattles Your Faith At The Age of 25—Two-Time Colon Cancer Survivor Danielle Ripley-Burgess Shares Her Story
"As I've worked through the complex emotions of cancer, I've uncovered some beautiful things: Wisdom. Love. Life purpose. Priorities," she previously told SurvivorNet. "I carry a very real sense that life is short, and I'm grateful to be living it! This has made me optimistic. Optimism doesn't mean that fear, pain and division don't exist – they do. Our world is full of negativity, judgment, and hate. Optimism means that I believe there's always good to be found despite the bad, and this is what my life is centered around."
She moves through life with a sense of purpose unique to someone who's been faced with the darkest of times. Happily in remission today, she's determined to, one day, leave the world better than she found it.
"We can choose to stay positive, treat others with respect and look for the light in spite of the darkness," she said. "This type of attitude and behavior will lead to the kind of legacies I believe all of us hope to leave."
Learn more about SurvivorNet's rigorous medical review process.