'My Kind Of Cake:' Stanley Tucci Rings In Birthday With A Cheese Wheel
Actor Stanley Tucci recently celebrated his 62nd birthday surrounded by family who presented him with a cheese wheel as a cake.
Tucci battled oral cancer three years ago when a tumor was found on his tongue. He went through radiation and chemotherapy for treatment, which temporarily destroyed his taste buds.
Tucci's first wife, Kate Spath-Tucci, passed away from breast cancer in 2009 when she was just 47-years-old.
The Devil Wears Prada
actor Stanley Tucci just rang in his 62nd birthday with a cheese wheel, donned with a candle and surrounded by red grapes. The decision to replace a traditional cake with some cheese and grapes seems fitting for Tucci, who hosts
Stanley Tucci: Searching for Italy
 and feared Iosing his taste during a battle with
oral cancer
.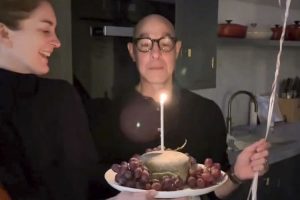 Read More
The actor became a draw for millions of women during the pandemic after posting classy mixology and cooking videos from his kitchen. Tucci wasn't forthcoming with his cancer diagnosis until recently.
"My kind of cake," Tucci captioned his video on Instagram showing him blowing out the candle with wife Felicity Blunt holding the cake.
"Oh my god, that's beautiful," Tucci says in the video, holding a bunch of balloons.
Tucci began posting videos of himself making drinks and trying different recipes on his Instagram during the coronavirus pandemic. Little did he know he'd go viral on social media and soon become a sex symbol of sorts.
"I don't get it," he told People Magazine in a previous interview.
"Who goes, 'I feel terrible about that'? People think I'm sexy? How awful," Tucci told People. "It's wonderful. I don't get it, but I'm very glad."
Tucci's Oral Cancer Journey
Tucci did an interview in 2021 and revealed three years ago [four now] when a tumor was found on his tongue.
In an intimate interview with Vera, Tucci recalls when he was diagnosed with a tumor on the base of his tongue, and had to go through chemotherapy and radiation since it was too large to operate on. The treatment was successful, and so far Tucci has not faced a recurrence. However, the actor had to adapt to serious changes over the next few months after treatment, which included six months of a feeding tube and feeling extremely weak and fatigued. Understandably, the whole experience was difficult for both Tucci and his family.
"The kids were great, but it was hard for them," Tucci told Vera. "I had a feeding tube for six months. I could barely make it to the twins' high school graduation."
Tucci has five children. Three from his marriage to his first wife, Kate Spath-Tucci, who passed away from breast cancer in 2009 when she was just 47-years-old. And two younger children with Blunt, his wife since 2012 and sister to actress Emily Blunt.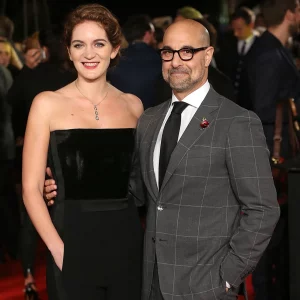 Tucci told The New York Times in an interview after three radiation sessions he began experiencing vertigo and a loss of appetite. Separately, he told the paper his fear of losing his sense of taste toppled his fears of death.
"I mean, if you can't eat and enjoy food, how are you going to enjoy anything else?" Tucci said.
Watching his late wife Kate battle the disease made Tucci believe he would never go through the same experience.
"I'd vowed I'd never do anything like that because my first wife died of cancer, and having to watch her go through those treatments for years was horrible," Tucci previously said. "[Cancer] makes you more afraid and less afraid at the same time."
Understanding Tongue Cancer
Tongue cancer is relatively rare but can still be deadly, according to the National Cancer Institute. While there were only 17,860 new cases of the disease in the United States in 2022, making up under 1 per cent of new cancer diagnoses, tongue cancer still claimed 2,790 lives.
Cancer can occur both on the part of the tongue that is in the mouth, as well as the portion that is located in the throat, where it can be harder to detect and may spread into the neck's lymph nodes, according to the Mayo Clinic.
While surgery is often required to remove the cancerous cells, other treatments include chemotherapy, radiation and targeted drug therapies. If the cancer is advanced, some of these treatments can affect a patient's ability to eat or speak, though it's possible to regain those functions through rehabilitation therapy.
Though not all tongue cancer is caused by the human papillomavirus, the most common sexually transmitted infection in the United States, there is a link.
"From the 1980s to the 2010s, the rate of HPV-related head and neck cancers has gone up by 300 percent," Dr. Ted Teknos, a head and neck cancer specialist, and president and scientific director of University Hospitals Seidman Cancer Center in Cleveland, Ohio, told SurvivorNet during a previous interview.
The Importance of the HPV Vaccine
The HPV vaccine is available and can be administered to people as young as nine-years-old, according to the Center for Disease Control, though it is usually recommended to be given to children who are between 11 and 12. The vaccines are not usually recommended for people over the age of 26, as they have often already been exposed to the virus, though people that age and older should speak to their doctor if interested in being vaccinated.
Get the Facts: HPV Can Cause Cancer in Men Too
"We have a safe and effective vaccine to prevent HPV-related cancer," Dr. Susan Vadaparampil, the associate center director of community outreach, engagement and equity at Moffitt Cancer Center, told Survivornet. "It is widely available, and costs are typically covered by private or public insurance."
Since the HPV vaccines were introduced in 2006, rates of the HPV types associated with the development of cancers and genital warts have fallen by 88 per cent in teen girls and 81 per cent in young women.
The vaccines are incredibly safe, with the CDC listing only minor side effects that can occur after receiving them, such as headaches or nausea.
Thriving After Cancer
A cancer diagnosis can change your life. But as we've seen in the case of Tucci, you can thrive on the other side of your cancer journey.
Take Marecya Burton, for example. She was diagnosed with ovarian cancer at just 20 years old. Burton was a college student-athlete looking forward to graduation at the time, but all that had to change when she was forced to move home to start treatment.
Former College Cheerleader Reinvents Herself After Surviving Ovarian Cancer
"That was definitely challenging for me," Burton said in a previous interview with SurvivorNet. "I was looking forward to graduating."
She also had planned on pursuing a law degree after graduation – another dream she had to give up.
"I really had to, in a sense, put my life on hold," she said. "Sometimes I look at where I am, and I can't help but wonder, would I be further had I not had my diagnosis?"
But instead of law school, Burton found a new passion: teaching. She became a high school teacher in Baltimore, Maryland, and she's since made peace with her new direction in life.
"I wouldn't change my career for the world," she says. "It's so fulfilling."
Contributing: SurvivorNet Staff
Learn more about SurvivorNet's rigorous medical review process.
---