Always Advocate for Your Health
NFL running back Brandon Boldenfirst developed a noticeable sign of his cancer in 2016 when he noticed a lump on the side of his face. But it wasn't until after Super Bowl LII that he went to the doctors for a pain that arrived earlier that football season.
Eventually, Bolden was diagnosed with mucoepidermoid carcinoma, but he wishes he spoke up about his symptoms sooner.
Mucoepidermoid carcinoma is a cancer of the salivary glands – organs on each side of the face that make saliva (spit). Possible signs and symptoms of salivary cancer can be: a lump or swelling in your mouth, cheek, jaw or neck, pain in your mouth, cheek, jaw, ear or neck that does not go away, a recent difference between the size and/or shape of the left and right sides of your face or neck, numbness in part of your face, weakness of the muscles on one side of your face, trouble opening your mouth widely or trouble swallowing.
Being your own advocate can be key to getting a correct cancer diagnosis and obtaining the best treatment possible while dealing with a diagnosis.
One of Brandon Bolden's cancer symptoms arrived in the middle of a football game. And the NFL star regrets waiting until postseason to investigate his pain.
Bolden was playing for the Patriots in 2018 when he took a hit under his chin that caused excruciating pain to radiate across his face. But the tough running back didn't let it affect his season, and only saw a doctor after the Patriots lost to the Eagles in the Super Bowl.
Read More
Sadly, the news what not what the current Raiders player expected: a mucoepidermoid carcinoma diagnosis.
"It was like a punch in the stomach; all the wind came out of me," he said of hearing the news over the phone. "I didn't even know how to respond. My wife was standing right next to me, and I'm looking at her like, how do I fix my mouth to repeat what I just heard."
For treatment, he underwent a successful operation that left a long scar across his jaw, a metal plate in the back of his skull and no motor function on the right side of his face.
"You really don't value your smile until you don't have one," he said. "I couldn't sleep right. I had to have a weight [put] in my eyelid, I still have that scar. Nothing over here worked."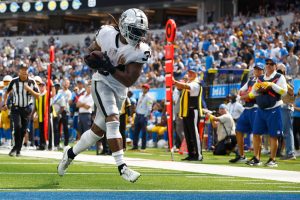 Looking back, Bolden realized his first sign of the disease likely came as early as 2016, and he wishes he took it seriously then because it could've affected his treatment path.
"Going back to 2016, I noticed I had a lump on the side of my face. Instead of going to the doctor and trying to figure out what it was, being a football player, I just figured it was an injury and it would just go away," he said. "As the years went on, it never went away, so I tried my best to hide it. I grew out a beard, grew it as thick as possible so it at least looked even.
"That was probably the most bullheaded part on my end. I possibly could've caught it early and avoided surgery and avoided missing a piece of my skull for the rest of my life."
He returned to football shortly after his operation, but Bolden was understandably nervous. Thankfully, his family on and off the field was there for him every step of the way.
"Having to talk, having to communicate, having to try to be a leader for my teammates and everything else, that kind of propelled me getting back into football," he said. "Between my family and my teammates at that time, they were the biggest springboard for me coming back into football."
Bolden was very private with his cancer battle for quite a while until late 2021 when he noticed his smile starting to return while FaceTiming his son. That's when he shared that he was a cancer survivor with social media.
"At first, it was something I was kind of apprehensive about, but coming out with the story and seeing how many people it touched and see how many lives have changed because of it, I don't regret the decision," he said. "I kind of wish I'd spoken about it earlier. I wasn't in the space to be able to talk about it. It was still something I was trying to work through, something I was trying to figure out how I wanted to go about it."
And by talking about his cancer journey, Bolden hopes to remind people that "cancer's no longer a death sentence."
"When I first found out about it, I'm not going to lie to you, I was ashamed, I was scared. I didn't know if I was going to play football again," he said. "With the love and support of my family, here I am, still going."
Learning about Brandon Bolden's Cancer: Mucoepidermoid Carcinoma
Mucoepidermoid carcinoma is a cancer of the salivary glands – organs on each side of the face that make saliva (spit). It also happens to be the most common type of salivary gland cancer. The National Organization for Rare Disorders says salivary gland cancer is diagnosed in 2-3 individuals per 100,000 people each year, and 30-35 percent of these are mucoepidermoid carcinomas.
Possible signs and symptoms of salivary gland cancer, in general, include the following, according to the American Cancer Society:
A lump or swelling in your mouth, cheek, jaw or neck
Pain in your mouth, cheek, jaw, ear or neck that does not go away
A recent difference between the size and/or shape of the left and right sides of your face or neck
Numbness in part of your face
Weakness of the muscles on one side of your face
Trouble opening your mouth widely
Trouble swallowing
It's important to remember that having one or more of these symptoms does not necessarily mean you have salivary gland cancer. Even still, it's important to see your doctor right away if you have any of these problems. You never know when speaking up about an issue can lead to a crucial diagnosis.
Treatment for mucoepidermoid carcinoma often begins with surgery to remove the tumor, but radiation therapy and/or chemotherapy may be used after surgery to ensure that no cancer cells remain in the body.
The Importance of Advocating for Your Health
Whether you are currently battling cancer or worried that you might have it, it's always important to advocate for your health. Cancer is an incredibly serious disease, and you have every right to insist that your doctors investigate any possible signs of cancer.
And, as we saw in the case of Brandon Bolden, it's always crucial to speak up about any changes to your health even if you don't think there's anything sinister behind them.
Be Pushy, Be Your Own Advocate… Don't Settle
"Every appointment you leave as a patient, there should be a plan for what the doc is going to do for you, and if that doesn't work, what the next plan is," Dr. Zuri Murrell, director of the Cedars-Sinai Colorectal Cancer Center, told SurvivorNet in a previous interview. "And I think that that's totally fair. And me as a health professional – that's what I do for all of my patients."
In a previous interview with SurvivorNet, April Knowles explained how she became a breast cancer advocate after her doctor dismissed the lump in her breast as a side effect of her menstrual period. Unfortunately, that dismissal was a mistake. Knowles was diagnosed with metastatic breast cancer at age 39. She said the experience taught her the importance of listening to her body and speaking up when something doesn't feel right.
I Wanted My Doctor To Like Me, Then He Missed My Breast Cancer
"I wanted my doctor to like me," she said. "I think women, especially young women, are really used to being dismissed by their doctors."
Figuring out whether or not you actually have cancer based on possible symptoms is critical because early detection may help with treatment and outcomes. Seeking multiple opinions is one way to ensure you're getting the care and attention you need.
Another thing to remember is that not all doctors are in agreement. Recommendations for further testing or treatment options can vary, and sometimes it's essential to talk with multiple medical professionals.
Learn more about SurvivorNet's rigorous medical review process.