The Legacy of 'Dying Young'
Dying Young, a film about a young man with leukemia (Campbell Scott) and the woman who cares for him (Julia Roberts), was released 30 years ago.
New treatments introduced over the last three decades have changed the outlook for this blood cancer.
Doctors have also gotten better at managing treatment side effects such as nausea and fatigue.
This June marks the 30-year anniversary of
Dying Young,
the 1991 Joel Schumacher film about the love story between Victor Geddes, a young man with leukemia (Campbell Scott), and Hilary O'Neil (Julia Roberts), the woman he hires to care for him.
Though Victor's outlook in the film was as bleak as the title suggests, new treatments introduced over the three decades since the release of Dying Young have offered young people diagnosed with leukemia a chance for a much happier ending.
Read More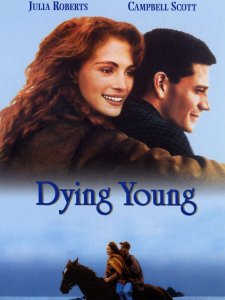 In the movie, which premiered on June 21, 1991, Hilary, young woman from Oakland, California, answers a classified ad requesting a "young and attractive" woman with some nursing experience. She shows up at a Nob Hill mansion, where she meets Victor, who's had leukemia for 10 of his 28 years and needs someone to help him through his chemotherapy treatment.
Related: How to Fight Chemotherapy Fatigue
In the car on the way to his treatment, Victor warns Hilary, "The drugs they give me are poison…Sometimes it makes me scream." Soon we see why. Immediately upon returning home from his chemo session, Victor runs to the bathroom and vomits violently. The chemo makes him so ill that he shakes, sweats, and can barely get out of bed.
What you think you know about chemotherapy side effects may be wrong
In 1991, the typical leukemia treatment involved intensive cycles of chemotherapy — drugs that kill quickly-dividing cells. Though their target is cancer, chemotherapy drugs also kill some healthy cells, including hair and immune cells, and cells of the digestive tract. That collateral damage is why chemo causes intense side effects such as nausea, vomiting, hair loss, extreme fatigue and infections.
Related: Preventing Hair Loss During Chemotherapy: Scalp-Cooling Devices
In the movie, Hilary buys herbs by the bagful and blends up various foul-tasting concoctions to ease Victor's side effects. Today, doctors have much more effective ways to manage chemo side effects, from anti-nausea medications to cooling caps that prevent hair loss, and drugs that boost infection-fighting white blood cells.
A Future With Leukemia
The movie never reveals what type of leukemia Victor has — only that it's most certainly fatal. Doctors classify leukemia into several types, including:
Chronic myeloid leukemia (CML)
Although survival rates vary from one kind of leukemia to another, the introduction of new therapies has changed the treatment landscape for this blood cancer.
Related: How BTK Inhibitors can Improve the Treatment of Chronic Lymphocytic Leukemia
Targeted drugs such as venetoclax (brand name: Venclexta) and BTK inhibitors block proteins that leukemia cells need to survive. By treating the cancer in a much more specific way, these drugs have gone a long way toward extending survival.
What you can expect with Venetoclax treatment for chronic lymphocytic leukemia
When Dying Young was released, the five-year relative survival rate for acute myeloid leukemia (AML) was just 14%. By 2018, it had risen to 34%. In 1991, the five-year relative survival rate for chronic myeloid leukemia (CML) was about 33%. It rose to 61% in 2018. Leukemia has become a very treatable, and sometimes even curable, disease.
The Legacy of 'Dying Young'
Director Joel Schumacher himself passed away from cancer in 2020 at age 80. When he died, he left behind a legacy of films, including The Lost Boys, Falling Down, St. Elmo's Fire and Batman Forever.
Though Dying Young didn't earn the critical acclaim of some of Schumacher's other films (Roger Ebert said it was "so artificial and contrived I felt embarrassed watching it," while The Baltimore Sun called it "lifeless"), it did leave a mark on audiences, grossing more than $82 million worldwide.
It also left a lasting impression on its star. "I don't think you can go through something like this and not be changed forever in some way," Roberts said during filming. "This is a movie about appreciating life while we have it. To portray it as … more precious because it is not going to be very long."
Learn more about SurvivorNet's rigorous medical review process.