The Trouble with Tanning
Experts tell SurvivorNet "there is no 'safe' tanning bed." Just one indoor tanning session can increase the risk of melanoma by 20%.
A recent study in Cancer, a peer-reviewed journal of the American Cancer Society, suggests that banning tanning beds among minors would prevent thousands of cases of melanoma in adolescents, along with save millions of dollars in healthcare costs.
Spray tans and sunless tanning sprays are safe, experts tell SurvivorNet.
By James Roland
As summer approaches, the desire to greet it with an early tan can be irresistible. But health experts warn that you'd be wise to resist the temptation to find your summer bronze inside a tanning bed.
Read More
"Studies have shown that exposure to tanning beds increases the risk of skin cancer and ocular cancer," says
Dr. Lynn A. Cornelius
, chief of the Division of Dermatology at Washington University School of Medicine in St. Louis. "It also induces changes that lead to premature aging of the skin. There is no 'safe' tanning bed."
Just one indoor tanning session can increase the risk of melanoma by 20 percent and squamous cell carcinoma by 67 percent, according to the American Academy of Dermatology. And a study published recently in Cancer, a peer-reviewed journal of the American Cancer Society, suggests that banning tanning beds among minors would prevent thousands of cases of melanoma in adolescents, along with millions of dollars in healthcare costs.
Although tanning bed use has been declining in the past decade among all age groups, there are still millions of adolescents and adults in the United States climbing into tanning beds every year to get that sunbaked look. In 2017, the most recent year for which the National Cancer Institute has statistics, an estimated 5.6 percent of adolescents used an indoor tanning device at least once during the previous year. About 6 percent of adults ages 18 to 29 used a tanning bed at least once in the previous year. The percentages drop significantly among older age groups.
The Specific Danger of Tanning Beds
While the risks of unprotected sun exposure have gotten plenty of attention in recent years, there has been much less public education about the more harmful exposure to cancer-causing ultraviolet radiation (UVR) that shines through the clear acrylic shields in tanning beds.
"For the same amount of time spent in the sun, the current 'bronzing' tanning beds can expose an individual to several times the radiation that one would incur for the same amount of sun exposure," Dr. Cornelius tells SurvivorNet. "These lamps are high intensity."
UVR consists of different wavelengths: UVC, UVB and UVA. The latter two–UVB and UVA–are the predominant damaging wavelengths that filter through the atmosphere to the earth, Dr. Cornelius explains. She adds that older tanning beds primarily emitted UVB, the shorter wavelength UVR, while current models emit the longer wavelength UVA that penetrates deeper into the skin.
Dr. Craig Elmets, professor in the Department of Dermatology at the University of Alabama at Birmingham School of Medicine, adds that not only does UVA radiation darken the skin, but it also produces changes in the pigment-producing cells that make them much more likely to become a serious type of cancer called melanoma. "Melanomas can spread to the lymph nodes and to other areas of the body," Dr. Elmets tells SurvivorNet. "In the United States, it is estimated that over 100,000 people were diagnosed with melanoma last year. Tanning bed use also increases the likelihood of other types of skin cancer—non-melanoma skin cancers, including basal cell carcinoma and squamous cell carcinoma."
The challenge for public health advocates is that a skin cancer triggered by tanning bed use might not show up until years later. "Cancers take years to develop, so that the risk of melanoma after tanning bed use is lifelong," Dr. Elmets says. "If tanning bed use begins before the age of 35, the risk of melanoma increases by 75 percent."
Dr. Cornelius adds that while the body has mechanisms to repair DNA damage, repeated exposure, or a high amount of exposure, can overwhelm the body's reparative mechanisms and repair does not occur.  "A mutation that is not repaired can cause unrestricted growth of the mutated cell, and ultimately cancer," she says. "To this point, we see multiple patients in their 20s and 30s with melanoma and basal cell cancers who used tanning beds in their teens."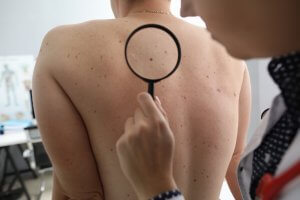 I Used to Go to the Tanning Bed…Now I Know Better
Fashion editor and writer Brett Armstron was one of those teens who started using a tanning bed frequently when he was 17 and a senior in high school. He also avoided using a sunblock with an SPF higher than 15. Years later, he noticed a new mole growing larger on his stomach. He saw a dermatologist, who removed it and told him it was a precursor to melanoma. Armstron has since had other suspicious moles removed, acknowledging that since learning more about skin cancer and the dangers of tanning beds, he has become something of a skin health advocate, at least in one-on-one situations.
"Now, if I see or hear someone talk about using tanning beds, even if I don't know them, like if I'm in line at a grocery store, I kind of tell them my story," he says. "I tell them that skin cancer is the most common form of cancer and using a tanning bed before the age of 35 dramatically increases their chances of developing skin cancer. Melanoma, if left untreated, can spread to all other parts of the body very quickly and it can kill them."
For Nicole Sud, a mother of three young children in Virginia, it was seeing family members deal with skin cancer that has kept her out of tanning beds for several years. Growing up in a small town in Nebraska, however, she thought nothing of getting an indoor tan with her friends throughout the year.
"It was incredibly common for high school girls to go visit the tanning salons after school got out, particularly in the months prior to homecoming and prom," she recalls. "When I was in high school, I was even encouraged by my mother to use a tanning bed prior to a vacation. The thinking was it would be better for us to both have a base tan prior to our vacation so we wouldn't get sunburned. So I used that strategy for the next eight years, making sure I'd use tanning beds prior to vacations so that I wouldn't run the risk of a bad sunburn."
The last time she used a tanning bed was just before her wedding. In the succeeding years, both of her parents developed skin cancer and had to have procedures to remove the affected skin. The same was true for other relatives. Because of these hereditary factors and a history of tanning bed use, Sud's dermatologist told her she will probably need a twice-yearly skin exam, rather than her current standard yearly check. "At this point, I am also much better at regularly applying sunblock, both for myself, as well as my kids," she says.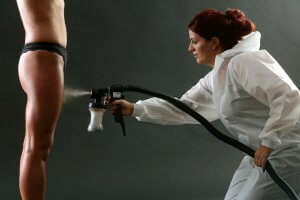 Learn About Safer Alternatives
In recent years, a number of new products have hit the market, offering safer alternatives to the UV-blasting beds in tanning salons. Spray tans and self-tanning lotions, though temporary, are considered much healthier alternatives to tanning-bed tans or too much sun exposure.
"Spray tans and sunless tanning lotions are safe," Dr. Cornelius says. "One should take precautions not to inhale the product when getting a spray tan. Skin allergic reactions are rare."
The active ingredient in a spray tan is dihydroxyacetone (DHA), which attaches to the surface of the skin and is shed off over about 10 days as the skin naturally exfoliates," Dr. Elmets explains. "They even have a very mild sunscreen effect," he says, adding that applying sunblock is still recommended when going outdoors. "Not a lot is known about the side effects, but there is very limited absorption and they have been available for decades without any reports of serious side effects, which is reassuring."
Self-tanning lotions also contain DHA, and like a spray tan, should not be ingested or be used too close to your mouth, nose, or eyes
Self-tanning pills are other products that seek to produce sunless tans. Dr. Elmets notes that they have been associated with allergic reactions and systemic side effects. Dr. Cornelius adds that tanning pills are not FDA-approved and are not endorsed by dermatologists.
Skipping tanning beds and unprotected time in the sun may not give you the glow you used to enjoy, but it's a strategy that should help keep your skin more youthful and cancer free for a long time.
Learn more about SurvivorNet's rigorous medical review process.