By Kayle Waterhouse
Eight-year-old Lilly Bumpus not only beat cancer, but she also has beaten the Girl Scout cookie sales record for most boxes sold in a single season.
Read More
Lilly was born with Ewing sarcoma, a rare type of bone cancer that is often found in children and young adults.  Symptoms of Ewing sarcoma include bone pain, fevers with no known cause, unexplained tiredness, a bone that breaks for no known reason, or a lump in the arms, legs, chest or pelvis. This condition can be treated with chemotherapy and the removal of bones, both treatments Lilly underwent before her first birthday.
Lilly Bumpus and her mother, Trish Bauer, sat down with SurvivorNet to talk about her battle with cancer and her cookie empire.
Lilly's Battle with Ewing's Sarcoma
Doctors diagnosed Lilly with Ewing sarcoma when she was born. "She had a fever of 106 for over an hour," her mom Trish recalls. Lilly went through intense rounds of chemotherapy and had some of her bones removed from her chest wall. The treatments were successful.
Prognosis and treatment depend on certain factors, such as whether the cancer has spread, whether it began in the bones or soft tissues, and the tumor's size at the time of diagnosis. If caught early, in a localized stage, the five-year survival rate for Ewing sarcoma is around 83%, according to the American Cancer Society.
Lilly is now 8 years old and has spent seven years in remission. Currently, Lilly has some abnormal bone growth due to some side effects from the chemotherapy, but that does not stop her from enjoying activities like roller skating with her mom. "It's the best gift in life I will ever be given is watching her live life," Trish says. "So, whatever the world can bring at us, I know we're going to take it on."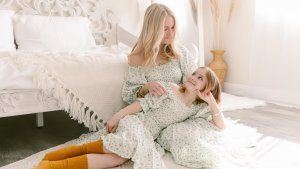 Lilly's Cookie Empire
Lilly has been a Girl Scout for three years. At the age of five, Lilly joined the Girl Scout troop during their last week of cookie-selling season. In their troop, it is known that if you sell 5,000 boxes of cookies, you earn a trip. At the meeting, Lilly looked at a Girl Scout flyer and her mom recalls that she "sees that there's a trip to Rome and Greece" for anyone who meets the sales target.
Despite having only one week left to sell, Lilly aggressively began selling cookies and accomplished the goal and earned her trip.
This was the beginning of Lilly's cookie empire.
Lilly's Cookie Empire vs. The Pandemic
Although one might believe that the pandemic would cause complications in the selling of Girl Scout Cookies, Lilly was not only able to reach the 5,000 trip goal, but shattered the record of boxes sold. Lilly sold more than 32,000 boxes of cookies this year.
Her mom explains: "My favorite thing about Lilly is that she never gives up. So, Lillybug got to 10,000 boxes one week into Girl Scout cookie season. Never, ever has that happened. So we went from there. I then approached Girl Scouts and said, 'What happens now if she sells 20,000 boxes?' And they said, '20,000 boxes, yeah, okay.' So we said, 'Game on.' So then we sold on and sold on, and she got into 20,000 boxes."
Adds Lilly: "And then we went to 32,000"
"It's up to us what we make out of every day and every moment that we are given, and we choose to put one foot forward every day and we choose to look on the bright side of life," Trish says.
Learn more about SurvivorNet's rigorous medical review process.