Oprah Celebrates Her Dad As He Fights Cancer
Talk show legend Oprah Winfrey, 68,  held a Fourth of July barbecue that doubled as a day of appreciation for her 89-year-old father Vernon, who is battling cancer.
The list of guests included Vernon's older sister, who flew in from Mississippi, longtime Oprah friend Gayle King and gospel singer Wintley Phipps.
While what type of cancer Vernon is fighting isn't known, experts agree on the importance of surrounding yourself with positivity while going through such a difficult battle.
Rather than dwelling on the negative, Oprah Winfrey is choosing to celebrate the life of her father Vernon as he battles cancer.
On Independence Day, Winfrey brought together some of the people closest to her 88-year-old dad at a barbecue in Nashville to cheer him on through his fight.
Read More
In a video posted to Instagram, the 68-year-old talk show legend showed off a sign declaring July 4 to be "Vernon Winfrey Appreciation Day."
"My father is ill, so we wanted to be able to have all his friends come and celebrate him while he's able to receive the joy," she said.
Winfrey slyly added that her dad hadn't seen the sign and the real purpose of the party was to be a surprise.
"He doesn't even know this is for him. He thinks it's a Fourth of July thing," she said.
 

View this post on Instagram

 
The event came with all the classics – burgers, brisket, fried chicken and everything you'd expect from a massive celebration of a beloved dad and the birthday of the United States.
The man himself, who was a barber in Nashville for half a century, had the seat of honor in a barber chair.
Given Winfrey's stature in pop culture, it's no surprise this was not just a small family gathering. Gospel singer Wintley Phipps came from Maryland to perform three songs. And Oprah herself paid tribute to her father, according to Oprah Daily, telling him he was "the kind of father who has brought honor to your life and honor to my life."
She also praised his work ethic, noting that Vernon and his fellow barber "never closed that darn store; not during Christmas, not on the weekends."
"I learned from your good work ethic, showing up, being on time—that is why for 25 years of The Oprah Show, I never missed a show."
Other special guests included Oprah's longtime friend Gayle King and partner Stedman Graham. But perhaps the most importance guest was Vernon's older sister Christine, who flew in as a surprise from Mississippi.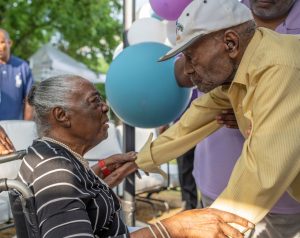 The Importance Of Positive Thinking
It's not clear what form of cancer Vernon Winfrey has, but no matter what form of adversity you're facing, experts agree that remaining positive is important to moving forward.
Stay Positive, It Matters
Cedars-Sinai colorectal surgeon, Dr. Zuri Murrell, told SurvivorNet in a previous interview that surrounding yourself with positivity truly does matter. "My patients who thrive, even with stage 4 cancer, from the time that they, about a month after they're diagnosed, I kind of am pretty good at seeing who is going to be OK."
"Now doesn't that mean I'm good at saying that the cancer won't grow," he says. "But I'm pretty good at telling what kind of patient are going to still have this attitude and probably going to live the longest, even with bad, bad disease. And those are patients who, they have gratitude in life.
Learn more about SurvivorNet's rigorous medical review process.