"The impact of a cancer diagnosis in a family is devastating and it affects everything," actor Patrick Dempsey said when we sat down with him during the People v. Cancer Conference, an awareness event hosted by The Atlantic Live in collaboration with SurvivorNet.
RELATED: Patrick Dempsey, Marcia Cross, and Others Breaking the Mold When It Comes to How We Think About Cancer Care
Read More
"Everything comes to a screeching halt," he added, "and you have to reevaluate how you look at the world, and how you go through it and try to find some normalcy in it."
Dempsey, 53, lost his mother to ovarian cancer in 2014. She battled the disease for 17 years, and her strength inspired her children to found the Dempsey Center, located in Dempsey's home state of Maine. It has two locations, Lewiston and South Portland, and offers holistic services to cancer patients, their families and other caregivers.
Embed from Getty Images
Dempsey is significantly upping the ante on his commitment to cancer, saying he tries to visit his centers in Maine once a month. Survivors and attendees at the People V. Cancer conference were also really touched that the actor spent the entire day listening to the panels.
Using Celebrity to Spread Awareness
During the interview, Dempsey noted that his hit series "Grey's Anatomy" and his portrayal of Dr. Derek Shepherd — nicknamed "McDreamy" on the show due to his charm and good looks — have helped him with his cancer advocacy.
"It's really quite funny," he said. "But I'm really grateful for the platform that 'Grey's Anatomy' has given me and to be able to use that in a positive way. I think the show and what it has achieved has really brought a lot of people into medicine that normally wouldn't have been, and … I'm very proud to be a part of that."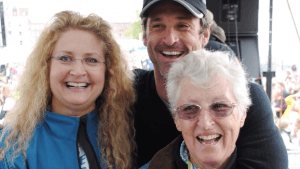 Amanda Dempsey's Experience with Cancer
Dempsey's mother, Amanda, was first diagnosed with ovarian cancer in 1997. She battled the disease for almost two decades and experienced many recurrences. Dempsey told SurvivorNet that while the whole family dynamic certainly changed after her diagnosis, his sister really took on the role of the day-to-day caregiver, which, he said, was tough on her.
RELATED: Patrick Dempsey Brings Cancer Conference to Tears Sharing Memories of His Mother's Stories
"My sister was very much involved in the front line with the doctors," Dempsey said, "and trying to keep my mom active, keep her moving, keep her with projects around the house. She loved  to remodel and to restore old homes, and tried to find projects like that … to get out of bed in the morning and to think about and to keep positive. … I think there was a lot of guilt for her if she stepped back from that. And also too, once my mother passed, her identity changed, her role changed, and it was very hard."
Throughout their mother's cancer journey, the Dempsey family tried to keep her life as active and normal as possible in other ways as well, such as with exercising; they even got her to try medical marijuana to alleviate some of the side effects of treatment.
"I think the first time I introduced marijuana to her, I think she … wasn't quite sure about that," Dempsey said. "But then it ended up helping her, so that was really quite the conversation to have."
The Goal of the Dempsey Center
The center offers a host of complementary services that provide support beyond traditional treatments. Services include short-term therapeutic counseling, acupuncture and yoga. Everything is free, and events such as annual bike-a-thon contribute to the funding it.
"We treat everybody," Dempsey said. "It doesn't matter where you're getting your treatment, who you are, where you're from, what's your economic background, what you look like, any of that. We just care about what's important for you, what's going to make you feel better."
Dempsey noted that it's so important for caregivers, as well as patients, to know when to ask for help.
In the years since the center was founded, he said, he has seen an increasing number of doctors embracing complementary treatment methods that can help to alleviate stress, side effects and other issues.
"Oncologists are coming in and going, 'We know this is important. We're starting to see the results of that,'" Dempsey said. "The more we can prove it in a language that they understand and accept, I think you'll see an acceleration of more like-minded centers developing."
Learn more about SurvivorNet's rigorous medical review process.