Sharing a Love for Cooking
Singer Patti LaBelle, 77, recently celebrated the 20th anniversary of the release of her first cookbook with a new edition. She says cooking and sharing her recipes has given her a great sense of joy throughout her life.
LaBelle lost all three of her sisters to cancer before they turned 50. But despite immense loss, she's achieved great success behind the microphone, on the screen and even in the kitchen.
Losing a loved one to cancer is incredibly challenging. But seeking resources like therapy and support groups can make a huge difference as you move forward.
Singer Patti LaBelle has suffered many cancer-related losses in her lifetime, but each time she's found a way to move forward in her life with purpose and success behind the microphone, on the screen and even in the kitchen.
In a recent exclusive with Essence
, she explained how sharing her recipes has been a source of great pride for her – the likes of which have even inspired celebrities like Whoopi Goldberg to enjoy healthy eating.
The 77-year-old lost all three of her sisters to cancer between 1975 and 1989. Her eldest sister died of lung cancer, then her second sister lost a battle with colon cancer and then her younger sister passed away from lung cancer. To say she's suffered is an understatement, but LaBelle has made a point to still be grateful for the life she's been given.
Read More
"Waking up every morning makes me smile because I lost all of my sisters to cancer before they turned 50," she told
Essence
. "For my being blessed at 77, to say that I'm still standing, I'm happy. I am blessed."
And a big reason for that continued sense of happiness is her cooking – a passion she's been determined to share with the world. In fact, she recently celebrated the 20th anniversary of her first cookbook, LaBelle Cuisine: Recipes to Sing About. And while LaBelle's book is one of many celebrity cookbooks out there, she shared that she truly feels like her recipes have impacted so many people by making seemingly challenging looking recipes simple and delicious. From her Geechee Geechee Ya Ya Gumbo to the So-o-o Good Salmon Casserole, the star managed to share a wide variety of tasty creations for novice and expert cooks alike.
"When the first cookbook came out 20 years ago, I would go to the airport and people come to me and [say], 'You saved my Thanksgiving' or my Christmas, 'because I did your macaroni and cheese with the eight cheeses. And I did a lot of your dishes, and they were so easy to make. And people thought that I got them from a store or something, they were so right on time and perfect,'" she told Essence. "If you can't learn from my book, you can't learn. And that's a fact."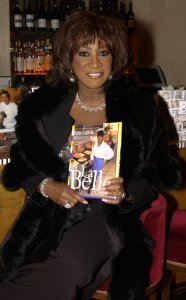 She's even changed the lives of celebrities after they've tried her food. Soul musician Jill Scott, for example, despised spinach before she came for dinner one night at LaBelle's house. But that all changed after she tried LaBelle's spinach.
"[Jill] saw my stove, and she saw the spinach. And she said, 'I'll eat everything that you cook, but I won't eat that spinach,'" she said. "I said, 'Have a taste…' I swear to God, she tasted that spinach and said, 'I need this recipe. And I have to say, I love spinach now.'"
Even Whoopi Goldberg turned over a new leaf after she tasted LaBelle's greens.
"I have cooked for Whoopi Goldberg, who said she doesn't like anything green but money," she said. "So I made kale on my TV show. She tasted that kale and lost her mind. I said, 'See? I told you.' So now she eats kale."
Cooking has been, and probably always will be, a great source of joy for the singer. But her specialties are certainly not limited to veggies.
"I love to cook anything and everything," LaBelle said. "I love to cook brisket. I love to cook short ribs. I love to cook, oh, God, pasta with shrimp and crab meat with red sauce or white sauce. Or clams. I just love to cook everything I cook. I do."
Finding Meaning Through Grief
Regardless of the dish, the act of cooking brings LaBelle immense joy. She's serves as a great example of how to create an incredibly successful and happy life for yourself even after suffering heartbreaking losses. She's managed to move forward without forgetting what she's lost, similar to the way Doug Wendt handled the loss of his wife, Alice, to ovarian cancer. In a previous interview, Wendt shared his thoughts on the grieving process with SurvivorNet.
"I Don't Want to Move On; I Do Want To Move Forward": Doug Wendt On Being A Caregiver and Tragically Losing His Wife to Ovarian Cancer
"We're never gonna move on, I don't even think I want to move on, but I do want to move forward," Wendt said. "That's an important distinction, and I encourage anybody who goes through this journey as a caregiver and then has to face loss, to think very carefully about how to move forward."
Everyone's journey of grief is unique. But after a cancer-related loss, many people find that therapy and/or support groups can be a helpful component as you navigate the healing process.
In an earlier interview with SurvivorNet, Camila Legaspi shared her own advice on grief after her mother died of breast cancer. For her, therapy made all the difference.
"Therapy Saved My Life": After Losing A Loved One, Don't Be Afraid To Ask For Help
"Therapy saved my life," Legaspi said. "I was dealing with some really intense anxiety and depression at that point. It just changed my life, because I was so drained by all the negativity that was going on. Going to a therapist helped me realize that there was still so much out there for me, that I still had my family, that I still had my siblings."
Legaspi also wanted to remind people that even though it can be an incredibly difficult experience to process, things will get better.
"When you lose someone, it's really, really, really hard," Legaspi said. "I'm so happy that I talked to my therapist. Keep your chin up, and it's going to be OK. No matter what happens, it's going to be OK."
Learn more about SurvivorNet's rigorous medical review process.
---