For families affected by ovarian cancer, the question of genetics often weighs heavily on survivors wondering if their children or grandchildren have a greater likelihood of having the disease. Or, conversely, some family members may wonder if their chances of getting ovarian cancer are greater because a mother or grandmother has been affected.
On this matter, the story of Pierce Brosnan and his family is deeply resonant. The "James Bond" legend and doting family man lost both his wife and daughter to ovarian cancer — as well as his mother in law.
Read More
Brosnan, 66, has been open about his grief over the loss of his first wife, Cassandra, to ovarian cancer in 1991 and then Cassandra's daughter Charlotte in 2013. Charlotte, who was Cassandra's daughter from an earlier marriage, was adopted by Brosnan after her father died.
"I was in a helpless state of confusion and anger," Brosnan told People. (Cassandra's mother also died of ovarian cancer.)
The link between the ovarian cancer deaths of Cassandra, her mother and daughter is likely in the women's shared genes, and their story could be an important one to note for other women on ovarian cancer journeys.
Dr. Beth Karlan, a gynecologic oncologist at UCLA Medical Center did not treat Cassandra or Charlotte, but advises genetic testing can have life-saving benefits, especially because ovarian cancer is curable in over 90 percent of cases when diagnosed early on.
"It's important when you're deciding whether or not genetic testing would benefit you to try to find out what types of things run in your family," Dr. Karlan says. "Because it can really help to save lives."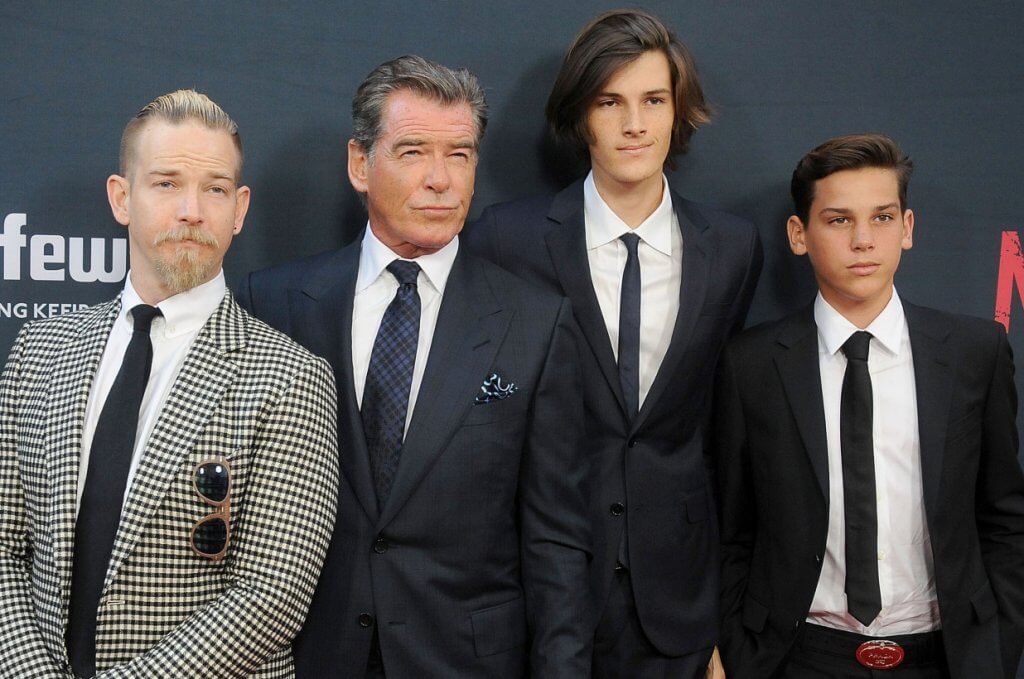 Brosnan and late-wife "Cassie," wed in December 1980. In 1983 they welcomed a son, Sean. The Aussie-born actress and sometime Bond girl ("For Your Eyes Only") had a daughter, Charlotte and son, Christopher, from her previous marriage to Dermot Harris. He died in 1986 and Brosnan adopted the children, who took his last name. A year later, Cassie was diagnosed with an aggressive form of ovarian cancer.
The James Bond actor said, "From day 1, we really had a fight on our hands. This wasn't a shadow or a small tumor — this had invaded Cassie's being." Brosnan credits Cassie with courage and grace during her battle with the disease, having said she, "took her destiny in her own hands." Brosnan described himself as "the quiet party [that] was always there for her."
Cassie endured four years of treatment, including eight surgeries and a year and a half of chemo. During treatment, Brosnan recalled how a new home in Malibu, California "gave Cassie so much joy." The actress carefully decorated the home for their three children.
She died on Dec. 28, 1991 at the age of 43. "I don't look at the cup as half full, believe me. The dark, melancholy Irish black dog sits beside me from time to time," Brosnan told Esquire.
Twenty-two years after Cassie's death, their daughter Charlotte died of the same disease at the tragically young age of 41. Could genetic testing have made a difference? After all, three generations succumbed to ovarian cancer. The experts say, yes.
Experts urge women diagnosed with ovarian cancer, to seek genetic testing at the time of diagnosis, not a recurrence. A recent study found that too few women are being tested for mutations of the BRCA gene, like BRCA1 or BRCA2 — both can place people at a heightened risk for breast cancer or ovarian cancer.
However, in the U.S., 90 percent of people who carry a BRCA gene mutation aren't aware of it until someone in their family gets cancer.
These gene mutations are commonly passed down among family members. In fact, if one of your blood relatives is found to carry a BRCA gene mutation, there's a 50-50 chance you could be carrying it, too.
Since BRCA mutations aren't found on the X or Y sex chromosome, you're just as likely to inherit the risks of cancers associated with BRCA from your father as you are from your mother.
Genetic testing after an ovarian cancer diagnosis can also help your oncologist determine whether certain treatments may be right for your specific cancer.
This is especially true when it comes to the promising family of PARP inhibitor drugs, which work by preventing cancer cells from repairing their own DNA after it's been damaged during chemotherapy.
PARP inhibitors have been found to be effective and extend life for women at all stages of cancer treatment, and studies have found they are particularly effective in women with the BRCA gene, whose cancer cells are already in a state of disrepair. PARP inhibitors are often prescribed to women whose cancer is being maintained, or after it recurs.
And the PARP inhibitor olaparib (known by its brand name, Lynparza) was recently approved to treat BRCA-mutated advanced ovarian cancer in the first-line setting, meaning before the woman's initial round of chemotherapy. This earlier PARP inhibitor treatment could have promising effects on survival.
Dr. Karlan strongly recommends having a discussion with a genetic counselor or physician if there is a family history of breast or ovarian cancer.
Learn more about SurvivorNet's rigorous medical review process.