The Real Housewives of Orange County star Tamra Judge took to instagram saying her ex husband is "staying positive and convinced he will kick cancers ass." Simon Barney, Judge's ex, was diagnosed with stage three throat cancer this past February. Generally, Barney and Judge have shown optimism in the face of Barney's diagnosis but Judge did describe that she was having a difficult time seeing her ex struggle through the disease. Barney was given an intense course of treatment as his cancer was spread out, presenting in his throat, tonsils, and lymph nodes. He has been on a chemotherapy and radiation treatment.
Judge posted her instagram story after one of her fans asked about Simon and the kids, to which Judge replied as shown below in an instagram story that has since expired.
Read More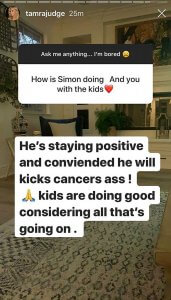 Judge has previously spoken out about how her ex's cancer diagnosis has affected the family at large. Barney told his ex wife and kids about the diagnosis prior to letting many others know. "My first thought was, 'I don't want to take my kids to their dad's funeral,' and immediately, any ill feelings between the two of us just vanished. At the end of the day, none of that matters. All we have to do is rally together to make it through this," Judge told PEOPLE earlier this year. Barney and Judge both acknowledged that the diagnosis, while difficult, brought them and their family closer.
With the stronger connections to his ex-wife and kids, Barney has been vocal about his experiences with his cancer treatment. He has spoken about his rigorous treatment along with his reactions to the treatment.
"You have an appetite but you can't eat anything because your taste buds are gone, or they taste and smell like chemo — this metallic, disgusting taste and smell," Barney said to PEOPLE. "My throat is swollen and bleeding which makes it difficult to swallow even water." He has felt other symptoms like buzzing in his ears and minor hair loss, but with the support of his family and his positive attitude, he is keen on fighting the cancer, as Judge stated in her instagram post. Barney is optimistic about his mental strength and ability to combat the disease.
Throat Cancer
The general signs of throat cancer are sore throat, voice changes, trouble swallowing, a lump in your neck, and weight loss. There are several risk factors for throat cancer, one being HPV, which is normally associated with cervical cancer. The risk of developing HPV-positive oropharyngeal cancer depends on the strain of HPV and the most commonly linked stains are HPV 16 and 18.
Other risk factors include tobacco use and alcohol consumption.
The general course of action for treating throat cancer includes surgery to remove the cancer, which was not possible for Barney since his cancer was too spread out, chemotherapy, and radiation therapy.
After receiving treatment, patients might seek out pain management, rehabilitation therapy, or general counseling and support.
Learn more about SurvivorNet's rigorous medical review process.