A Poet for the Ages
Beat poet Allen Ginsberg died in 1997 at age 70 after being diagnosed with liver cancer.
Ginsberg was central to the 'Beat Movement' which challenged mainstream American writing of the time by promoting authentic spontaneity and expanded consciousness.
Dealing with a terminal cancer diagnosis can be daunting. But it's important to remember that treatment advancements are being made all the time, and it is possible to thrive while living with a terminal cancer.
Known for unconventional views, rambunctious behavior and beautiful contributions to a revolutionary literary movement, poet Allen Ginsberg was anything but ordinary. He died on April 5, 1997, shortly after a liver cancer diagnosis, but became an unforgettable figure in American literature.
Born on June 3, 1926, Ginsberg would have been 95 today. The trailblazing writer was central to the 'Beat Movement' – a new wave of writing that challenged mainstream American works of the time by promoting authentic spontaneity and expanded consciousness. Accompanied by the likes of William S. Burroughs and Jack Kerouac, Ginsberg and his Columbia University pals established themselves as pivotal figures of the movement in 1943. Their writing was meant to be freeing and defiant. They sought an expansion of consciousness through explorations of hallucinogenic drugs, sexual freedom, Eastern religion and the natural world.
Read More
RELATED: Remembering Iconic Musician Gregg Allman, Who Passed Away 4 Years Ago To Liver Cancer; A Life Filled With Bravery & Music
Ginsberg first gained traction with the publication of Howl and Other Poems in 1956. Howl, perhaps most representative of Ginsberg's knack for swerving far from tradition, was met with both praise and condemnation. The Poetry Foundation called it "an outcry of rage and despair against a destructive, abusive society." The poem is full of honesty and explicit expressions of his intimate relationships. Los Angeles Times Commentary Editor Norman Podhoretz wrote in 1988: "In its glorification of madness, drugs and homosexuality and in its contempt and hatred for anything and everything generally deemed healthy, normal or decent, Ginsberg's poem ["Howl"] simultaneously foreshadowed and helped to propagate the values of the youth culture of the 1960s."
The San Francisco Police Department, however, was less enamored. They arrested the publisher, poet Lawrence Ferlinghetti, calling the poem obscene citing its graphic sexual language. The trial that followed attracted national attention, as prominent literary figures such as Mark Schorer, Kenneth Rexroth, and Walter Van Tilberg Clark defended Howl – perhaps making it the perfect symbol of Beat poetry which often came from a place of weariness or "down-and-outness." Ultimately a judge deemed the poem not obscene.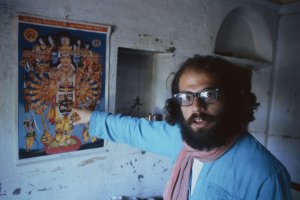 Similar to his Beat Movement contemporaries, politics played a huge part in Ginsberg's life. As a poet, Ginsberg pushed for individualism and unconfined expression. This translated to his libertarian action in politics. Closely associated with the counterculture and antiwar movements in the mid-1960s, Ginsberg was the creator of "flower power" – a strategy where antiwar demonstrators emphasized things like peace and love to starkly contrast the death and destruction of the Vietnam War.
Above all else, Ginsberg was an advocate for self-discovery. According to the Poetry Foundation, he said spirituality and his poetry went hand in hand.
"Writing poetry is a form of discovering who I am, and getting beyond who I am to free awakeness of consciousness, to a self that isn't who I am," he said. "It's a form of discovering my own nature, and my own identity, or my own ego, or outlining my own ego, and also seeing what part of me is beyond that."
And through many years of thoughtful expressions of his own experiences, it's hard to argue that he did not accomplish exactly that – even until the very end. Despite being handed a terminal cancer diagnosis, Ginsberg was determined to make the most of whatever time he had left. After learning of his illness, Ginsberg quickly wrote twelve brief poems. His work from the last few years of his life, including the poetry written immediately after learning of his diagnosis, was collected in Death & Fame: Last Poems, 1993-1997. According to the Allen Ginsberg Project, one of the last poems he penned was Things I'll Not Do (Nostalgias). Written on March 30, 1997, the poem is similar to much of his previous work in that it acts, in some ways, as a biography. He details some of the things he had planned to do with the rest of his life:
"Never go to Bulgaria, had a booklet & invitation / Same Albania, invited last year, privately by Lottery scammers or recovering alcoholics, / Or enlightened poets of the antique land of Hades Necromanteion"
But he also detailed some of the lovely experiences he would not be able to enjoy again:
"Nor more Sunset Boulevard, Melrose Avenue, Oz on Ocean Way / Old cousin Danny Leegant, memories of Aunt Edith in Santa Monica / No more sweet summers with lovers"
Shortly after his diagnosis, Ginsberg suffered a stroke and lapsed into a coma. He died two days later. And even though this poem is sad in subject matter and marks the very end of an extraordinary man's life, it reads with more of a solemn sense of contentment. Obviously Ginsberg had much left he wanted to do, but he seemed to really appreciate all the wonderful life experiences he had already been gifted with.
Understanding Liver Cancer
Liver cancer begins in the liver – an organ located beneath the diaphragm and above the stomach. The most common form of the disease is hepatocellular carcinoma, but there are multiple other types of liver cancers as well. Symptoms of the disease can include unexplained weight loss, upper abdominal pain, loss of appetite, fatigue, nausea and jaundice.
Cancer Survivor Joel Naftelberg Learned to Dance on His Problems
There are a number of risk factors associated with liver cancer. One of the main links is excessive alcohol consumption, but Ginsberg was never much of a drinker. Other risk factors include a family history of the disease, diabetes and exposure to aflatoxins (poisons produced by mold).
Blood tests, ultrasounds, CT scans (X ray images), MRIs (medical imaging) and angiograms are generally used to confirm a liver cancer diagnosis. A liver biopsy, where a small piece of tissue is removed and analyzed for cancerous cells, may also be performed.
Because Ginsberg's battle with the disease was so short, we don't know much about what his course of treatment looked like. Oftentimes, a liver transplant is considered the best plan when the patient is eligible. For cases of recurrent liver cancer and cancer that has spread throughout the body, your doctor may consider targeted therapy, immunotherapy or chemotherapy as the next step.
Learn more about SurvivorNet's rigorous medical review process.
---