The 'Darth Raider' and His Cancer Battle
Lyle Alzado was known for his stellar NFL football career, a fierce competitiveness, an acting stint and steroid use.
Alzado died at the young age of 43 from a brain tumor caused by T-cell central nervous system lymphoma, an extremely rare type of non-Hodgkin lymphoma.
Alzado claims his cancer was caused by his use of performance-enhancing drugs, but there is no medical evidence that this is definitely true. We don't know the exact causes of CNS lymphoma, but having a compromised immune system can put you at a higher risk for developing the rare disease.
Lyle Alzado was known for many things during his life time – a stellar football career, a fierce demeanor, an acting stint and steroid use. But the controversial NFL star's life was cut short when he died of a brain tumor 29 years ago today at the age of 43.
Alzado's brain tumor was the result of T-cell central nervous system lymphoma. Until his diagnosis in 1991, Alzado was lauded for his physical perfection. He stood at 6 feet 3 inches tall and weighed 260 pounds when he was a two-time All-Pro NFL player. He spent 15 years as a defensive end with the Denver Broncos, Cleveland Browns and Los Angeles Raiders.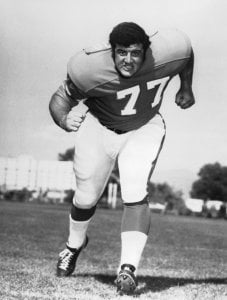 Read More
After his time in the NFL he turned to acting and appeared in multiple tv shows and films with his most notable performances in
Ernest Goes to Camp
and
Destroyer
.
But even before cancer, Alzado's life was not all fun and games. USA TODAY reported that "his family members suggest he never overcame a childhood irreparably damaged by his abusive father." And whether it was inner turmoil or a side effect of his performance enhancing drugs, Alzado became a force to be reckoned with on the football field. He was even nicknamed 'Darth Raider' for his almost villainous persona and hyper-competitive verve.
But he also spent time trying to make a difference. He raised millions for children's causes and visited hospital-bound children.
"Take all the things of Lyle Alzado, and throw them out the window because here's the one thing that he always was — no matter what — it was the most consistent thing in his life: Lyle had a good heart," says former Raiders teammate Matt Millen. "He wanted to do good with kids and people who couldn't help themselves. He'd be their champion.'"
Did Performance-Enhancing Drugs Cause His Cancer?
Alzado's use of performance-enhancing drugs was perhaps a bigger part of his legacy than his charitable work. In an iconic cover story for Sports Illustrated, Alzado was pictured sporting a black and red scarf and a grim look in his eyes. In front of him were the words. 'I Lied.'
"I lied. I lied to you. I lied to my family. I lied to a lot of people for a lot of years when I said I didn't use steroids," he wrote. "I started taking anabolic steroids in 1969, and I never stopped. Not when I retired from the NFL in 1985. Not ever. I couldn't, and then I made things worse by using human growth hormone, too. I had my mind set, and I did what I wanted to do."
Alzado continues by insisting it was his use of performance-enhancing drugs that caused his cancer. But it is unclear if this is true.
Over the years, there have been various claims that performance enhancing drugs cause cancer. When cyclist Lance Armstrong was diagnosed with testicular cancer in 1996, for example, some speculated that his usage of the performance-enhancing drug, EPO, caused his cancer. But Dr. Craig Nicholas, director and founder of Testicular Cancer Commons, said his usage of the drug had nothing to do with his cancer.
RELATED: Lance Armstrong's Doctors Say He Made A Difference For Cancer Community– Inspiration In Spite of The Flaws
In Alzado's cover story for Sports Illustrated, Dr. Robert Huizenga, a former team physician for the Los Angeles Raiders, spoke to the magazine about Alzado's cancer. He believed his performance-enhancing drugs may have been the cause.
"I think there's no question," Dr. Huizenga said. "We know anabolic steroids have cancer-forming ability. We know that growth hormones have cancer-growing ability."
But when Arthur Caplan, director of the Center for Biomedical Ethics at the University of Minnesota at the time, did a piece for The Baltimore Sun in July 1991, he had a very different opinion. 
"Lyle Alzado is omnipresent in the media, blaming 20 years of steroid use for the cancer that grew in his brain. That is silly," Caplan wrote. "Now, Alzado is dying, and many of us are willing to believe that his cancer is a form of retribution for the life he led. The problem with that is there's no evidence that steroids cause brain cancer. No cancer expert I have talked to believes that steroid abuse is a cause of brain cancer — liver problems and infertility, yes; a malignant brain tumor, no."
Moral of the story: We do not know if Alzado's performance-enhancing drugs caused his cancer. Regardless, it's important to note that these types of drugs can have a negative impact on your health.
Understanding Alzado's Diagnosis
Alzado had a rare cancer called T-cell central nervous system lymphoma. In general, lymphoma is a cancer of your immune system and the term is used to encompass several different types of cancer. Knowing which kind of lymphoma you have is crucial for treatment planning.
"I always advise that people understand their specific type of lymphoma, because there are over 40 different types," Dr. Elise Chong, a medical oncologist at Penn Medicine, tells SurvivorNet. "One of the best ways to wrap your head around lymphoma is to start thinking about the different ways we categorize lymphoma."
Finding Lymphoma Early Do you Know the Symptoms and Risks?
The first distinction to be made with lymphoma is between Hodgkin or non-Hodgkin lymphoma. The presence of Reed-Sternberg cells is what makes this distinction. Hodgkin lymphoma has the Reed-Sternberg cells, and non-Hodgkin lymphoma does not.
Once you've been diagnosed with non-Hodgkin lymphoma, the next question your doctor will want to answer is whether you have B-cell or T-cell lymphoma. Alzado had T-cell lymphoma which is less common for patients with non-Hodgkin lymphomas. T-cell lymphomas make up only 15% of non-Hodgkin lymphomas. Unlike B-cells, T-cells directly destroy bacteria and other invaders.
Do You Know Your B Cells From Your T Cells?
Central nervous system lymphoma is a rare type of non-Hodgkin lymphoma where "[cancer] cells from lymph tissue form in the brain and/or spinal cord (primary CNS) or spread from other parts of the body to the brain and/or spinal cord (secondary CNS)," according to the Leukemia and Lymphoma Society.
The Leukemia and Lymphoma Society also reports that the exact cause of CNS lymphoma remains unknown. Having a compromised immune system due to AIDS, other immune system disorders or chronic reduced immune system functionality from an organ transplant can elevate a person's risk for developing this specific disease.
There is no standard treatment for CNS lymphoma. Alzado underwent chemotherapy and radiation for his treatment, but options typically depend on the specifics of a CNS lymphoma case.
Learn more about SurvivorNet's rigorous medical review process.