Learning About Liver Cancer
David Bowie was 69 when he died following an 18-month battle with liver cancer. But the unforgettable rockstar did not leave the world without making his mark, and even continued his creative works until the very end.
Liver cancer begins in the liver – an organ located beneath the diaphragm and above the stomach. The most common form of the disease is hepatocellular carcinoma, but there are other types of liver cancers as well.
Liver disease, which can increase the risk of liver cancer, is often associated with alcohol use. Bowie was open about his struggle with alcohol, but there is no way to know if that led to his liver cancer.
Staying busy during a cancer journey, as Bowie did, is one way to prioritize your mental wellbeing as you battle your disease. One of our experts says "better quality of life is associated with better outcomes."
David Bowie is a rockstar we won't soon forget. And it's easy to wonder what new creations we'd be seeing from the barrier-breaking artist if he hadn't passed away after a brave battle with liver cancer.
The world lost an irreplaceable and often-imitated figure of pop culture in 2016 after Bowie waged "a courageous 18 month battle with cancer." But the multi-talented artist did not leave this world without staking his claim as one of the most influential musicians of the 20th century.
Read More
With
Drug and Alcohol Facts Week
, it's an important reminder to understand the link between alcohol use – a struggle Bowie discussed openly – and liver cancer risk.
David Bowie's Legacy
The New York Times
called David Bowie "
the infinitely changeable, fiercely forward-looking songwriter
."
The Guardian
called him "
a trailblazer of musical trends and pop fashion
." But Bowie, himself, would say he was a "
tasteful thief
" who looked to glam rock, soul, disco, new wave, punk rock and haute couture for inspiration.
But perhaps the androgynous chameleon of artistic genres need not be defined by such overarching phrases, but rather by his life's work. His musical career began as early as age 13 when he first picked up a saxophone. But it was not until 1969 that Bowie's transcendence as a rock star for the ages began with the release of his song "Space Oddity" which would later serve as the opening song on his second studio album, David Bowie.
RELATED: It's Been 5 Years Since Rocker David Bowie Died of Liver Cancer; Wife Iman Says She'll Never Remarry: "This Was My True Love"
From there, the rest was history. He introduced the world to his edgy, glam rock alter ego Ziggy Stardust just three years later, and his first hit single on the Billboard Hot 100 chart came in 1972 with the timeless anthem "Changes."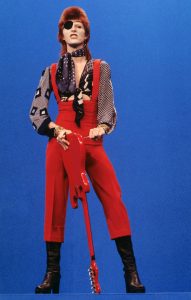 Still, many more hits followed with his 1983 pop hit "Let's Dance" and 1975 funky tune "Fame" leading his all-time top 20 biggest hits on the Billboard Hot 100 chart. But Bowie's career expanded past his albums, and he enjoyed great successes in acting. He starred as an alien in The Man Who Fell to Earth in 1976 and Jareth the Goblin King in the 1986 fantasy film  Labyrinth. He even spent time on Broadway as the lead in The Elephant Man during the 1980s.
Needless to say, 5-time GRAMMY winner with 19 nominations to his name lived an exciting and eventful life before a liver cancer cut his life short on January 10, 2016. He was just 69 at the time.
Understanding Liver Cancer
Liver cancer begins in the liver – an organ located beneath the diaphragm and above the stomach. The American Cancer Society estimates that about 41,260 new cases (28,600 in men and 12,660 in women) of primary liver cancer and intrahepatic bile duct cancer will be diagnosed in 2022. The most common form of the disease is hepatocellular carcinoma, but there are other types of liver cancers as well.
Several risk factors can increase a person's chance of developing hepatocellular carcinoma (HCC) including, but not limited to, the following:
Gender (Hepatocellular carcinoma is much more common in men than in women)
Race/ethnicity (In the United States, Asian Americans and Pacific Islanders have the highest rates of liver cancer, followed by Hispanics/Latinos, American Indians/Alaska Natives, African Americans, and whites)
Chronic viral hepatitis
Cirrhosis (a disease in which liver cells become damaged and are replaced by scar tissue)
Heavy alcohol use
Tobacco use
Obesity
Type 2 diabetes
Cancer Survivor Joel Naftelberg Learned to Dance on His Problems
Liver disease, which increases the risk of liver cancer, is often associated with alcoholism. David Bowie was quite open about his own drug and alcohol abuse.
"It took me a long time to reach the bottom and it went through various stages. I went from drugs into an alcohol stage," he admitted in a 1993 interview with the LA Times. "For a while, one feels, 'Ah, I've kicked drugs,' but what I discovered was I had another addiction instead."
There is no way to prove for sure that Bowie's alcohol use led to his liver cancer. When it comes to alcohol's influence on cancer risk, colorectal surgeon Dr. Heather Yeo from Weill Cornell Medicine told SurvivorNet that she does believe high levels of alcohol can predispose people to certain types of cancer – including pancreatic, liver, and colon.
And a recently published study suggests that sustained quitting and reduced drinking is associated with lower risks of cancer, adding to the data that drinking alcohol increases your risk for developing multiple cancers.
Dr. Yeo expressed that the key with alcohol is moderation. Her view is "for women, anything over a half a glass or a glass a day is probably not helping your overall health." For men, "they can probably go one to two glasses before they start seeing health effects."
Blood tests, ultrasounds, CT scans (X-ray images), MRIs (medical imaging) and angiograms are generally used to confirm a liver cancer diagnosis. A liver biopsy, where a small piece of tissue is removed and analyzed for cancerous cells, may also be performed.
Oftentimes, a liver transplant is considered the best plan when the patient is eligible. For cases of recurrent liver cancer and cancer that has spread throughout the body, your doctor may consider targeted therapy, immunotherapy or chemotherapy as the next step.
Keeping Busy During Cancer
David Bowie did not let his liver cancer diagnosis stop him from doing what he loved: creating. In fact, Bowie's long-time producer Tony Visconti said the artist was "at the top of his game" when recording his final album, Blackstar, which released on January 8, 2016 – the same day as his birthday and just two days before his death.
"David had great, grand ideas," Visconti said in a BBC documentary. "To become well known, famous, for him was initially to have the resources to realize what his ideas were."
And the director of Bowie's off-Broadway musical Lazarus, Ivo Van Hove, says Bowie bravely trudged forward despite ongoing illness. The musical premiered premiered at the New York Theatre Workshop on November 18, 2015.
"I really am convinced that he was fighting death and he wanted to continue and continue," Hove said. "Afterwards we were sitting behind stage and he said 'let's start a second one now, the sequel to Lazarus."
During your cancer journey, it's important to try to find happiness as often as you can. Taking care of your emotional health as well as your physical health when living with cancer actually may improve your health outcomes.
To better understand the role of emotional health and social support after a cancer diagnosis, we spoke to Dr. Dana Chase, a gynecologic oncologist at Arizona Oncology.
"We know from good studies that emotional health is associated with survival, meaning better quality of life is associated with better outcomes," Chase told SurvivorNet in a previous interview. "So working on your emotional health, your physical well-being, your social environment [and] your emotional well-being are important and can impact your survival."
What Still Brings You Joy? Your Emotional Health is So Important to Living with Ovarian Cancer
Whether that means continuing to work, like David Bowie, doing yoga or painting a picture, there's no right or wrong answer. Dr. Chase says trying to do more of whatever activities bring you joy is a great place to start. She recommends writing down ten things that make you happy and intentionally making the time to do those activities throughout the day.
"Sometimes I will talk to a patient about making [a] list of the top ten things that bring them joy," Chase says. "And trying to do those ten things…to make at least 50 percent of their experiences positive throughout the day."
Learn more about SurvivorNet's rigorous medical review process.