A Little Leukemia Survivor's Strength
The oldest son of illusionist Criss Angel and his wife, Shuanyl Benson, has overcome two battles with acute lymphoblastic leukemia. Johnny Crisstopher, 8, just finished treatments in January, and his mother was recently gushing over her brave little boy's fearlessness in a new post about him rock climbing.
Through all the highs and lows, Angel and Benson have been determined to share Johnny's story to increase awareness of childhood cancer and raise money for Angel's childhood cancer foundation – Johnny Crisstopher Children's Charitable Foundation.
Symptoms of leukemia vary depending on the type of disease. But general symptoms can include: Fever or chills, persistent fatigue, weakness, frequent or severe infections, losing weight without trying, swollen lymph nodes, an enlarged liver or spleen, easy bleeding or bruising, recurrent nosebleeds, tiny red spots in your skin (petechiae), excessive sweating as well as bone pain or tenderness.
There's so much resilience and strength to be found in the tiniest of cancer warriors. And famed illusionist Criss Angel, 54, and his wife, Shaunyl Benson, 30, have been in awe of their eldest son, Johnny, who's now defeated leukemia not once, but twice.
Johnny Crisstopher, 8, officially completed treatments for his acute lymphoblastic leukemia back in January of this year. Since then, he's been having all sorts of fun with his family by his side to celebrate all that he's accomplished and overcome.
Read More
RELATED: Criss Angel's Son Is Celebrating His Eighth Birthday after Finishing His Leukemia Treatments in January
In a recent Instagram post, Benson shared pictures and videos of Johnny, his little brother and her rock climbing with an adorable caption about her brave boys.
View this post on Instagram
"Watching my big boy being fearless and trying new things is so magical," the proud mom wrote. "2x cancer warrior – rock wall? No worries 👊🏾 little bro following suit 😎"
Johnny Crisstopher's Leukemia Battle
When Johnny was just 20 months old in October 2015, he was first diagnosed with acute lymphoblastic leukemia, or ALL. After three years of treatment, his cancer went into remission.
What Is Acute Lymphoblastic Leukemia (ALL)?
Then, in December 2019, Angel announced that his then 5-year-old son had relapsed and would begin chemotherapy treatments again. Now, with the last of his cancer treatments behind him as of January, Johnny and his family are relishing in the excitement of post-treatment bliss.
In a previous interview with SurvivorNet, Benson shared her thoughts on her son's unrelenting positivity despite having to battle the disease twice.
"He's such a trooper," Benson said. "He's never ever said, 'Woe's me, Oh no, poor me,' Instead, Johnny says 'Ok, I guess I got more to do.'"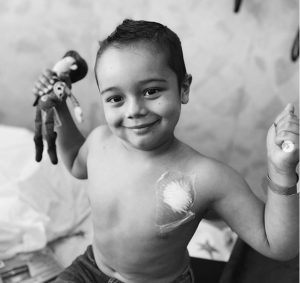 Johnny's type of b-cell acute lymphoblastic leukemia required a total of 1,095 chemotherapy sessions. At such a young age, Johnny was forced to face the harsh realities of a lengthy cancer battle and recognize that his childhood looked different than his peers.
"As Johnny got older — obviously he's been doing this since he was very young — when he started to realize what was happening to him and that not every other kid had a port, would go through treatment. He would say to me late at night, 'Mommy, why can't I just be a regular boy?'" Benson said. "I'd always encourage him and say, 'You are a regular boy. You just have a different mission now.'
"The first thing he said to me after he rang the bell [signaling the end of his last cancer treatment, again]:  'Mommy I'm a real boy now.'  I said, 'Honey, you were always a real boy.'"
"I Try To Stay Strong, But Sometimes You Need To Cry": Playing The Role of Cancer Caregiver and Mom
And though treatments were hard, Johnny never ceased to amaze his family with his outlook on everything.
"He's just got this beautiful spirit and this beautiful attitude," the 30-year-old Australian actress, singer and songwriter said.  "I'm so proud of this boy. It's kids, though. Cancer kids are just a different kind of humans. They are super special.
"Our son got through this twice because he believed in himself," Benson said. "Yes, he has a great family behind him but at the end of the day, it's him wearing the cape and believing he can do this battle. He's the one who has to do this."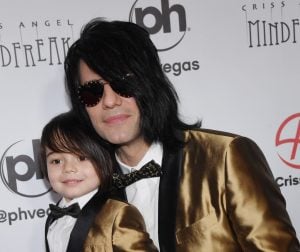 Through it all, Benson and Angel have been determined to share Johnny's story to increase awareness of childhood cancer and raise money for Angel's childhood cancer foundation – Johnny Crisstopher Children's Charitable Foundation – which had previously been established but was renamed after Johnny's diagnosis.
"We work very closely with the Make-A-Wish Foundation, The Children's Oncology Group. 100% of the funds go to research and pediatric cancer patients," Benson explained. "In 2016, Criss held a big event and raised over one million dollars for pediatric cancer. That's something else we're going to be doing again in the future."
Understanding Leukemia
Leukemia, in general, is a blood cancer that develops when the body produces large quantities of abnormal white blood cells. These cells prevent the bone marrow from producing any other type of cell including red blood cells and platelets.
"One cell got really selfish and decided that it needed to take up all the resources of everybody else, and, in doing so, took up space and energy from the rest of the body," Dr. Nina Shah, a hematologist at University of California San Francisco, explained.
What Is a Blood Cancer? How Is It different?
In a more general sense, blood cancer means that your bone marrow is not functioning properly.
"And when your bone marrow doesn't function correctly, it means that you can have something happen to you like anemia," she said. "Or you can have low platelets, which makes it possible for you to bleed easily. Or your immune system is not functioning correctly."
Symptoms of leukemia can vary depending on the type of leukemia. Common signs and symptoms of the disease include:
Fever or chills
Persistent fatigue, weakness
Frequent or severe infections
Losing weight without trying
Swollen lymph nodes, enlarged liver or spleen
Easy bleeding or bruising
Recurrent nosebleeds
Tiny red spots in your skin (petechiae)
Excessive sweating, especially at night
Bone pain or tenderness
Learn more about SurvivorNet's rigorous medical review process.