When Mariam Jobrani, an Emmy-nominated producer, was diagnosed with breast cancer at 40 in March 2010, she was given one year to live. So she set out to do what she loved best — make a documentary.
"Everything Must Change," co-directed and shot lovingly by Kenny Krauss, Mariam's ex-boyfriend and longtime work partner, is a visceral and intimate diary of what would be a nearly seven-year cancer journey. It follows her from diagnosis (stage 2B/3A invasive/infiltration ductal cell carcinoma) to treatment to her search for alternative treatments. She deals with it all — the anger, fears and the joy — with the help of her loving American-Iranian family, Krauss' constant supportive presence, and a ready laugh and sense of humor so self-aware and generous that you can't keep your eyes off her.
Read More
"Cancer doesn't discriminate," comedian Maz Jobrani, Mariam's brother and executive producer of the documentary, tells SurvivorNet in a conversation about the legacy of his beloved sister, who died in 2017, three months after post-production was completed.
"When you lose someone you love, someone who lived life to the fullest, the question is, 'How do we keep her alive?' It's through keeping her name alive."
The siblings — rounded out by younger brothers Kushi, who also tragically died young, and the youngest, Joey, who works with at-risk youth — are part of a vivacious, close-knit family that came to the U.S. on holiday from Iran in 1978 and stayed due to the turmoil that forced the Shah into exile.
"We packed for two weeks and stayed for 40 years," says Maz with a laugh.
Mariam's Cancer Journey
Mariam was living a fast-paced life producing documentaries (including "The Fighting Cholitas") and reality TV (from "Kitchen Nightmare" to "Beyond Scared Straight") when her diagnosis came. But the family was upbeat. "I told her, 'We'll beat it,'" says Maz. "Don't even think about it."
She had a double mastectomy after her initial diagnosis. "Here we are, getting ready to get the boobs cut off," she says wryly to the camera on the way to hospital.
Her treatment plan included six rounds of chemo and then radiation. Until then, she'd been working 18-hour days, but it all came to "a screeching halt," she says, when treatment kicked her ass. When doctors recommended the choice of more treatment or surgery, she said she had enough.
"It came to a point where you know what, I've handed my life to you guys and you won't stop," she says in the movie. "Why don't we do this: Just give me a lobotomy and I'll sit in a corner drooling for the rest of my life. … So I drew the line and said, 'No.' … And I excitedly went back to my life and my career as a TV producer."
It was then, she says, that she "realized that I've changed." She had less strength, and found herself easily exhausted. "I couldn't go back to my old life. So I started looking for answers."
Mariam began a spiritual quest that took her to Brazil (three times) and to India, which she calls "a spiritual Disneyland." She tried holistic cures and therapies, and approached her journey with hope and often joy.
"I continue to literally fight for my life every single day, trying anything that offered any glimmer of hope from diets to detoxes to vitamins to cancer coaches …anything and everything," she says.
View this post on Instagram

In the end she found a healer in California named Master Danadoost with whom she truly connected. His philosophy, in part: "Take a look as to what really moves you. Find exactly what that is, and just do it."
"That's a  prescription," she says.
But the cancer took Miriam's life not long after.
Peace of Mind
Maz says he has complicated feelings about his sister's Eastern spiritual journey, which continued as her diagnosis moved on to stage 4, and wonders if she shouldn't have adhered more closely to Western treatments.
"If anyone comes to me and says, 'I think Eastern style of spirituality is going to get rid of my cancer,' I'd say, 'Combine it with Western medicine if you have a trustworthy doctor.'"
But as for her journey, he says, "giving her some peace of mind, giving her some hope, is a big thing." And importantly, it inspired her to do what she loved most — travel and live out new adventures. "I hope when people see this movie it reminds them to live their life," he says.
It's why, he says, in addition to a now annual fundraiser with PACI at the Laugh Factory in L.A., they're working to create a charity called Mariam's Gift, which would give money to a scholarship at UC Berkeley for female students to study abroad.
The fundraiser currently contributes to the Persian American Cancer Institute (PACI) — which Maz has been working with since before his sister's diagnosis — and the Optimist Youth Home & Family Services, where brother Joey works.
"She wanted to see the world, and I want other people under her name to be able to do that," Maz says.
Maz also continues on his own journey as a comedian, currently touring nationwide with his "Peaceful Warrior" show, and working on his weekly podcast, "Back to School with Maz Jobrani." He also has a pilot in the works with Courtney Cox for Fox Animation about an immigrant family.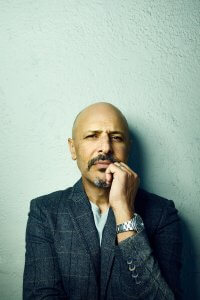 He remains dedicated to spreading his sister's story, and for others to hear the inspirational ways in which she approached her journey.
The movie ends on an uplifting note as her diagnosis seemingly miraculously improves for a time. And despite her death, the words she speaks at the end of the movie capture her essence and keep her spirit alive.
"I have this new lightness that I never had before, this new appreciation for life," Mariam says. "I feel grateful, I feel blessed. I don't know, it's a beautiful thing. The mystery of life is a beautiful thing."
Learn more about SurvivorNet's rigorous medical review process.
---