Faith during a Cancer Journey
Robin Roberts, who previously battled breast cancer herself, has been supporting her partner, Amber Laign, during her own breast cancer journey. Thankfully, Laign finished her radiation treatments last month.
Since Roberts feels strongly connected to her faith, she's leaned into prayer to help the couple through Laign's cancer journey. Most recently, she said "she's back and she's strong" at the end of her prayer in reference to Laign.
Breast cancer is a common cancer that has been the subject of much research, so there are many treatment options out there. Mammograms, a standard screening procedure for breast cancer, and self breast exams can save lives.
Although it's not for everyone, leaning into faith can help cancer warriors stay positive when times get tough.
Good Morning America
star Robin Roberts, 61, has continued to stay connected to her faith during her wife's cancer journey. And in a recent prayer, we even got a subtle update about how things are going for Amber Laign, 47, who recently completed radiation therapy treatment.
Roberts has been with her partner, Laign, for 17 years. And even though it's been hard to watch someone she loves so much battle the same cancer she faced, Roberts has seemingly stayed positive and continued to share uplifting words of wisdom with her followers.
Read More
In a recent Instagram post, Roberts talked about the importance of carefully choosing the company you keep.
View this post on Instagram
"Your friends should be sharpening you, making you better. Is that true of your circle of friends?" she said in a video from her dressing room. "Whatever qualities your friends have – either good or bad – eventually will either dull you or sharpen you.
RELATED: Joy As Robin Roberts, 61, Posts Video of Partner 'Sweet Amber' Laign, 47, Ringing The Bell And Doing Her 'Happy Dance' At The End Of Radiation Therapy
"Now, if you hang out with people who gossip, who compromise or who are stingy, that's what you'll become. But if you hang around generous people who are motivated, those good qualities will sharpen your life."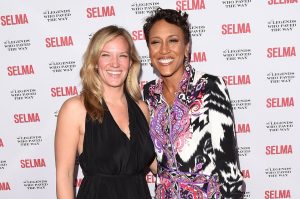 She continued by emphasizing that the "quality" of your friends is of far more importance than the "quantity."
"You need eagles in your life – people who will inspire you to reach your dreams, people who will motivate you to go further, people who will make you better," she said before beginning her prayer for the day. "Father, thank you. Thank you for the friends in my life who sharpen me, inspire me, encourage me and make me better. Help us to know if there are relationships that are having a negative impact on us and dulling us. We want to walk with the people who will make us sharp. In Jesus name, Amen."
As she always does, the TV star concluded her prayer by pressing a button that lets out a sound of someone's voice – presumably Laign's. And in addition to addressing her partner, she also gave fans some promising words to cling to about her wife.
"Right, sweet Amber," she said before pressing the button. "She's back and she's strong."
Robin Roberts and Amber Laign Battle Breast Cancer
Roberts and her partner, Laign, have been together through many highs and lows over their 17-year relationship – including each of their battles with breast cancer.
Breast cancer is a common cancer that has been the subject of much research. Many women develop breast cancer every year, but men can develop this cancer too – though it is more rare, in part, due to the simple fact that they have less breast tissue.
The Unique Features of Breast Cancer: Deciding the Right Course of Treatment
Roberts received her breast cancer diagnosis in 2007. Ironically, she was diagnosed after finding a lump in her breast during her preparation for a news segment on performing self-checks.
As Roberts knows all too well, it's very important to be on top of self breast exams. If you ever feel a lump in your breast, you should be vigilant and speak with your doctor right away. Voicing your concerns as soon as you have them can lead to earlier cancer detection which, in turn, can lead to better outcomes.
Additionally, it's important to note that screening for breast cancer is typically done via mammogram, which looks for lumps in the breast tissue and signs of cancer. The American Cancer Society (ACS) says women should begin yearly mammogram screening for breast cancer at age 45 if they are at average risk for breast cancer. The ACS also says those aged 40-44 have the option to start screening with a mammogram every year, and women age 55 and older can switch to a mammogram every other year, or they can choose to continue yearly mammograms.
Thankfully, Roberts was declared cancer-free after surgery. But Roberts shared that Laign had to face breast cancer as well in February. Since her partner's diagnosis, Roberts has been doing everything she can to support her partner throughout her cancer journey.
When Should I Get a Mammogram?
"I didn't realize how much I had blocked out during my journey, and it was because of sweet Amber—because she protected me and navigated for me," Roberts said in a previous interview with Ellen Degeneres. "So, I'm doing the same thing for her."
And though she's "had some complications with the chemotherapy" and "challenging" weeks to work through, Laign has since triumphantly completed her radiation treatments. In a post from July, Roberts shared the exciting news with fans.
View this post on Instagram
"Sweet Amber completing radiation, a very important phase of her treatment!," Roberts wrote under a video of Laign ringing a bell to signify the end of radiation. "We both thank you for all your well wishes and prayers. Proud of her and all fellow Thrivers for your grit and grace during a challenging time. This is indeed my #mondaymotivation."
Turing to Faith during a Cancer Journey
Roberts has been very open about how faith has gotten her through tough times and encourages others to lean into their own faith. So, it's no surprise that she's still incorporating prayer as the cancer survivor's partner tackles her own battle with breast cancer.
For some people, turning to faith can be a great way to keep spirits high when cancer starts taking an emotional and/or physical toll. Monica Layton, for example, also believes in the power of faith during a fight with cancer. She turned to her church congregation for support as she battled ovarian cancer during the COVID-19 pandemic and then went through recovery.
Ovarian cancer survivor Monica Layton shares how her church was her biggest support system
"[I've] gone to the same church for a long time, so it's like another family that really supports me," she told SurvivorNet in a previous interview. "We're Episcopalian, and when I was having surgery my priest came to the hospital and stayed and prayed with my family the whole time – and it was a long surgery. And then he came back to the hospital every day to pray with me."
In addition to praying for her, Layton's church also sent flowers, cards and a prayer blanket and often visited her.
"They were so kind," Layton said. "I think my faith has been very important, crucial for me. Just the prayer really helps, I think."
Learn more about SurvivorNet's rigorous medical review process.