Eighteen-Year Old's Acute Lymphoblastic Leukemia Battle
Tom Hunt, 18, of Manchester England learned his hard partying fatigue was acute lymphoblastic leukemia.
Hunt's ordeal began in November 2018 during a train trip with friends in Europe.
He thought he needed more sleep and less beer, but later received a leukemia diagnosis.
Leukemia is a blood cancer.
Acute lymphoblastic leukemia is found in the lymph nodes and can spread to other parts of the body.
Partying too much can be to blame for a lot of symptoms. But 18 year old Tom Hunt of Manchester England was surprised to learn his hard partying fatigue and other bodily changes were actually signs of
acute lymphoblastic leukemia
.
His ordeal began in November 2018 during a trip on a train with friends in Europe. He wasn't feeling well and thought he needed more sleep and less beer.
Read More
Hunt's symptoms got worse as they traveled through Budapest, Hungary and then to Prague, in the Czech Republic.
"I went away with my mates and we were inter-railing around Europe," he told the Manchester Evening News. "In Budapest, I started feeling quite ill but powered on thinking I needed to stop drinking and sleep a bit more but in Prague I was just ridiculously ill."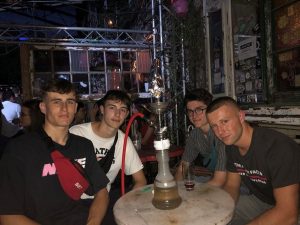 Hunt started suffering from a chest and throat infection and felt exceptionally tired, despite having plenty of sleep.
"I normally sleep about seven or eight hours and I was sleeping 18 hours," he said. "I knew something wasn't right. I was struggling to eat anything because my throat was so sore."
Hunt flew home early and was able to book a doctor's appointment with his friend's dad, who was also his local general practitioner.
"My lymph nodes were all up down my neck so I just booked a flight home."
The doctor gave Hunt antibiotics and booked a blood test two days later after raising concerns about a large lump on his leg.
"He said 'you still don't look right and you look very pale so I'll do your blood and I'll call you if there's anything wrong.'"
The test results showed Hunt had glandular fever and could have leukemia.
"So he did them and I needed two blood transfusions straight away. He said my platelets were alright which he was surprised about but my immune system, there just wasn't one, so he told me to get straight to Manchester Royal Infirmary."
Hunt was admitted to the hospital and told he had leukemia two days later. He was then moved to the Christie Hospital in Manchester where he stayed for another month for intensive treatment.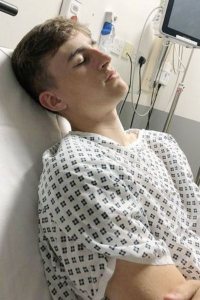 There were multiple blood and platelet transfusions and grueling chemotherapy.
Hunt also suffered a seizure and had to surrender his driving license.
What is Leukemia?
Leukemia is a blood cancer. Acute myeloid leukemia, or AML, which starts in the bone marrow (the soft inner part of the bones), but usually quickly moves into the blood, according to the American Cancer Society, and can spread to other parts of the body like the central nervous system (brain and spinal cord).
Leukemia develops when the body produces large quantities of abnormal white blood cells. Because they're abnormal, they prevent the bone marrow from producing any other type of cell, namely red blood cells and platelets.
Dr. Nina Shah, a hematologist at University of California San Francisco, explains blood cancers in layman's terms.
"One cell got really selfish and decided that it needed to take up all the resources of everybody else," Dr. Shah tells SurvivorNet, "and in doing so, took up space and energy from the rest of the body."
"In general having a blood cancer means that your bone marrow is not functioning correctly," she continues. "And when your bone marrow doesn't function correctly it mans that you can have something happen to you like anemia. Or you can have low platelets, which makes it possible for you to bleed easily. Or your immune system is not functioning correctly."
Acute Lymphoblastic Leukemia or ALL
The American Cancer Society estimates that about 5,690 new cases of ALL will be diagnosed in the United States in 2021. The ACS also reports that the risk for developing ALL is highest in children younger than 5 years of age, with a slow decline in risk until the mid-20s. Then, the risk slowly rises again after age 50.
Dr. Olalekan Oluwole, a hematologist with Vanderbilt University Medical Center, previously talked with SurvivorNet about ALL's effect on the body and the type of treatments that work to fight it.
"ALL is a type of cancer that is very aggressive," Dr. Oluwole told SurvivorNet. "It grows very fast. Within a few weeks, a few months, the person will start to feel very sick. And that's why we will have to give it an equally aggressive type of treatment to break that cycle."
Dr. Oluwole also says the leukemia often resides in the bone marrow, and because it is an abnormal growth, it just keeps dividing.
"It doesn't follow rules, and it doesn't stop," he told SurvivorNet. "Not only that, because this is part of the immune system, the immune system is sorta like the police of the body. So those abnormal cells that have now become cancer, they have the ability to go to many places. They go into the blood, and they often go into the tissue or the lining around the brain."
Four years after his ordeal, Hunt is in remission and is preparing to start at the University of Manchester next month.
Learn more about SurvivorNet's rigorous medical review process.
---