Medical Misdiagnoses are Common How to Seek Answers
A now 22-year-old British student initially thought she was pregnant when her belly began to swell. She was then misdiagnosed with constipation. Eventually, she got the correct diagnosis stage one ovarian cancer.
The term ovarian cancer refers to a number of different tumors that grow in the ovary, and unfortunately, it is frequently diagnosed late because symptoms can be non-specific.
The story comes as a shocking study estimated that 800,000 Americans suffer "serious harm" due to misdiagnosis every year. That includes an estimated 371,00 people who die every year and around 424,000 who are permanently disabled.
The study serves as a reminder about advocating for your own health. Our experts recommend speaking up, being pushy when needed, and not being afraid to seek multiple opinions.
Like hundreds of thousands of patients each year, a young British student found herself misdiagnosed multiple times before finally learning she had stage one
ovarian cancer
.
When Summer Edwards, now 22, was a teen in 2020, she began experiencing symptoms she though may be pregnancy her stomach quickly and unexpectedly became much rounder.
Read More
Edwards explained that she went from a size six to a size 10 "in a matter of weeks." When she went to her doctor, they assumed she was dealing with constipation,
the Daily Mail reports
. Yet after multiple attempts to treat her with laxatives and other methods, Edwards was still suffering. She was misdiagnosed yet again afterwards with an ovarian cyst.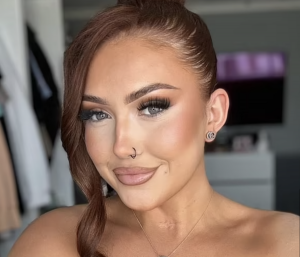 Eventually, doctors found a tumor and Edwards was correctly diagnosed with stage one ovarian cancer. The term ovarian cancer refers to a number of different tumors that grow in the ovary. Edwards is extremely lucky because
ovarian cancer often doesn't present any obvious symptoms
until it has advanced and many women are diagnosed with later stages of the disease.
"They told me I had a Sertoli-Leydig cell tumor, which was really rare," she explained. "…It didn't sink in at all, and the first thing I did was take my sick note to work I was gutted I couldn't work."
About two weeks after her diagnosis, Edwards has surgery to remove her tumor which was a success. She made the very personal decision to not undergo chemotherapy post-surgery at the time.
"I was so relieved, and in my post-op review they asked me if I wanted preventive chemotherapy and I said no, as the pros outweigh the cons for me," she explained. "I'd rather live my life now and deal with chemotherapy in the future if it ever comes back."
To monitor and ensure the disease does not come back, Edwards has been undergoing ultrasounds every three months which will continue for about a decade. After the experience, Edwards said she decided to enroll in nursing school something she has "always" wanted to do.
"Having the diagnosis made me realize there's no time to wait and life is too short," she told the outlet.
How Common Are Misdiagnoses?
Edwards' story hit the news just as a shocking study about how frequently patients are misdiagnosed was making the rounds.
According to the study, published in BMJ, an estimated 371,00 people in the U.S. die every year due to a misdiagnosis and around 424,000 people are permanently disabled. The study said an estimated 800,000 Americans in total suffer "serious harm" due to misdiagnosis every year.
The researchers for this particular study focused on "serious harm," but also noted that less detrimental misdiagnoses were likely occurring on an even grander scale. According to STAT, authors believe the number of diagnostic errors that happen in the U.S. each year could be between 50 and 100 million.
Despite these shocking numbers, most misdiagnoses do not have dire consequences.
"The risk level just walking through the door in the doctor's office that something horrible is going to happen to you because of a diagnostic error is actually quite low," David Newman-Toker, the lead author of the paper, told the outlet.
How to Advocate for Better Healthcare Outcomes
While the number of misdiagnoses occurring yearly is certainly surprising and perhaps even off-putting it's just another reminder about the importance of advocating for your own health.
This could mean seeking multiple opinions until you get the right diagnosis. It could also mean being a bit more pushy at the doctor's office to demand answers.
Dr. Steven Rosenberg explains why he recommends patients seek out multiple opinions.
"If I had any advice for you following a cancer diagnosis, it would be, first, to seek out multiple opinions as to the best care," National Cancer Institute Chief of Surgery Steve Rosenberg told SurvivorNet. "Because finding a doctor who is up to the latest of information is important.
"It's always important to get other opinions so that you can make the best decisions for yourself in consultation with your care providers," he added.
Advocating for your health also means seeking out answers about symptoms. With ovarian cancer in particular, this may mean getting symptoms that you may believe are linked to your menstrual cycle checked out as well.
Doug Wendt, who lost his wife to ovarian cancer and now advocates for awareness to help other women, explained that his wife frequently dealt with symptoms he wished they had looked into.
Doug Wendt, who lost his wife to ovarian cancer, urges women to speak up and get checked out when they experience new symptoms. 
"Yes, we want to help women facing ovarian cancer," Wendt said of the awareness organization he created, the Cardinal Cancer Foundation, "We'd really rather they not get it at all."
He added, "We'd also rather that if they do have to face it they face it earlier rather than later. And that means that we all have to be a lot more attentive to the real health needs of women in our society."
According to the Mayo Clinic, symptoms that could be linked to ovarian cancer include:
Abdominal bloating/swelling
Quickly feeling full when eating
Unexplained weight loss
Pelvic discomfort
Back pain
Changes in bowel habits
Frequent need to urinate
Learn more about SurvivorNet's rigorous medical review process.