Always Pushing Forward
Jennifer Jones made history as the first Black woman to join the world-renowned dance group The Rockettes.
Jones began dancing in the group at a time when some people within the organization still didn't think Black women belonged on the stage. Jones paved the way for other women of color to pursue their passion for dancing.
Jones was diagnosed with stage three colon cancer in 2018. She has used her platform to encourage people to know their family cancer history, and to get comfortable talking about digestive issues that could be a sign of illness.
The holidays are usually a time for gathering with family and friends. But for Jennifer Jones, it always meant one thing: Work.
"I was dancing all through the holidays," she recalls. "There was no holiday season with my family."
Read More
Jones, 54, was the first African American Rockette to dance at Radio City Music Hall. Hired in 1987, Jones kicked her way through a career with the famous New York line dancers for 15 years, breaking barriers and blazing a trail for women of color.
"Sometimes I feel I could be right back on that stage," she says now, a bit wistfully. And while Jones says it's "heartwarming" to see the line looking more "multiracial," she admits that "they could have done a better job" through the years in being more inclusive, much earlier on.
"This past February – Black History Month – was the first time that Madison Square Garden (Company, which manages the Rockettes) and Radio City actually acknowledged me as being the first African American Rockette," says Jones.
Russell Markert, who started the group in 1925 in St. Louis, had a certain vision in mind, Jones explains. "The founder's thought process was that he wanted long-legged women on a line, doing a kick line, and he would make them world-renowned. They were not allowed to sun bathe, for fear of looking like a colored girl. Some of the women who did get sun-tanned were pulled from the show. They had to put white pancake makeup on their legs. There was a lot of controversy about it," says Jones.
"The founder was still alive when I was hired and was not happy that Radio City was making this change. There were women on the line welcomed me and those who did not welcome me."
Life After The Rockettes
Now retired and looking back, Jones isn't bitter. "It was such a great experience. I'm so blessed to be able to follow my passion for dancing and make a living from it. I got paid to do what I loved to do."
All the years of dancing — along with running, yoga and a healthy lifestyle that included being vegetarian, helped get her through the life-changing news she received when she turned 50.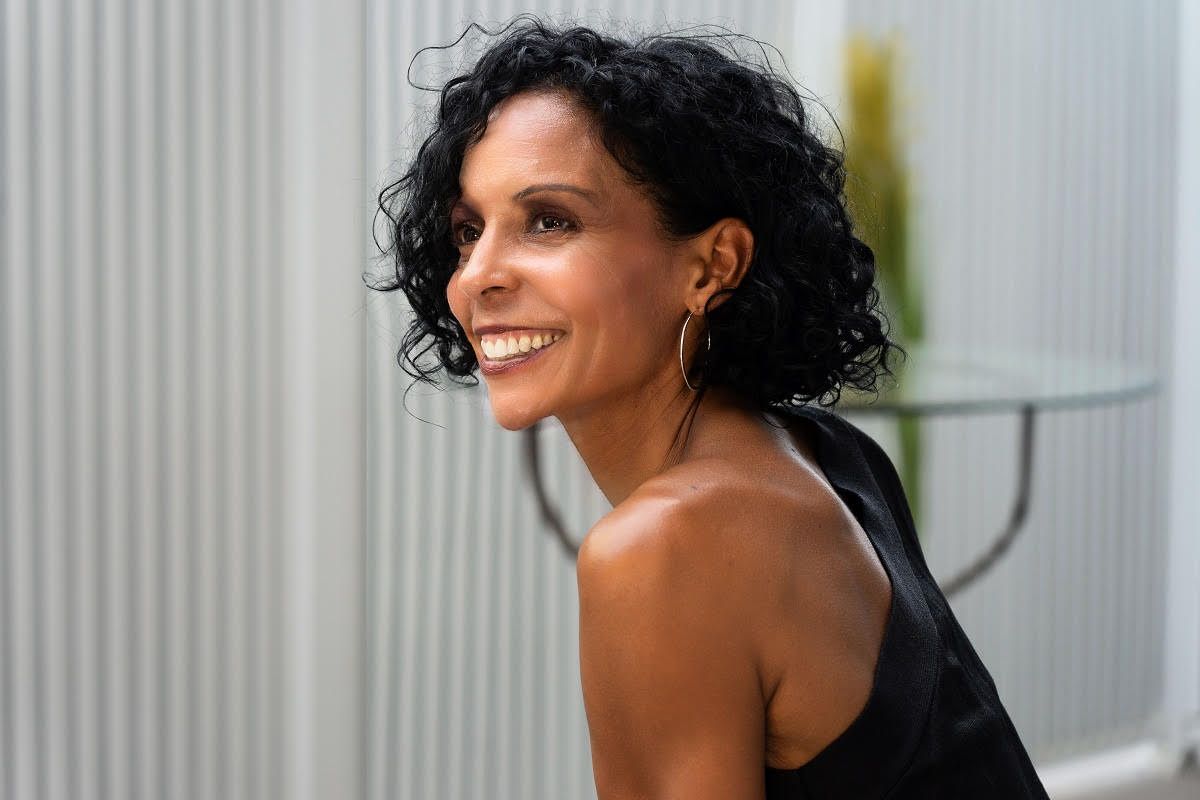 It was 2018. "I knew something was wrong," she says, but chalked it up to "getting older." A cousin had recently been diagnosed with IBS (Irritable Bowel Syndrome). And certain foods made Jones feel "more gassy and bloated,' but she thought it might be a gluten allergy.
She went for a colonoscopy and endoscopy.
"I remember coming out and looking at the clock and it was 25 minutes, maybe a half hour. I'm groggy. Everybody's quiet. They take me into the other room and give me juice to drink. And the nurse is smiling. The doctor said, 'I have bad news. You have cancer. You have five years to live.'"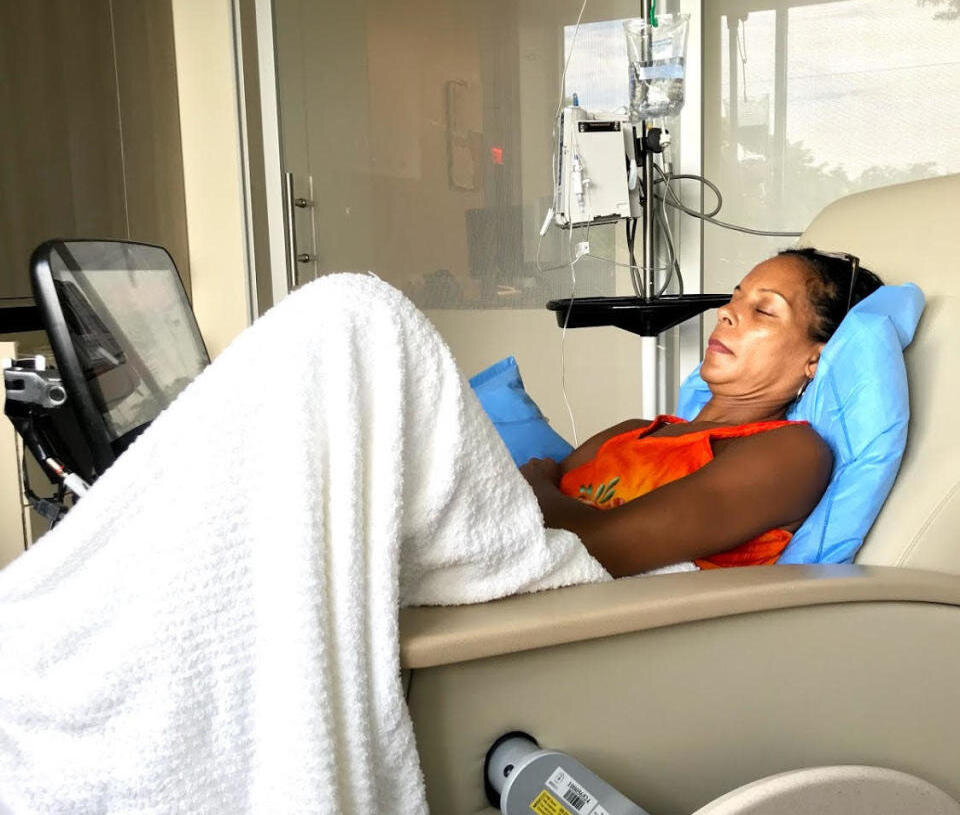 Shock came first. Then embarrassment. And finally, taking stock of her life.
"I was the healthy one in my family. I was the active one. I have two children (Zachary, now 25, and Isabella, now 22). I'm divorced. At that time, my daughter was not speaking to me. We had a family vacation planned. Here I am having five years left to live and thinking this could be the last family vacation I'll ever have. I needed to reconcile with my daughter. The last day of my vacation, I told my family."
Jones's Treatment Journey and the Road to Recovery
As soon as she returned from the trip, she went for CT scans and blood work, but she was not connecting with her doctor. "I had a difficult time understanding what's wrong. He told me I had Stage 3 cancer and it wasn't that big of a deal. I was getting mixed messages the whole time."
Her sister suggested she go to Memorial Sloan Kettering Cancer Center, which she did, and got a team that made her immediately feel "comfortable." Mostly women, they made it easy for her to talk about bowel movements and gassiness – "things people don't openly talk about," says Jones, noting that it's important to "take away the stigma of shame and of fear" surrounding colon cancer.
During a colonoscopy, doctors are looking for polyps which can eventually grow into cancer, according to colorectal surgeon Dr. Zuri Murrell.
Jones then understood that she had Stage 3 non-hereditary colon cancer in the rectosigmoid part of her colon. One of her big fears was a colostomy, a surgery to create an opening for the colon through the abdomen to create an alternate channel for feces to leave the body.
"I was very worried about having to wear a bag for the rest of my life," says Jones. "All of these things were flooding in my thoughts. Being diagnosed, I had to reevaluate my whole life. What relationships do I need to let go of? What do I need to include?" she says.
She remembered waking up again, this time on Dec. 18, 2018, after her surgery and seeing her entire medical team at the foot of her bed. She turned to her side, and one of the doctors said, "No bag."
Her 2-inch tumor had been removed and was in a place that made it possible for her surgeon to remove it and not need to have a bag. Jones adds, "I asked for extra staples."
She wanted to get up and dance, but she could barely walk. The road to recovery was a "slow" one, she says, "and it really made me slow down with everything in my life."
As a dancer she had constantly pushed herself. "I was learning another life lesson – slow down. Listen. What is your body feeling? And gratitude. Be thankful you can walk around and that your family is supporting you."
She had to remember that as she began Capox chemotherapy treatment (capecitabine (Xeloda) and oxalipltin (Eloxatin).)
"Two weeks on, one week of rest," says Jones, who did not get a port (a vein-access device implanted under your skin) and recalls the IV being harder and harder on her veins. "I would get infusions and take two weeks of pills, morning and evening with food. Having that Rockette routine background helped me keep a rhythm. I love routine."
The first treatment went well. Jones, who is 5-feet-8.5-inches tall, recalls she had dropped to 115 pounds when she discovered her cancer. She had been eliminating foods that were irritants.  During her first treatment, a three-hour infusion – she got hungry.
"I was starving!" Her mother went to an Italian deli and brought back eggplant parmesan and garlic cheese bread. "I felt so good!" says Jones.
Then, she says, "I sat there and waited for the side effects to kick in. When will I throw up? When will my hair start falling out?"
After two or three treatments, she started having side effects. Her hands and feet were discolored. Her throat would constrict after treatment.  A warm summer breeze on her skin felt like "pins and needles," she says. "The longer and more treatments I had, the more sensitivity would happen."
Two things helped – she moved in with her boyfriend, now husband, Jeffrey DeBarbieri, a chef. And she discovered Dancers Against Cancer, where she was able to get a $10,000 scholarship to help pay her medical bills.
Right after New Year's Day in 2019, she found out she was "cancer free." She goes in for routine screenings, blood work, colonoscopies, mammograms and ultrasounds. "My mother had breast cancer. I'm well monitored."
Current guidelines call for colon cancer screening to begin at age 45, but people who are at high risk are often advised to begin screening earlier.
Her Message to the SurvivorNet Community
Jones says she is glad that the recommended age for the first colonoscopy is now 45, down from 50. "Having it at 45 absolutely would have made a difference," she says. "I would even like to see it at 40. My children have to go at 40 because I was diagnosed at 50. I think that's great.  Early detection is key."
 

View this post on Instagram

 
Jones also urges that you know your family history and know your body. Most important is that we all should be "able to have conversations and not think of a colonoscopy or talking about colon cancer as a stigma, but a healthy conversation."
Says Jones, "There is the fear of colonoscopies and the prep. Don't fear the prep! There's a lot of hesitation, but a lot of people don't know you can do an at-home test and if it comes back positive that you will have to go for a colonoscopy. There is too much fear around colonoscopies; the real fear should be about cancer."
While her serious dancing days are done, Jones says she sees fellow former Rockettes at alum gatherings, and enjoys having a holiday season with family in New Jersey, where she lives.
She's focusing now on a children's book that will be out soon from Harper Collins called On the Line: The story of Jennifer Jones. She is also working on her memoir, designing a Barbie Doll, and hoping to pitch an idea she has for television show.
What would it be about? "Something between Glee and Tiny Pretty Things, with great dance characters and great dance numbers." Of course.
Learn more about SurvivorNet's rigorous medical review process.
---