A Friendship Repaired in a Time of Need
Blink-182's Mark Hoppus has been battling stage 4 Diffuse Large B-Cell Lymphoma, a type of blood cancer, and treating it with chemotherapy.
Hoppus' former bandmate Tom DeLonge recently said the two have repaired their friendship, and now they talk multiple times a day.
Diffuse large B-cell lymphoma is a type of non-Hodgkin lymphoma which means that the Reed-Sternberg cell – a giant cell derived from B lymphocytes – is undetectable.
Blink-182's Mark Hoppus and his former bandmate Tom DeLonge have a long and complicated history. But as Hoppus battles a type of blood cancer called stage 4 diffuse large B-cell lymphoma, the two have rekindled their friendship and come together to support each other through life's hardships.
DeLonge and Hoppus were the two original founders of Blink-182 in 1992. DeLonge first left the band in 2005 and then reunited for several years until he permanently left in 2015. In an interview with Apple Music 1's Zane Lowe, DeLonge explained how he first heard about Hoppus' cancer because of his 2019 divorce from his wife after 18 years of marriage.
Read More
"The way the universe works is strange because I reached out to Mark because I needed him to sign this piece of paper that had to do with my divorce," DeLonge told Lowe. "Only because of that call did I learn he had cancer. And he told me on the phone. I was like, 'Wait, what?"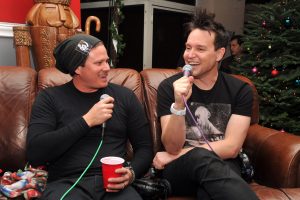 Hoppus is currently undergoing chemotherapy and "getting pumped full of poison every three weeks." In a tweet from earlier this month, he shared that he would have a scan on Sept. 29, 2021, to see if his treatments are working. In the interview with Lowe, DeLonge explained that Hoppus has "had a really difficult time, but he's doing really good right now."
As far as their friendship is concerned, DeLonge explained how the two have come to such a good place.
"We weren't really talking much at all, maybe once every couple of months, a little text here and there. But now, we talk multiple times a day," DeLonge said. "We've been able to completely repair that friendship and really cut to the depth of who we are as people and what this is all about."
Relationships and Cancer
When you're battling cancer, it's important that you don't feel alone. Having a supportive spouse can help a lot in terms of feeling emotionally and physically supported. For the uncoupled, friends and family members can just as easily fill this role, too.
Writer and actress Jill Kargman previously told SurvivorNet that having her husband around for her first bout with cancer and her later decision to get a prophylactic mastectomy made all the difference.
Jill Kargman on Relationships and Cancer
"I think cancer is a great way to find out if you're with the love of your life or a shithead," she said. "And I think if you're with someone who is not supportive and kind of emotionally checked out or doesn't tell you you're still beautiful with that, this might not be your person."
What is Lymphoma?
Lymphoma is a cancer of the immune system that begins in the white blood cells called lymphocytes. According to the Leukemia & Lymphoma Society, about 90,390 people in the United States are expected to be diagnosed with lymphoma in 2021 – 8,830 cases of Hodgkin lymphoma and 81,560 cases of Non-Hodgkin lymphoma.
It's important to note there are more than 40 different types of the disease. Hodgkin lymphoma and non-Hodgkin lymphoma are the main two sub-categories with the latter being more common. The type of white blood cells linked to the disease determines the distinction. If doctors are unable to detect the Reed-Sternberg cell – a giant cell derived from B lymphocytes – then it is categorized as non-Hodgkin lymphoma.
What Kind of Lymphoma Do You Have? Why Your Type Matters
You might be at a higher risk for lymphoma if you:
Have been infected with the HIV or Epstein-Barr virus
Had an organ transplant
Have a family history of lymphoma
Have been treated with radiation or chemotherapy drugs for cancer in the past
Have an autoimmune disease
RELATED: Finding Lymphoma Early: Do you Know the Symptoms and Risks?
People with lymphoma do not always have symptoms, but common ones are:
Swollen glands in your neck, armpit or groin
Fever
Chills
Night sweats
Unexplained weight loss
Feeling tired
Swelling in your stomach
More about Hoppus' Type of Cancer
Diffuse large B-cell lymphoma, Mark Hoppus' type of cancer, is a type of non-Hodgkin lymphoma. There are many specific types of NHL, and diffuse large B-cell lymphoma  (DLBCL) is one of them. In fact, it's the most common type of non-Hodgkin lymphoma in the United States with about 1 in 5 people with NHL having the diffuse large B-cell variety.
When Caught Early, Diffuse Large B-Cell Lymphoma Is Highly Treatable
This cancer grows fast, but treatment success rates are high when caught early. The standard course of treatment is a combination of four drugs that doctors nickname R-CHOP — the chemotherapy drugs cyclophosphamide, doxorubicin, and vincristine plus the steroid prednisone — which has been around since the 1970s. The newer monoclonal antibody rituximab (Rituxan), which targets a specific protein called CD20 on the surface of cancer cells, is also included. Sometimes an additional chemotherapy drug, etoposide (Vepesid, Toposar, Etopophos), is added to the R-CHOP regimen, resulting in a drug combination called R-CHOEP.
But anywhere from 20 to 50 percent of people who are initially treated with the drug cocktail known as R-CHOP will either relapse or won't respond to this treatment (called refractory disease). If that's the case, there are other options. High dose chemotherapy coupled with stem cell transplantation may be recommended, but a new drug combination approved in summer of 2020 — tafasitamab-cxix (Monjuvi) plus lenalidomide (Revlimid) — might be the best option for people who can't have a stem cell transplant.
"[This therapy] gives us hope that, even for patients who failed previous treatments, we will have an option that will result in long term response," Dr. Jakub Svoboda, a medical oncologist at Penn Medicine, tells SurvivorNet. "Having a growing number of therapies with different mechanisms of action will allow us to tailor more effective and less toxic treatments right from the time of lymphoma diagnosis."
Learn more about SurvivorNet's rigorous medical review process.
---