'One of The Hardest Moments of My Life:' A Blood Cancer Diagnosis
Nicola Mendelsohn, 51, is one of the top women in tech, and was diagnosed with a rare form of blood cancer, called follicular lymphoma, in 2016.
Follicular lymphoma is an extremely rare cancer and a slow-growing type of B-cell non-Hodgkin's lymphoma; Possible symptoms, if they occur, can include anemia, fatigue and a low platelet count.
The Facebook executive says at the moment her disease is in remission and no more treatment is required; Other than feeling exhausted at times she says she is feeling fairly good.
In her 83rd floor home office in midtown Manhattan, top Meta [formerly known as Facebook] executive and blood cancer survivor Nicola Mendelsohn, 51, says she's focused on her family and building out her impressive career.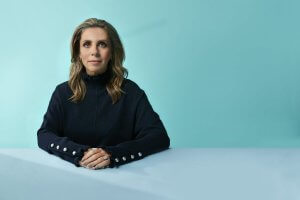 Read More
"I'm going to have to be careful but, at the moment, I feel good, I feel well," Mendelsohn
told
the
Daily Mail
in an interview. Mendelsohn, known as one of the most important women in tech, was diagnosed with a rare form of blood cancer, called follicular lymphoma, in 2016. Which there is unfortunately no cure for at this time.
The wife and mother-of-four recently became vice president of Meta's global business group in New York and is currently working on her vision statement, which she puts out at the start of every financial quarter as a way to outline her intentions.
"This sounds quite American,' Mendelsohn told the Daily Mail, "but to live your best possible life, you need to look at the different components of it: business, family, community and so on. So many people are not deliberate in thinking about what they want."
In a wide-reaching interview, Mendelsohn also shares her experience of being candid about her diagnosis.
"Part of the reason I went public was I couldn't imagine doing everything I was doing and having the secrecy of a cancer diagnosis on top of everything else," she said. "It's stressful enough to be diagnosed with cancer ‒ but then to have to pretend it's not happening? And so many people do that. I was told today that one in two people who have cancer don't tell their bosses at work."
Mendelsohn's Blood Cancer Diagnosis
Mendelsohn's diagnosis came in 2016 when she found a "small lump in her groin that turned out to be malignant," said the Daily Mail.
She tells the news organization telling her four children was "one of the hardest moments of my life." Chemotherapy and immunotherapy treatments in 2018 left her with no evidence of cancer, "but the challenge with follicular lymphoma is the fact it's still in me," she previously told the Telegraph.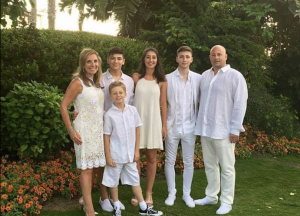 She also received 18 months of maintenance therapy and dealt with being at high risk during the COVID-19 pandemic.
RELATED: Facebook Executive and Blood Cancer Warrior Nicola Mendelsohn Still Can't Hug Her Son After Failed COVID Vaccine: 'We Just Can't Be Too Careful'
Mendelsohn says her disease is currently in remission and no more additional treatment is required. She says while she is exhausted at times, the real struggle has been psychological.
"I have found people to be unbelievably supportive but there are others who come at you as though you've already died ‒ with their head tilted, you know? It makes you feel worse. It often ends up being the patient who has to break the ice," she said.
As a part of her legacy, Mendelsohn tells the Daily Mail, she wants to live to see her children have children and hopes to find a cure to follicular lymphoma.
"I believe that we can do that in my lifetime," she said. Among her many roles, Mendelsohn has found time to establish the Follicular Lymphoma Foundation, "the first global charity dedicated to finding a cure for the disease (and which is shortly to announce a £1.75 million investment into research)," said the Daily Mail.
Understanding Follicular Lymphoma
Mendelsohn's blood cancer, follicular lymphoma, is an extremely rare cancer and a slow-growing type of B-cell non-Hodgkin's lymphoma. Possible symptoms, if they occur, can include anemia, fatigue and a low platelet count.
All About Follicular Lymphoma: A Common Type of Non-Hodgkin Lymphoma
"Follicular lymphoma is a somewhat confusing disease to many patients and general oncologists, because it's cancer arising from a B-cell lymphocyte, but it can be very, very indolent, which means that the cells are dividing very slowly," Dr. Jakub Svoboda, a hematology specialist at Penn Medicine, previously told SurvivorNet.
Follicular lymphoma is usually considered to be more of a chronic disease, and not all patients even need treatment.
"Follicular lymphoma is not considered curable, but many patients live with this disease and go on to die of something else completely," Dr. Svoboda said.
In fact, even when follicular lymphoma is diagnosed at an advanced stage, the average survival is greater than twenty years. There are exceptions, however, and some people with follicular lymphoma will have a more difficult time managing the disease. Still, people with follicular lymphomas that do require treatment have many options with generally very good outcomes.
"There are all kinds of presentations and situations," Dr. Svoboda said. "These diseases may, in some patients, never need therapy."
Follicular Lymphoma Treatment
Because of the slow-growing nature of follicular lymphoma many patients do not receive any treatment at all after diagnosis, but instead are advised to come in to the doctor for frequent monitoring, also called watchful waiting or active surveillance, says Dr. Elise Chong, an oncologist/hematologist at Penn Medicine.
Treatment Options for Follicular Lymphoma
"A common question I get is, 'Well, I have cancer. Why aren't we treating the cancer? Are we missing something and losing our chance to get on top of it?'" says Dr. Chong. "But the challenge we have with follicular lymphoma is that we really don't have data showing that instituting treatment early makes people live longer."
Physical exams, along with lab and imaging tests, will track the course of the disease to check for changes or progression that might mean it's time for treatment. For many people the cancer may not need to be treated for months, years, or in some cases not at all. That, understandably, makes some patients nervous.
Studies show that patients who are managed with watchful waiting have survival outcomes similar to people who are treated soon after diagnosis.  The average survival time with follicular lymphoma, even when it's diagnosed at an advanced stage, is more than twenty years.
RELATED: Watchful Waiting for Follicular Lymphoma: Here's What it Means
Since cancer treatments themselves have side effects, it makes sense not to begin aggressive treatment until the patient is experiencing troublesome symptoms, or when tests show the cancer has changed and started to spread more quickly. "The best approach is to be careful about when to initiate treatment, and then to choose the proper treatment to try and maximize the response rates. . . which tend to be quite good in follicular lymphoma," says Dr. Chong. "But you also want to minimize unnecessary toxicity."
With assistance from Abigail Seaberg
Learn more about SurvivorNet's rigorous medical review process.
---