Taking Care of Her Health
Despite experiencing symptoms of bloody stool for two months, digital marketing exec Brooks Bell, 38, was told she was too young for colon cancer screening.
Two separate doctors dismissed the issue as hemorrhoids. Thankfully, the Raleigh, North Carolina native didn't stop there and went to see a third doctor. It was stage 3 colon cancer.
Brooks is sharing her story to raise awareness about colon cancer, which is occurring in younger and younger people. So much so, that the American Cancer Society recently lowered the screening guideline. Whether or not you are experiencing symptoms, experts say you should go get checked starting at age 45.
Digital marketing exec Brooks Bell, 38, was told she was too young for colon cancer screening.
Despite experiencing symptoms of bloody stool for two months, two separate doctors dismissed the issue as hemorrhoids.
Read More
Luckily, she knew better, and kept pushing. The Raleigh, North Carolina-based business owner then saw a third doctor who told her the unfortunate news after finally getting proper testing: she had colon cancer.
"I was too young to get a screening colonoscopy, but I was experiencing blood in my stool for a couple of months, and I actually saw three doctors," Bell shared to local news outlet CBS17. "The first two told me I had a hemorrhoid and I had to keep pushing and called a gastroenterologist myself."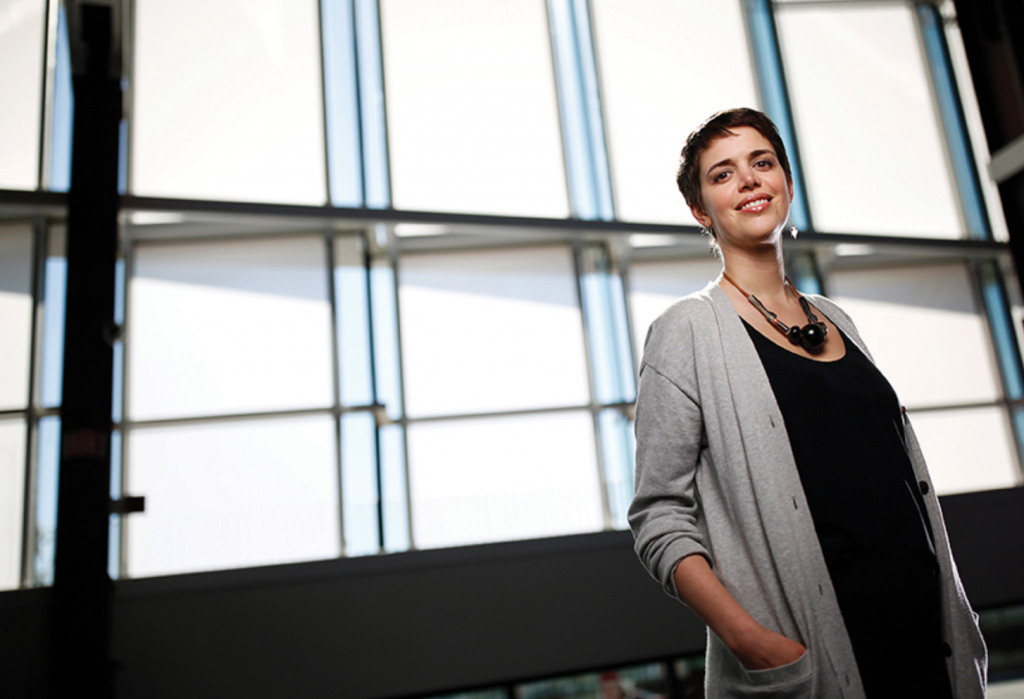 That third doctor had ordered a colonoscopy,  which showed that the disease was already at stage 3.
Related: Woman, 24, With Bloody Poop Was Told By Repeatedly By Doctors 'You're Too Young For Cancer:' They Were Wrong
"My odds of survival were 87%. I caught it pretty early, but that 13% is, you know, terrifying, because you feel you are unlucky enough to get cancer in the first place, you feel like you are unlucky enough to have it come back," Bell said.
Yes, Women Do Get Colon Cancer
The self-titled "colonoscopy-enthusiast" is sharing her story to make sure that other people can benefit from early detection. While Brooks is advocating for people of all ages to take screening seriously, she especially wants to encourage the younger generations out there to get in and get checked, since those are the ones typically the most overlooked.
Related: Worried Woman, 39, Who Was Experiencing Abdominal Pain Is Denied A Colonoscopy: It Turned Out She Had Stage 4 Colon Cancer
Since more and more  people are indeed getting diagnosed with colon cancer at a younger age, the American Cancer Society now recommends screening colonoscopies starting at age 45.
Learning More About Colon Cancer Screening
Since there are so many misconceptions surrounding colon cancer—not to mention some overall trepidation when it comes to colonoscopies, we thought we would help get you a bit more comfortable.
We asked Dr. Heather Yeo, a colorectal surgeon and Weill-Cornell Medical Center, to dispel some common myths about colon cancer and screening. Here's a round-up of what she had to say.
Myth #1: At-home tests are just as effective as colonoscopies at detecting cancer.
The verdict: Partly true — these at-home tests may be able to pick up advanced cancers, but colonoscopies can pick up pre-cancers … meaning cancer can be detected and removed before it even develops. "We really need colonoscopy to pick up the pre-cursor to cancer, which are polyps.," Dr. Yeo says. "By taking the polyps out, you can actually prevent cancers."
Myth-Busting: Let's Talk About Colon Cancer Screening
Myth #2: Only people with symptoms need to screen.
The verdict: Absolutely false. "The guidelines have recently changed because colon cancer has increased in people under the age of 50 … The American Cancer Society has recently recommended that we start screening at the age of 45," Dr. Yeo says. And that means everybody.
Myth #3: Colonoscopies are difficult and have side effects
The verdict: False. "Most of the time you come into the hospital, you're there for about 1 to 2 hours," Dr. Yeo says. "You get a little bit of sedation … and you wake up. You may be a little gassy after that … but in general people feel pretty good and can go right back to eating."
Would you rather get over bowel movement embarrassment or potentially hear your doctor tell you one day that you have colon cancer. In honor of Brooks and all the other warriors out there fighting this disease, do them—and especially yourself—a favor and go get checked.
Contributing by SurvivorNet staff.
Learn more about SurvivorNet's rigorous medical review process.