Jill Biden to Have Mohs Surgery to Remove "Lesion"
The White House announced that First Lady Jill Biden will undergo surgery this week to remove a "small lesion" on her face.
The type of surgery Dr. Biden is undergoing is called Mohs surgery, which is often performed to remove cancerous tissue on the skin.
Biden's doctor said the lesion is being removed "in an abundance of caution."
Dermatologists recommend everyone come in annually for a skin check so any suspicious marks or moles can be examined.
Skin cancer is by far the most common cancer in the U.S.
The White House announced that First Lady Jill Biden, 71, will be undergoing surgery to have a "small lesion" over her right eye removed and examined after it was flagged during a routine skin cancer screening. The procedure the First Lady will undergo, which is called
Mohs surgery
, is often performed to remove cancerous tissue, or tissue doctors suspect may be cancerous, on the skin.
Biden's doctor said the lesion is being removed "in an abundance of caution" so that it can be "definitively" examined. The First Lady and President Joe Biden have been outspoken about the importance of cancer screening and their devotion to supporting cancer research with the "moonshot" initiative — which aims to significantly reduce the number of cancer deaths in the country. The couple lost their son, Beau, to brain cancer in 2015. He was just 46 years old.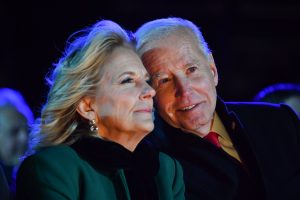 What is Mohs surgery?
Read More
The First Lady's doctor did not say for certain whether the lesion she was having removed was cancerous. Her doctor said the White House would provide an update after the procedure. Mohs surgery is a microscopically-controlled surgery where thin layers of tissue (typically, skin cancer tissue) are removed until the surgeon reaches clear tissue. "You're able to remove a very conservative margin around the cancer and study it in essentially real-time," Dr. Sumaira Aasi, Director of Mohs and Dermatologic Surgery at Stanford, told SurvivorNet in a previous conversation. If, when the surgeon examines the tissue under the microscope, cancer is found, the surgeon goes back and removes some more tissue.
Dr. Sumaira Aasi, Director of Mohs and Dermatologic Surgery at Stanford, explains what Mohs surgery is. 
The idea is that by making the tiniest cuts and evaluating them microscopically, the surgeon knows for certain that all the cancer is out when the last piece of tissue proves to be clear. It is often done as an outpatient procedure with local anesthetic.
"The Mohs surgeon will take a conservative cut circumferentially around the cancer where we're able to preserve healthy tissue," Dr. Aasi added. "We're able to process the tissue and look at the cancerous tissue and know where there are still tumor cells persisting. Because as the Mohs surgeon removes the cancer, it's mapped out, and we can go back specifically to the areas where we see cancer cells and take, again, another conservative margin or amount of tissue."
How important is skin cancer screening?
Very important, to put it simply. Skin cancer is the most common form of cancer in the United States — by far — with current estimates stating that one in five Americans (20%) will develop skin cancer at some point in their lifetime before age 70. According to the American Academy of Dermatology, an estimated 9,500 people in the U.S. are diagnosed with skin cancer every single day.
Screening is a crucial step in catching skin cancer early and getting it removed/treated before it spreads.
In a previous conversation with SurvivorNet, Dr. Cecilia Larocca, a dermatologist at Dana-Farber Cancer Institute, explained that people should do regular skin checks on themselves and take note of any new moles are markings — in addition to annual visits to the dermatologist for skin checks.
"When you come into a dermatologist, often we'll ask several questions to get a sense of your risk factors — any family history of melanoma, any history of tanning bed use, any history of blistering sunburns," Dr. Larocca explained. "In addition to that, we'll ask you to unrobe so that we can look at your entire skin. It's important for us not just to look at that one mole that you're worried about, but actually look at your entire body."
Dermatologist Dr. Cecilia Larocca explains what happens when you go to the doctor for a skin check.
Dr. Larocca recommends looking for new or changing moles that many be a sign of a specific type of skin cancer called melanoma. When doing a self skin-check, she recommends using the ABCDE method to look at moles:
A: Asymmetry of the mole, or when one half of the mole doesn't match the other
B: Border irregularity or Bleeding
C: Color change — either lightening or darkening of a mole
D: Diameter greater than 6mm or enlarging moles
E: Evolving size, shape or color
If you notice a mole with any of these features, set up an appointment with a dermatologist to get it examined.
A workup for melanoma should also include a full body exam to look for any suspicious areas on the skin you may not have noticed. This helps create a better picture of whether your mole is atypical. The best ways to catch melanoma (and skin cancers of all sorts) early are to perform regular self-exams and see a dermatologist for a yearly skin exam.
Learn more about SurvivorNet's rigorous medical review process.