Pioneering snowboarder Jake Burton Carpenter, who helped popularize the sport and built one of the world's largest snowboard companies, has died at the age of 65 from a recurrence of testicular cancer.
It is with a heavy heart that we share that Burton founder Jake Burton Carpenter passed away peacefully last night surrounded by loved ones as a result of complications from recurring cancer. He was the soul of snowboarding, the one who gave us the sport we love. #RideonJake pic.twitter.com/8dChSsm54Y

— Burton Snowboards (@burtonsnowboard) November 21, 2019
Read More
The news comes after Carpenter informed his staff of the relapse in an email, as first reported by Women's Wear Daily.
The email reportedly read in part, "You will not believe this, but my cancer has come back. It's the same tumor as the first time around. We just never got rid of it all. A bit of it hung out in my lymph nodes and got back into business. The odds are in my favor, but it is going to be a struggle for sure."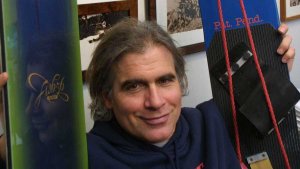 Burton's Initial Cancer Diagnosis
When Carpenter was first diagnosed with testicular cancer in 2011, he sent a letter to his employees to let them know about the diagnosis, and assure them that he planned for the business to continue as usual.
"Good News and Bad News," he opened the letter. "The bad news is that I have cancer. The good news is that it is as curable as it gets. What I have is called Seminoma, also known as Testicular Cancer (think Lance Armstrong). I have three months of chemo ahead with the possibility of surgery along the way."
How Treatable Is Testicular Cancer?
Testicular cancer usually can be treated successfully, according to cancer.org, so a man's lifetime risk of dying from this cancer is very low: about 1 in 5,000.
Testicular Cancer Information
Most often, testicular cancer begins in the "germ cells," or the cells that make sperm, and is most frequently diagnosed in men between ages 20 and 34, according to the National Cancer Institute (NCI).
Symptoms of testicular cancer, the institute says, can include but are not limited to: painless lump or swelling in either testicle; change in how the testicle feels; dull ache in the lower abdomen or the groin; sudden build-up of fluid in the scrotum; and pain or discomfort in a testicle or in the scrotum.
Living with Testicular Cancer
Carpenter didn't let testicular cancer keep him from running his company, and he continued to do the things he loved. Many testicular cancer survivors find ways to live full lives with cancer.
Tripp Hornick, for instance, spoke with SurvivorNet about being diagnosed with testicular cancer in college, and how he kept moving toward the goals he had set for himself.
Testicular cancer survivor Tripp Hornick talks about continuing to live his dreams during testicular cancer.
Even though he was undergoing radiation in New York, he both graduated on time from the University of Pennsylvania and performed in a musical in which he'd been cast.
"It's very important," Tripp said, "that if you're able to, to keep on living your life."
Learn more about SurvivorNet's rigorous medical review process.
---