Epididymal Cystadenomas are benign or noncancerous tumors that form on the epididymis. The epididymis is a small, tube-like structure located on the back of the testicle that stores and transports sperm.
Cystadenomas are usually slow-growing and cause no symptoms. However, if they grow large enough, they can cause pain or discomfort.
Read More
These tumors can occur sporadically or are linked to
Von Hippel-Lindau (VHL)
disorder.
Von Hippel-Lindau Disease — What You Need to Know
Von Hippel-Lindau disease (VHL) is a rare genetic condition resulting from an impairment in a tumor suppressor gene named 'VHL.' From its name; this gene normally functions in controlling cell growth and preventing cells from dividing uncontrollably. Thus, when this gene is impaired, it either stops producing the VHL protein or produces a faulty one losing its ability to prevent tumors.
If you have a family history of Von Hippel-Lindau disease (VHL), you are at great risk of developing the disease as well. Additionally, some people have VHL without having a family history; in this case, they have what is called a de novo mutation — meaning that they have developed the VHL gene mutation without inheriting it. These people account for 20% of all VHL cases.
The most conclusive way to get a Von Hippel-Lindau diagnosis is to perform a genetic test that looks for mutations in the VHL gene. Similarly, if you're thinking of starting a family and having kids and you are a VHL patient, you should seriously consider consulting a genetic counselor first.
According to the American Society of Clinical Oncology, VHL has been linked to the onset of many types of benign and malignant tumors and they include the following:
Table 1. VHL-Associated tumors and their risk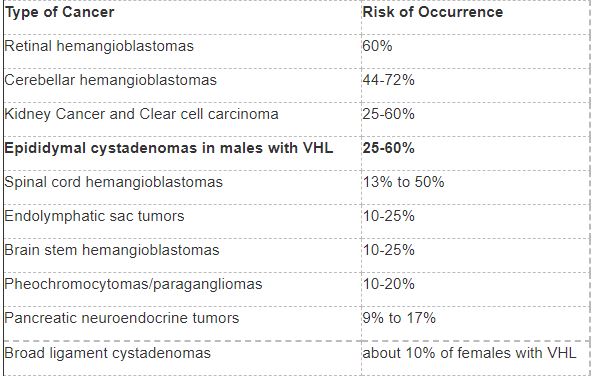 Von Hippel- Lindau: Epididymis
VHL is linked to a particular type of cyst called an Epididymal papillary cystadenoma which accounts for 25-60% of patients. The term cystadenoma refers to a benign tumor with one or multiple cysts enclosed within it.
Nevertheless, it's important to note that there's a high percentage of adult men who don't have VHL but can still experience having Epididymal cystadenomas; this needs to be differentiated from the more commonly occurring papillary cystadenomas that are more complex and frequently associated with VHL patients.
Cystadenomas are also considered the official classification for VHL lesions in the reproductive system. So, females who are also VHL patients can have cystadenomas, but these affect female reproductive organs.
Papillary cystadenomas of the epididymis are unlikely to be found in normal adult men and can mostly be found in VHL male patients extending in size between 1-5 cm and can either occur on one or both sides of the testes. However, if they do appear on both sides this means there's a very high chance that this patient has Von Hippel-Lindau.
Epididymal Cystadenomas Symptoms
Epididymal Cystadenomas are generally asymptomatic (present with no symptoms) as they typically don't continue to grow. Still, some patients reported back from their experience the following indications:
Lumps or masses/growth on or under the epididymis
Lumps in the tube that's leading to the testicles
The feeling of a 'pebble' in the scrotum
Although these are not common symptoms experienced by most VHL-associated Epididymal cystadenomas patients, it's crucial to consult with your doctor if you feel any of the above-listed symptoms or feel any pain or discomfort as these can indicate other subsequent complications like inflammation or rupture of the epididymis or testicles.
Epididymal Cystadenomas Diagnosis
Diagnosing epididymal cystadenomas will be done by your doctor through a physical examination and imaging tests to identify the presence of tumors.
Surveillance
It's a good idea to learn how to monitor yourself by performing a testicular self-examination (TSE). This can go a long way in the early detection of these tumors. Below are the steps of how to conduct a testicular self-examination (TSE):
Take a shower with hot water to help relax the skin of your scrotum
Identify the usual size, shape, and weight of your testicles (by doing this, you can later compare if something were to change)
Roll and hold your testicles gently between your fingers
Get familiar with your epididymis (this looks like a rope structure and can be found at the top and back of your testicles)
Perform this exam monthly and be on the lookout for any growth, lumps, swelling, or masses that may arise
Follow up with your doctor if you feel or see any changes
Another point to consider is that VHL can be associated with other types of tumors and cancers that can ensue next to epididymal cystadenomas. For that reason, it's crucial to maintain your regular checkup appointments with your doctor to stay ahead of any conditions that can occur.
Always remember that the key to successful treatment and improved outlook of VHL is early detection and prevention of tumors, whether they are benign or malignant.
Epididymal cystadenomas and the Risk of Testicular Cancer
Fortunately, epididymal cystadenomas don't lead to the development of testicular cancer. However, patients with VHL-associated epididymal cystadenomas should be continuously monitored to avoid any complications.
Epididymal Cystadenomas Treatment
Epididymal cystadenomas treatment generally involves surgery by excising or removing the tumor from its place. Patients should opt out of getting this surgery if their tumors don't pose any danger or cause any pain or discomfort to them because even though this surgery doesn't cause infertility, it carries the risk of disabling sperm delivery on the side that's being operated on.
You should ask your doctor about the benefits and risks of this surgery, whether you should undergo this treatment, and discuss your treatment options as best fitting to your case.
Questions To Ask Your Doctor
What are my treatment options to fight this disease?
What are the risks associated with the recommended treatment?
Can this disease affect my fertility?
What are the long-term effects?
Are there any complications?
Is there anything I should do to improve my quality of life with this disease?
What are my chances of recurrence?
How can I best follow up on my condition?
The Bottom Line
Papillary cystadenomas of the epididymis have been increasingly associated with Von Hippel-Lindau disease. Despite being benign tumors that don't progress into dire complications, they can still cause much discomfort for patients. You can significantly improve your condition and disease outcomes by performing testicular self-examination (TSE) and following up with your healthcare professional regularly.
Patients who have been diagnosed with VHL should monitor their health and stay ahead of tumors that may arise. On the other hand, patients who haven't been diagnosed with VHL but have been diagnosed with Papillary cystadenomas of the epididymis on both sides are advised to take a VHL test.
If you need more support, the VHL Alliance encourages patients to share their stories and disease experiences, and learn more about VHL in the reproductive system through their MyVHL: Patient Natural History Study.
Learn more about SurvivorNet's rigorous medical review process.