Val Kilmer Sends Birthday Wishes To Wingman Tom Cruise
Val Kilmer, 62, reached out to his Top Gun: Maverick co-star Tom Cruise to wish him a happy birthday via Twitter.
The pair reunited to great success in the Top Gun sequel, which has passed $1 billion in worldwide box office.
Kilmer has publically detailed his fight with throat cancer, which robbed him of much of his speaking ability.
Their relationship may have begun as a frosty one in
Top Gun
, but Iceman and Maverick are getting along just fine these days.
Val Kilmer, 62, who reprised his role from the 1986 original in the recent Top Gun: Maverick, wished his co-star Tom Cruise a very happy birthday via Twitter.
Read More
Happy Birthday Mav @TomCruise from Ice !

— Val Kilmer (@valkilmer) July 4, 2022
Cruise has had a very good leadup to turning 60. He and Kilmer have seen a lot of success lately, with the sequel topping $1 billion worldwide and generating rave reviews.
A Great Reunion
The relationship between Cruise and Kilmer wasn't always so chummy, with the pair reportedly clashing during the filming of the classic action movie about daring fighter pilots.
But that seems to have changed after Kilmer's 2015 throat cancer diagnosis.
According to Kilmer's autobiography, I'm Your Huckleberry, he was initially reluctant to take part in another Top Gun movie after producers didn't contact him. But once he expressed interest, he was brought back onboard.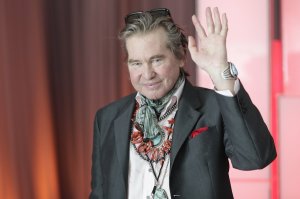 "Forget the fact that thirty years had passed since I'd seen the ghost of Iceman's dad. I remembered it like it was yesterday," he wrote. "The producers went for it. Cruise went for it. Cruise couldn't have been cooler. And the next thing I knew I was back, as the Beatles said, where I 'once belonged.'
"Tom and I took up where we left off. The reunion felt great."
Get the Facts What Do We Know About HPV-Linked Throat Cancer?
Finding His Voice Again
The only problem was, treatment for throat cancer had largely robbed Kilmer of his voice. Filmmakers were able to help give Iceman a voice again thanks to artificial intelligence technology that used samples of Kilmer speaking to recreate his signature speech patterns.
Kilmer's journey with throat cancer has been less than linear. He wasn't considering conventional treatment at first, thinking his Christian Science faith would heal the tumors, but he eventually agreed to undergo chemotherapy for the sake of his children – Mercedes, 30, and Jack, 26, whom he had with his ex-wife, English actress Joanne Whalley, 60.
Kilmer also underwent a tracheotomy – a surgical procedure that connects the windpipe to a hole in the front of the neck – which greatly impacted his speaking voice.
And though he originally kept his cancer battle out of the public eye, Kilmer eventually shared more about his journey through interviews, his memoir, I'm Your Huckleberry, and his documentary, Val, which is currently streaming on Amazon Prime.
"I have been healed of cancer for over four years now, and there has never been any recurrence," he wrote in I'm Your Huckleberry. "I am so grateful."
Understanding Throat Cancer
Throat cancer is a type of head and neck cancer where cancerous cells begin in the throat, voice box or tonsils. Some of the main risk factors for this disease include smoking, drinking alcohol, a diet lacking in fruits or vegetables, acid reflux disease and the human papillomavirus (HPV). So, one way to decrease the chances of developing the disease is to get the HPV vaccine.
Should I Give My Kids the HPV Vaccine? A Leading Doctor On Why She Says "Yes"
The American Cancer Society recommends that boys and girls get the HPV vaccine between ages 9 and 12. The organization also stresses that teens and young adults through age 26 who are not already vaccinated should get the HPV vaccine as soon as possible. Dr. Jessica Geiger, a medical oncologist at Cleveland Clinic Cancer Center, explains the link between throat cancer and HPV in a previous interview with SurvivorNet.
"There are no screening guidelines to screen for throat cancer, unlike cervical cancer with pap smears. And there are no standard tests to determine if you harbor the (HPV) virus," she said. "However, there is no concern that you're going to spread this cancer to your partner or to anyone else, because at this point your partner has already been exposed to the virus and likely cleared it."
There's no annual screening for throat cancer, so doctors usually discover the disease when a patient sees them with symptoms that may point to it. Some symptoms include:
A cough
Changes in your voice
Difficulty swallowing
Ear pain
A lump or sore that doesn't heal
A sore throat
Weight loss
It's important to note, however, that these symptoms are not exclusive to throat cancer. Still, you should always see a doctor if you have any changes to your health.
With files from Abigail Seaberg
Learn more about SurvivorNet's rigorous medical review process.