A Mom Amputates Leg Instead of Terminating Pregnancy
Cancer fighter Kathleen Osborne found out she was pregnant for a third time and had cancer for a third time via an MRI scan.
Osborne is a bone cancer survivor; doctors said she needed to terminate her pregnancy to start chemotherapy or amputate her leg.
She chose to amputate her leg and gave birth to a baby daughter via C-section; after giving birth, another MRI scan showed her lung cancer had returned and it was inoperable. She is currently undergoing chemotherapy.
It's the choice most would-be mothers hope they'll never have to make: Lose your leg or terminate your pregnancy. But that's exactly what happened to a 28-year-old woman in the UK diagnosed with cancer.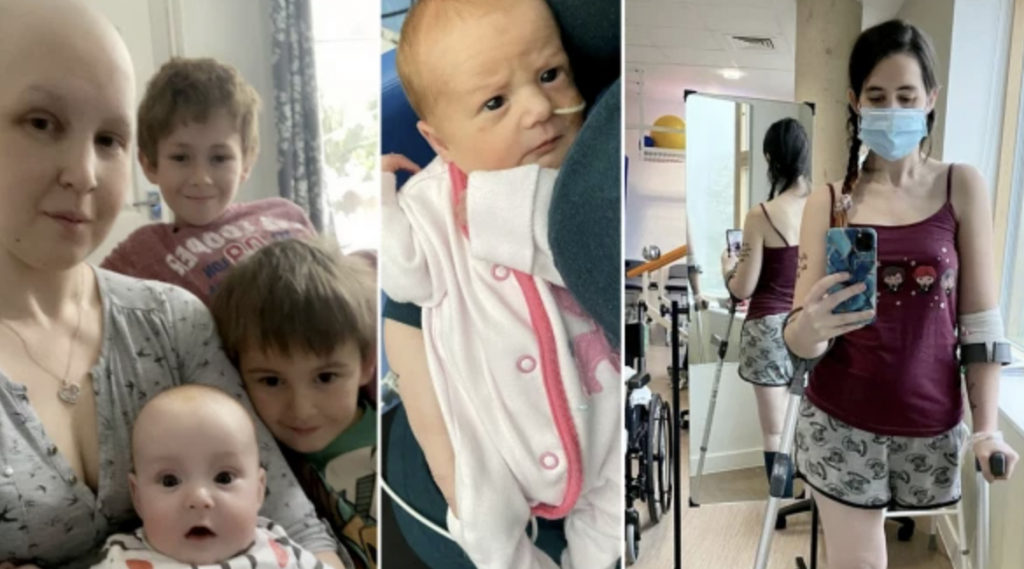 Kathleen Osborne, a mom in the UK, faced a cancer diagnosis while pregnant and was told she would either have to terminate her pregnancy to begin chemotherapy or have her leg amputated.
Kathleen's Bone Cancer Story
Read More
Osborne was four months pregnant when she was
diagnosed with cancer for the third time
, reports UK newspaper
Metro
. It was an MRI that detected both her cancer and her pregnancy. She was first diagnosed with cancer at just 11-years-old when a lump on her leg was diagnosed as osteosarcoma. She had chemotherapy to treat it, and her kneecap was also removed. In 2016, her cancer returned to her lungs, and she was declared cancer-free in 2017.
The day after she was presented with the option to amputate her leg or end her pregnancy, Osborne decided to have her right leg amputated to get rid of her bone cancer.
After a successful operation, Osborne gave birth to her daughter Aiday-May via a Caesarean section (commonly called a C-section). Aida-May was born eight weeks early. Osborne also has two sons, Hayden, 9, and Leo, 5.
Osborne says of her decision, "I'm happy I made the decision to lose my leg because it gave me my daughter. If I'd not had my leg amputated then, I'd have lost her and I'd have been going through chemotherapy which might not even have saved my leg in the end anyway."
After giving birth, another MRI scan showed Osborne's lung cancer had returned and it was inoperable. She is currently undergoing chemotherapy.
How to Cope With Bone Pain from Cancer
Cancer & Fertility
Certain cancer treatments, such as chemotherapy, can negatively impact one's fertility. So if you're diagnosed with testicular cancer or ovarian cancer – or any other cancer related to reproductive organs – you may want to inquire about fertility preservation.
Related: 'I Am Not Keeping it a Secret Anymore!' Says Sports Reporter & Cervical Cancer Survivor Erin Andrews in Powerful Essay about Fertility Difficulties
Additionally, if you're going to treat any kind of cancer with chemotherapy, you may want to speak with your doctor about its impacts, and if you should freeze your sperm or your eggs to prolong your fertility, if you wish to have a family one day.
Oncologists explain some options for preserving fertility during cancer treatment.
Learn more about SurvivorNet's rigorous medical review process.