Entrepreneur Mom's Mouth Pain Turns Out To Be Non-Hodgkin Lymphoma
Busy mom Katie Washbourne suffered for months from terrible tooth pain and eventually had oral surgery and a tooth removed. She was shocked to be diagnosed with Non-Hodgkin Lymphoma (NHL).
Treatment paths for NHL can vary depending on what type of cancer you have.
"Indolent" or less active NHL may not need to be treated immediately. More aggressive forms of NHL can require treatment right away, such as chemotherapy.
It's important to push for a correct diagnosis when something feels off.
Katie Washbourne, 35, a busy mom and business owner, was diagnosed with Non-Hodgkin Lymphoma after experiencing a painful toothache that lasted months,
The Mirror 
reports.
The entrepreneur "suffered months of pain – including an agonizing toothache," the paper reports. Washbourne was urged to begin treatment immediately the day she received her diagnosis of a quickly advancing Non-Hodgkin Lymphoma.
Read More
Washbourne, who lives in England, first thought her pain was just a problem with her tooth, and she had oral surgery to cope with the pain.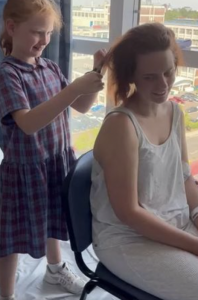 However, she tells The Mirror from the hospital, "After many weeks of despair I got a phone call from the hematology team…they wanted me to attend hospital immediately."
She continues, "I was confused as it was a hematologist who called with a nurse and it was broken to me that I had a very fast-acting non-hodgkin lymphoma and that it was imperative I started treatment that day."
Washbourne's tooth pain was followed by a finding a lump in her breast, and severe pain across her face. Always be on the lookout for signs in your body that something may be wrong.
Washbourne says, "I have lost the feeling in my fingers, lost my hair, lost my ability to eat solid foods and many times lose track of my thoughts, however, I have not lost the ability and the drive to keep pushing through to beat this disease. As some of the doctors saving my life are from Solihull it has felt quite surreal that the community in every way is now supporting me in the biggest fight of my life so far."
Mom's Treatment for Non-Hodgkin Lymphoma & Other Options
Washbourne, a mom of one, is undergoing chemotherapy for her cancer, but treatment for non-Hodgkin lymphoma can vary greatly depending on the nature of each case. For starters, doctors will first try to determine how fast your non-Hodgkin lymphoma is likely to grow and spread.
"The two main classifications I think of in terms of non-Hodgkin lymphoma are lymphomas that are more indolent and those that are more aggressive, because those are treated very differently," Dr. Jennifer Crombie, medical oncologist at Dana-Farber Cancer Institute, previously told SurvivorNet.
Indolent lymphomas grow slowly and often don't cause any symptoms, so they may not need immediate treatment. At the opposite end of the spectrum are aggressive lymphomas, which grow and spread quickly and need to be treated right away.
Another way to classify non-Hodgkin lymphoma is based on the type of cell it affects. All of these cancers involve lymphocytes — white blood cells that help your immune system fight off germs and get rid of abnormal cells.
And as we've said before, lymphocytes can either be B-cells and T-cells. If you have non-Hodgkin lymphoma, there's a good chance you have the B-cell variety like Monroe because it's more common.
From there, non-Hodgkin lymphomas are broken down into even more categories. Some affect larger numbers of people than others.
"Diffuse large B-cell lymphoma is the most common subtype of non-Hodgkin lymphoma, and that is an aggressive subtype," according to Dr. Crombie.
Do You Know Your B Cells From Your T Cells?
Pushing for a Correct Diagnosis
When working with your medical team, tell them precisely what you feel and raise anything that may feel off to you. Every symptom should have a plan to address it, and if you feel like you are not being heard, continue to push and seek a second opinion if your concerns are not being addressed.
The only way to know this is to continue to push for answers, telling your medical team exactly what you are experiencing and demanding that you receive the best treatment for your specific situation.
"Every appointment you leave as a patient, there should be a plan for what the doc is going to do for you, and if that doesn't work, what the next plan is," Dr. Zuri Murell, director of the Cedars-Sinai Colorectal Cancer Center, told SurvivorNet in a previous interview. "And I think that that's totally fair. And me as a health professional– that's what I do for all of my patients."
Be Pushy, Be Your Own Advocate… Don't Settle
SurvivorNet reporter Abigail Seaberg contributed to this article. 
Learn more about SurvivorNet's rigorous medical review process.