Heather Bone's Story
Heather Bone, 40, was told she only had months to live after her cancer had returned and decided to throw a wake to host a proper goodbye for her loved ones.
Bone was diagnosed with inflammatory breast cancer in 2019. She went through a brief remission in May 2020, but the disease had returned and spread to her brain in October.
Inflammatory breast cancer is a rare and aggressive form of breast cancer, which exhibits different symptoms than other forms of the disease.
Heather Bone, 40, has been given just months to live after being diagnosed with terminal
breast cancer
. In order to bring some positivity to a difficult situation, Bone decided to
host her own wake
in the form of a party so her friends and family could get a proper goodbye.
Bone is currently battling late stage breast cancer, but instead of dwelling on the negative, she decided to host a party/wake so that she and her loved ones could celebrate her life. The wake, titled "wake me up before you go-go," was Bone's way to create a few more memories before she passed away.
Read More
Related: Many Women Say They're Drinking More During Pandemic, 70% Don't Know Alcohol Increases Cancer Risk, According to SurvivorNet Survey
"I would hate to think people were having a party on my behalf without me," Bone says. "I want to join in the party. I wanted people to be able to say goodbye. I hate it when you go to a funeral and you can't say goodbye."
Bone says that she decided to host the party due to the amount of people passing away during the COVID-19 pandemic and how they weren't able to say a proper goodbye to their loved ones. As a mother of two, Bone wanted to make sure her children were able to get closure and make as many happy memories as possible. "It will give my kids some positivity, they're so young and I don't want them to dwell on things. I want them to remember the good times," Bone said. "I'm not scared of dying, but I'm scared of leaving my kids."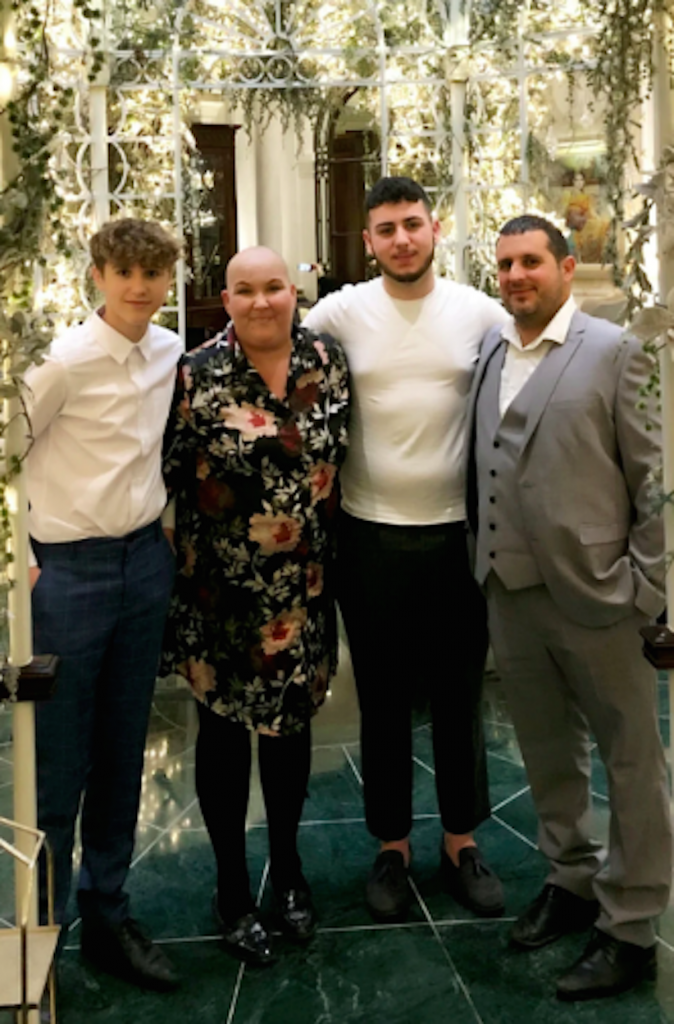 Bone first started exhibiting cancerous symptoms back in 2019 when her hand started to swell unusually. Initially her doctor dismissed the symptoms, and told her it wasn't anything to worry about. However, she pushed to get more scans after the swelling persisted and spread to her breast. She was eventually diagnosed with inflammatory breast cancer, and went through chemotherapy, radiation, and surgery to remove her breast. She was initially said to be in remission in May 2020, but in October the cancer had returned and spread to her brain. Her doctors informed her that her disease was declared terminal.
Related: For Breast Reconstruction After Mastectomy, Women May Choose 'Now,' 'Later,' or 'Never'
According to the American Cancer Society, inflammatory breast cancer is a rare and extremely aggressive form of the disease which exhibits different symptoms than usual breast cancers. The symptoms are caused by cancer cells blocking lymph vessels in the skin which causes the breast to look "inflamed."
Breast Cancer: Know The Risks
In terms of cancer prevention, it's important that both women and men know the risks associated with breast cancer. While there isn't one thing that directly causes breast cancer, there are a few factors that could increase your risk of a possible diagnosis.
Related: Inaccurate Mammograms Miss Breast Cancer in 18 Women At Virginia Center: Guidance For Safe Screening
While the key risk indicators are age and whether you have a family history of the disease, there are other risk factors that include lifestyle. These include being overweight, not having children, excessive drinking, and your diet. Other factors pertain o things you can't control such inherited genes and race. Of course, it's important to remember that just because you one of these factors may apply to you, that doesn't mean you'll automatically be diagnosed with breast cancer. However, in order to stay vigilant about your health, prioritize breast cancer screenings so that if there is a diagnosis, it'll be caught early.
Dr. Elizabeth Comen breaks down risks factors of breast cancer
Learn more about SurvivorNet's rigorous medical review process.