Self-Exams Helps Early Breast Cancer Detection
A mom of two, 42, was diagnosed with breast cancer after discovering lumps while scratching an itch.
Her story highlights the importance of early detection and encourages women to perform self-exams and keep up with their regular screenings.
Experts recommend after a cancer diagnosis, don't blame yourself and instead learn more about the disease so it's not so scary.
If you fit into the high-risk category, meaning you have a first-degree relative who has had breast cancer, have the BRCA1 or BRCA2 gene mutation, or had radiation to the chest area when you were young, you should start yearly mammogram screening as early as age 30.
For one English woman, an unsuspecting itch led to the discovery of breast cancer. Her experience gave her a life lesson she's sharing with others and highlights how critical self-exams are in the early detection of the disease.
Minnal Ladva, 42, first scratched the important itch on Dec. 26, 2021.
Read More
"Scratching an itch saved my life because it made me find a lump that I didn't know was there," Ladva
told
BBC. The mother of two later went to her general practitioner only to discover there were not just one but three cancerous lumps. "You think that something like cancer happens to other people, not you – and when you lead a healthy lifestyle you don't expect to hear someone say, 'You've got cancer'," Ladva said.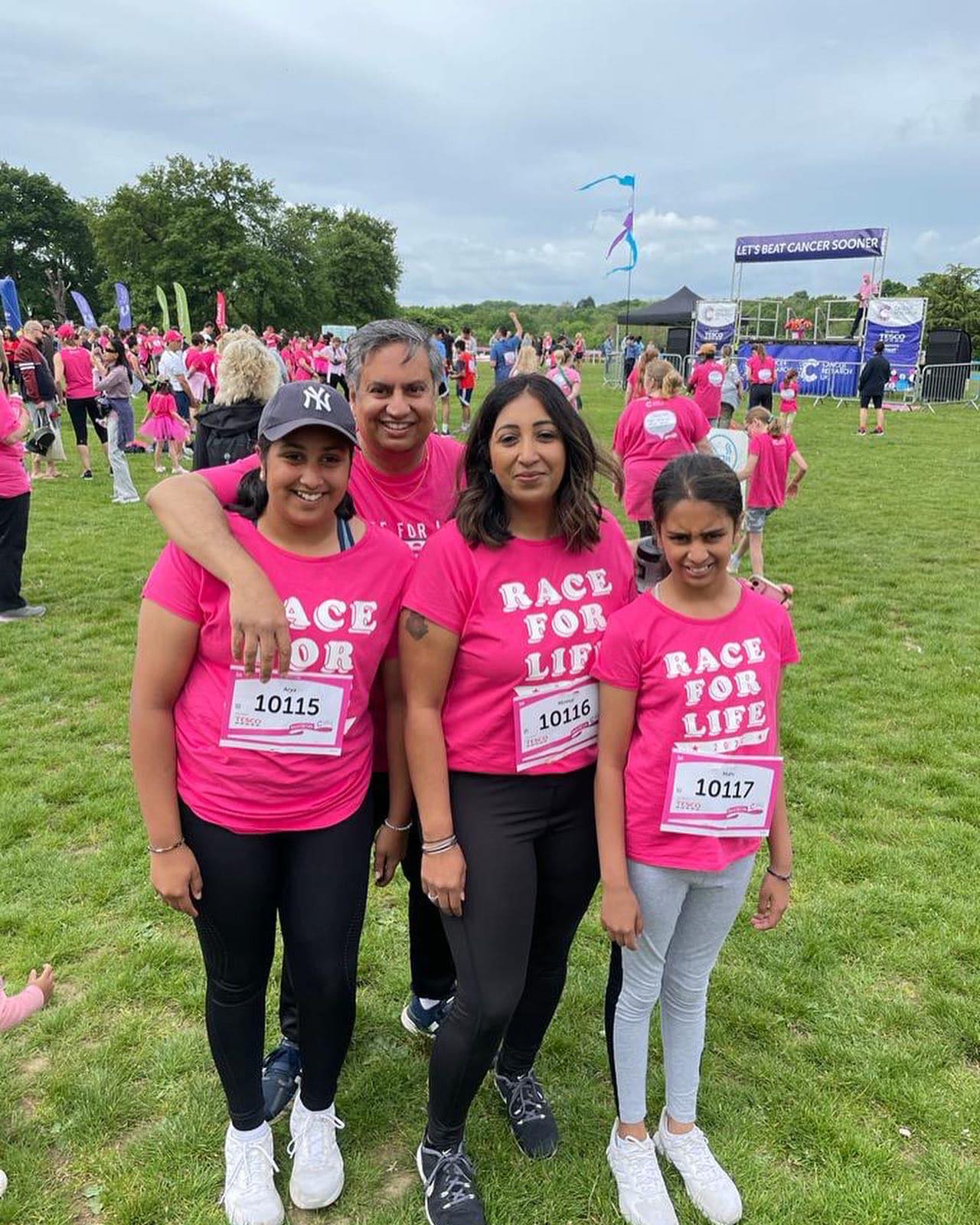 Coping With a Diagnosis
A cancer diagnosis can be shocking and intimidating, along with a slew of other emotions. Experts recommend not blaming yourself for the disease. One helpful suggestion for cancer warriors at the start of their journeys, is to learn all you can about the disease, which SurvivorNet is proud to help with. We have expert resources on breast cancer and others to guide you along every step of your journey, from diagnosis through treatment and beyond.
Also, it can be incredibly helpful to ask your doctor additional questions and even seeking a second opinion can help ease the initial shock and anxiety associated with a new diagnosis.
"I think it's really important for them to be able to hear it multiple times, take notes," Dr. Heather Yeo, colorectal surgeon at Weill Cornell Medicine, said.
"I support second opinions. I actually think it's really important. I mean, if you think about it in life, how do you choose someone to cut your hair? You get an opinion, right? You usually don't just go in and sit down with the first person you see on the street and say, cut my hair. You ask around," Dr. Yeo added.
Dr. Yeo also suggests turning towards family and friends or find a support group to help you begin your cancer journey.
"Even though I had psyched myself up for a cancer diagnosis, you don't ever anticipate hearing those words," Ladva said as she accepted her diagnosis and began her cancer fight.
Breast Cancer Risk Factors
Excluding skin cancers, breast cancer is the second-most common cancer in American women.
Two of the top risk factors for breast cancer are being a woman and getting older, with most breast cancer patients are diagnosed in women older than 50. Women who got their periods before they turned 12 years old or started menopause after 55-years-old are at increased risk. Other factors include a family history of breast cancer and genetic mutations to genes like BRCA1 and BRCA2, which are inherited.
"Common causes include genetic predispositions, such as BRCA mutations or other mutations that cause breast cancer," Dr. Sarah Cate, assistant professor of surgery Icahn School of Medicine at Mount Sinai told SurvivorNet.
"Other causes are family history, obesity, radiation to the chest like is used in Hodgkin's lymphoma, alcohol use, never having children, and certain types of abnormal breast biopsies," Cate added.
Breast Cancer Symptoms & Self-Exams
Women are encouraged to do regular self-exams to become familiar with how your breast feel normally, so when something unusual like a lump does form it can be easily detected. A self-exam includes pressing your finger tips along your breast in a circular motion.
"For some women that means going to their doctor and walking through what a self-breast exam looks like, so they know what normal breast tissue feels like so if they do feel something abnormal whether it's a lump or discharge from the nipple they know what to ask and what to look for," SurvivorNet medical advisor Dr. Elizabeth Comen said.
Below are common symptoms to look out for:
New lump in the breast or underarm (armpit)
Any change in the size or the shape of the breast
Swelling on all or part of the breast
Skin dimpling or peeling
Breast or nipple pain
Nipple turning inward
Redness or scaliness of breast or nipple skin
Nipple discharge (not associated with breast feeding)
Breast Cancer Treatment
Ladva underwent a mastectomy as part of her breast cancer treatment journey. A mastectomy is a surgical procedure that removes the entire breast. Your doctor will examine the size and other features of the tumor to determine if surgery is the best route.
"When I talk to a woman who comes to me and she has breast cancer, I evaluate what the standard options for treatment," Dr. Ann Patridge, oncologist at the Dana-Farber Cancer Institute told SurvivorNet.
Breast cancer treatment typically includes "cutting around the cancer which is either a lumpectomy if you can get it all with just a little scooping around the area that's abnormal or a mastectomy for some women meaning taking the full breast because sometimes these lesions can be very extensive in the breast," Dr. Patridge added.
Ladva also received chemotherapy as she fought to rid her body of the cancer.
Chemotherapy for breast cancer uses strong drugs to kill cancer throughout the body. As many breast cancer warriors know all too well, chemotherapy drugs can have side-effects, but some of them can be minimized.
"Chemotherapy that we give currently is not the chemotherapy from days gone by," Dr. Matthew Carlson, an oncologist at UT Southwestern Medical Center told SurvivorNet.
"We have many, many medications that we give before, during and after chemotherapy that should minimize the nausea that patience experience," Dr. Carlson continued.
As many breast cancer warriors know, drugs used for chemotherapy can have lingering side effects, which can include nausea, fatigue, diarrhea, constipation, and hair loss which falls out resulting from carboplatin and taxol drugs.
"When it comes to the hair loss that's associated with chemotherapy, we can't keep you with a full head of hair through your chemotherapy," Dr. Carlson explained but he stressed hair loss is temporary and will regrow as the side effects subside.
Breast Cancer Screenings
Mammograms are used to screen for breast cancer. Women who haven't gone through menopause are encouraged to get a mammogram annually between the ages of 45 and 54. If you have already experienced menopause, you can get a mammogram every two years.
"We all agree regular screening mammography saves lives," Dr. Connie Lehman a professor at Harvard Medical School told SurvivorNet.
If you fit into the high-risk category for breast cancer meaning a close family relative has been diagnosed, you have the BRCA1 or BRCA2 gene mutation or had radiation to the chest area when you were young you should begin annual mammograms at 30-years-old.
Vigilance and Early Detection
Ladva's breast cancer journey began with an innocuous itch on her breast, but her experience emphasizes why women should perform self-exams and keep up with their breast cancer screenings.
"My experience has really made me realize how important it is to check your body," Ladva said.
The BBC reports Ladva is now taking medication to prevent the cancer from returning.
Learn more about SurvivorNet's rigorous medical review process.
---