Super model Pat Cleveland is an inspiration to so many women who view her as an emblem of strength and grace. After she was diagnosed with colon cancer earlier this year and went through cancer treatment, she is already back on the runway, strong, confident, and proud as ever.
Cleveland made her big break in the fashion world in the '60s and '70s. She was one of the first African-American models to make real headway as a runway model. She has continued modeling well into her 60s.
Read More
RELATED: Supermodel Diagnosed With Cancer — Still Needs Crowdfunding to Pay For Care
"About last night…. SS 2020 Nicole Miller show….#nicolemiller # NYFW #SS2020," she captioned a video of herself walking the runway for the designer Nicole Miller, posing in the middle, and continuing her walk in a floral, belted, robe outfit.
Supporters commented on her strength and her wonderful career, "You are a legend, Pat!! I never forget my first show, and your precious advice!"
"The beauty and grace! We're still not worthy!"
RELATED: Holly Carter, Beloved "Face of Cancer" Who Turned Survivors Into Supermodels, Passes Away After Decade-Long Battle
"Thank God!! This is how it should be. Let the girls go and work the show. Stop with the that bland, boring, expressionless wooden walk on the runway. You go Pat!!!!"
She also posted an Instagram video of her runway walk in a black and white striped outfit for the designer Chiara Boni with her daughter, "Opening for Chiara Boni SS 2020 show singing in Acapello with my daughter Anna… @anna_vrc @chiarabonilapetiterobe @nyfw 2020"
A supporters jumped to tell her how stunning she looked, no matter what she went through when she was off the runway or that brief period of time, "Yeeees Pat!!! You look fabulous!! So glad to see you on the runway again Queen."
"I shed a tear. Thank you! Love you Ms. Pat and Anna!"
"FANTASTIC!!! That coat! And your strut!! [heart]"
Cleveland's cancer journey
The iconic American model Pat Cleveland, a trailblazer in the worlds of beauty and fashion, received a shocking diagnosis of colon cancer in March, shortly after she arrived in the City of Lights for Paris Fashion Week. She was rushed to a Paris hospital shortly after walking in Tommy Hilfiger's show.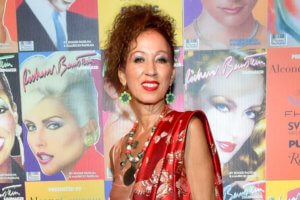 Cleveland's husband, Paul Van Ravenstein, set up a GoFundMe to assist with her medical expenses, explaining to Page Six that his wife does not have any private health insurance coverage, and the fact that Cleveland was diagnosed outside of the U.S. has become a financial burden on the family. "Pat has no health insurance, she only has Medicare, which won't cover anything outside of the country. We didn't even think about it because Pat has been so healthy."
It's unclear what stage of colon cancer Cleveland has, but Van Ravenstein did mention in the GoFundMe's description that she had surgery after getting the diagnosis, and is recovering in Paris until doctors give her the OK to travel. In the two days since Van Ravenstein set up the GoFundMe, fans and friends have already donated close to $60,000. Cleveland's daughter Anna, who also happens to be a model, is caring for her mother during her time overseas, according to Van Ravenstein.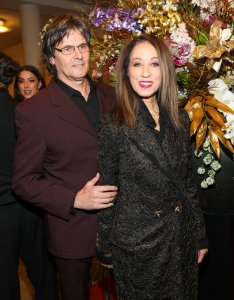 The cancer diagnosis reportedly came as quite a shock to her family. Even though the model had been complaining of digestive issues for several months, the family did not expect the diagnosis to be cancer.
"This is coming out of left field," Van Ravenstein said, according to reports from WWD. "She's healthy, she's vegan. She doesn't drink, she doesn't smoke. I thought we had her checked four or five years ago, but I went to the hospital here near our house — and it seems the last time she was checked was in 2007. That's too long."
Information about deciding when to operate for colon cancer
Surgery is one of best tools in the fight against colon cancer, but that doesn't mean that everyone should undergo surgery. If you are referred to a surgeon for your colon cancer, expect a conversation about the unique balance of risks and benefits that surgery would mean for you. It can be overwhelming to talk through the process, but don't be afraid to ask your surgeon any questions you might have–remember, they do this everyday. One of the most important things to ask about at the beginning is what the recovery will be like, because this is different for everyone.
Dr. Heather Yeo, Colorectal Surgeon and Surgical Oncologist at Weill Cornell Medicine and NewYork-Presbyterian on deciding when to operate on colon cancer
Generally, surgery is recommended for anyone with stage one, two or three colon cancer–though stage two and three may require both surgery and chemotherapy. Even if surgery is successful at removing your cancer, there are always risks to surgery. If you hear the term "complications," that can mean anything from an infection that is treated with antibiotics to a problem with the surgery itself that requires another operation.
It's important to know that the risk of complications is higher for elderly people and those who have a lot of other medical problems (like heart and lung issues). In these situations, your surgeon can help you decide whether surgery is the right decision for you and what other options there might be to maintain your quality of life.
Information about surgery for colon cancer
The type of colon surgery that is performed is dependent on the location of the tumor within the colon. If the tumor is located on the right side of the colon, also known as the ascending colon, then a right colectomy is performed. For tumors located in the descending colon, a left colectomy is performed. The sigmoid colon is a portion of the descending colon that gets its name because it has an "S" shape, and in such cases, a sigmoid colectomy is done to remove the cancer in this area.
Dr. Daniel Labow, Chief of Surgical Oncology at Mount Sinai Health System, on why the type of surgery for colon cancer depends on the location of the tumor
After a portion of the colon is removed, the two ends of the colon are put back together. Most patients will have some irregularity in the bowel function immediately after surgery, but this will ultimately return to normal.
A subtotal colectomy is required in certain cases, which is when the majority of the colon is removed and the rectum is left behind. This may have a greater impact on bowel function after surgery. However, many patients are able to adapt to the loss of this amount of colon.
Learn more about SurvivorNet's rigorous medical review process.