Rocket Man
Britney Spears' first new single in six years will be a duet with Sir Elton John
The pop star duo have re-recorded John's 1972 classic "Tiny Dancer"
While John is still recording music, he decided to retire from touring following a 2017 prostate cancer diagnosis.
"If you want more time … you have to slow down," John said of the decision.
Elton John is
wrapping up his farewell tour
, but the 75-year-old prostate-cancer survivor is still living his best life and still collaborating with pop music's biggest stars.
Following "Cold Heart"— his hit 2021 duet with Dua Lipa that mashes up "Rocket Man," "Sacrifice" and "Kiss the Bride" —  Sir Elton will be releasing a remix of his 1972 chart-topper "Tiny Dancer" next month with newly emancipated diva Britney Spears.
Read More
The revamped single will be mixed by Grammy-winning producer Andrew Watt, who has worked with Ed Sheeran, Selena Gomez and  Justin Bieber.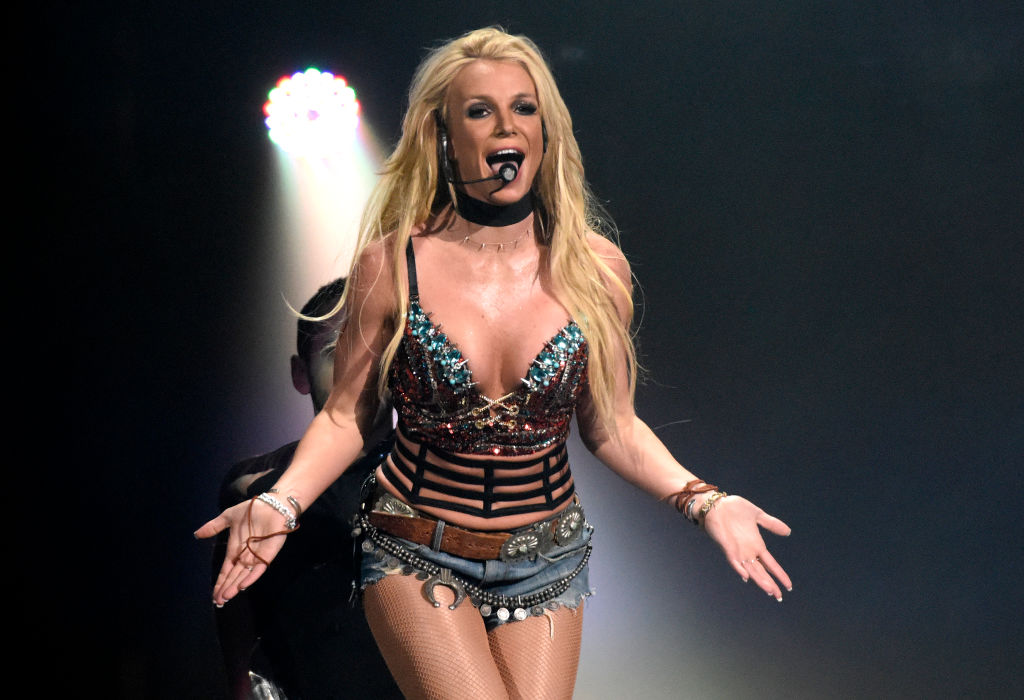 "This was Elton's idea, and Britney is a huge fan," a music industry insider told People. "They have recorded a remix of 'Tiny Dancer' as a full duet — and it is incredible. Britney was in the studio in Beverly Hills last week with Elton for the super-secret recording session."
It's Britney's first new single since 2016's "Swimming In The Stars."
Elton John has made a habit of partnering with chart-toppers in recent years: After "Cold Heart," he released  Lockdown Sessions in October. Recorded while he was forced to suspend his "Farewell Yellow Brick Road" tour due to the pandemic, the Watt-produced EP features collabs with Charlie Puth, Brandi Carlile, Nicki Minaj, Stevie Nicks, Eddie Vedder and Stevie Wonder.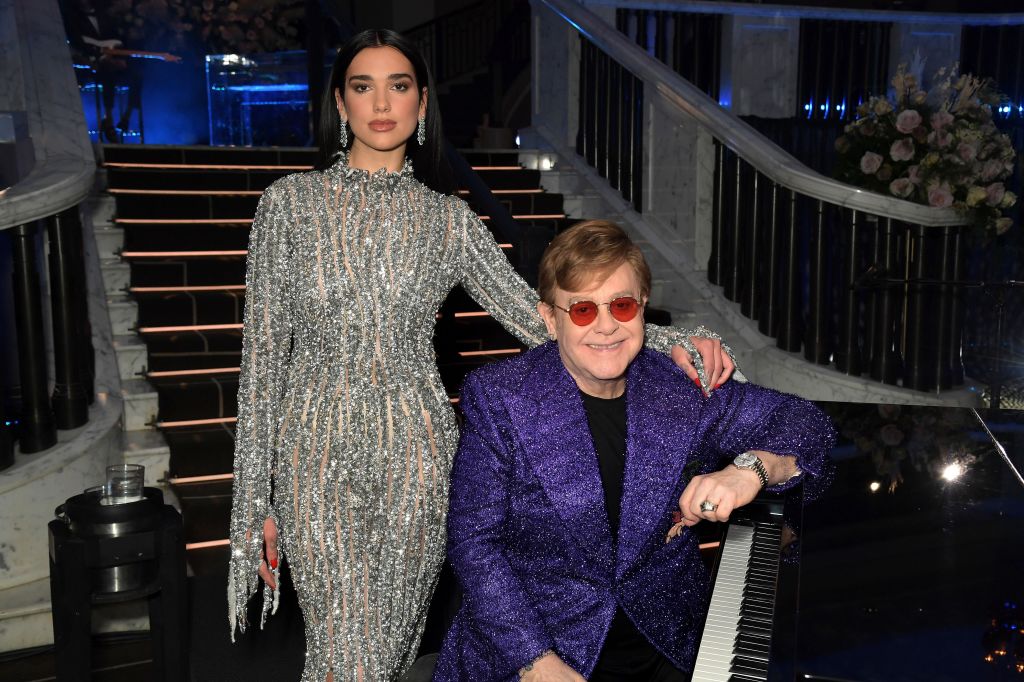 In May 2021, Elton's cover of The Pet Shop Boys' "It's a Sin" with Years and Years frontman Olly Alexander went to Number One on the U.K.'s Big Top 40.
Elton John's Prostate Cancer Journey
Elton John was diagnosed with prostate cancer in 2017 after a routine check-up.
"My doctor noticed the level of prostate-specific antigens in my blood had gone up slightly and sent me to an oncologist for a biopsy," the Rocket Man recalled in his 2020 memoir, Me. "It came back positive."
Common treatment options for prostate cancer include surgery, chemotherapy and hormone therapy.  John opted for surgery, which he said was a complete success. But he contracted a rare and dangerous infection following the procedure.
"In the hospital, alone at the dead of night, I'd prayed: please don't let me die, please let me see my kids again, please give me a little longer," he wrote in Me. After his recovery, John made the decision to retire from touring to spend more time with his husband, David Furnish, and their sons, Zachary, 11, and Elijah, 9.
"In a strange way, it felt like the time I spent recuperating was the answer to my prayers: if you want more time, you need to learn to live like this, you have to slow down."
Related: Prostate Cancer Survivor Elton John Thanks His Amazing Husband for Getting Him Through Everything
An unstoppable music powerhouse, Elton revealed that, before he regained the use of his bladder post-surgery, he even wore a diaper onstage once during a concert in Las Vegas.

"If only they knew at that moment I was pissing myself,"  he told Graham Norton in a BBC One interview.
Like Elton's case, most prostate cancer is detected by testing for prostate-specific antigens (PSA) in the blood. The American Cancer Society recommends men begin annual PSA screenings at age 50.  Those with a family history of prostate cancer or other elevated risk factors should start screening at 45, according to the organization.
Even when aggressive, prostate cancer "is typically slow-growing," according to Dr. James Brooks, a urologic oncologist at Stanford Medicine.
"So the possibility that it could become fatal past the age of 70 is quite low," Brooks said in an earlier interview. "Still, whether you continue to screen past age 70 is completely up to you and your doctor."
Elton John was 70 when his cancer was detected, one of almost 270,00 cases reported each year, according to the National Cancer Institute. Prostate cancer represents 14% of all cancer diagnoses and, after lung cancer, is the second most common form among men.
Thanks to routine screenings and effective treatments, though, prostate cancer has a 97% survival rate at least five years after diagnosis.
Screening methods for prostate cancer include:
Digital rectal exam (DRE), in which a doctor or nurse inserts a gloved finger into the lower part of the rectum to feel for lumps on the prostate
Prostate-specific antigen test (PSA), a blood test that measures the level of PSA. Increased levels of the antigen can be found in men with prostate cancer.
Gene 3 (PCA3) RNA, which measures the amount of PCA3 RNA in the urine after a DRE. If PSA levels are high but a biopsy shows no cancer, high amounts of PCA3 RNA may lead to another biopsy to help diagnose prostate cancer.
Transrectal ultrasound, in which a probe about the size of a finger is inserted into the rectum to check the prostate
How Do I Decide Between Surgery and Radiation?
Ten years after treatment, prostate cancer patients have similar results whether they received surgery or radiation, according to Dr. Stephen Freedland, a urologist at Cedars-Sinai Medical Center.
Sir Elton said he opted for surgery because he didn't want his course of treatment "hanging over" his family.
Deciding which treatment to go with is a personal decision, though doctors may have their own biases about which course of action to pursue. Dr. Freedland suggests getting a second or even third opinion before starting treatment.
When Should I Get Prostate Cancer Surgery?
There are different opinions when considering treatment for early-stage, high-risk prostate cancer. Some clinicians believe that, so long as the disease has not spread, surgery is the best option. But with side effects from surgery including the possibility of incontinence, urinary tract infections and erectile dysfunction, others maintain a patient's quality of life has to be factored in.
"That's a very serious conversation [patients] should have," said Dr. Patrick Swift, clinical professor of Radiation Oncology at Stanford University Medical Center."
Learn more about SurvivorNet's rigorous medical review process.
---